Home to the world-famous Gateway Arch, the city of St. Louis has a well-known nickname of "Gateway to the West". It is also commonly referred to as "Mound City" by many residents but has more recently been called "The Lou" by younger generations.
The city of St. Louis has a growing population of 316,030 people. Local demographics are broken down into averages of about 48% Black or African American, 43% Caucasian, 4% Hispanic or Latino, 3% Asian.
Seen by many of its residents as a great place to live, the top St. Louis neighborhoods have many highly-rated schools, reputable colleges, fun things to do, and great shopping. Let us help you determine where to live in St. Louis:
1. Skinker-Debaliviere | Best St. Louis Neighborhood for Families
As the closest community on this list to the St. Louis Lambert International Airport, Skinker-Debaliviere is a convenient location and one of the best places to live in St. Louis for families. It is home to a handful of great schools and learning destinations including St. Roch Catholic School, Hamilton Elementary, and a local library. Skinker-Debaliviere also plays host to Washington University, which is ranked as the 16th best university in the nation, along with the University of Missouri-St. Louis.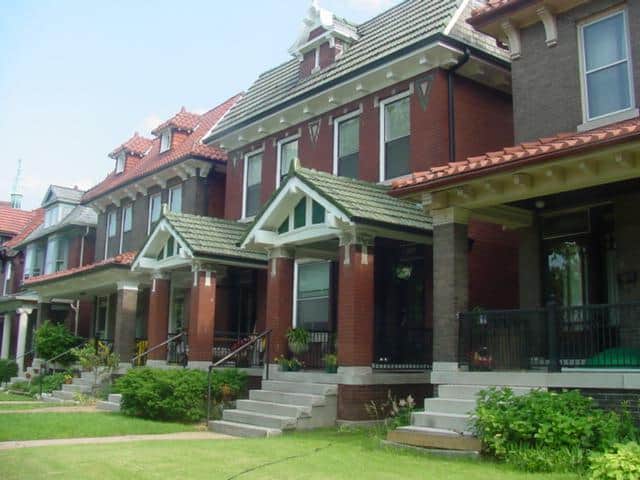 With some of the best shopping around, this St. Louis neighborhood is next to the Delmar Loop, simply called "The Loop" by locals. It has a wide variety of great places to eat, fun shops, and a movie theater. The popular Missouri History Museum can be found in this area as well.
2. Hi-Pointe | Safest Community in St. Louis
The neighborhood of Highway-Pointe, more commonly known as "Hi-Pointe", is mostly residential except for the local Starbucks, the Hi-Pointe Theatre, and the Hi-Pointe Drive-In restaurant. As one of the safest St. Louis neighborhoods, crime rates in Hi-Pointe are 78% lower than the St. Louis average and 34% lower than the national average across the U.S.
When looking for fun things to do in Hi-Pointe, you'll have easy access to both the Saint Louis Zoo as well as the Saint Louis Art Museum.
3. Dutchtown | Largest St. Louis Neighborhood
Although it isn't the biggest neighborhood in St. Louis geographically, the community of Dutchtown does have the highest population in town. It is home to a large number of families and children who attend local schools such as St. Mary's High School and others. Dutchtown is where you'll find the St. Alexius Hospital.
Some of the top restaurants in St. Louis are located in the Dutchtown area including nice places to eat such as Stacked STL, Ted Drewes Frozen Custard, and Grbic Restaurant. This large St. Louis community is also close to areas where you can enjoy a picnic along the Mississippi River.
4. Benton Park | Fun Neighborhood Amenities in St. Louis
The Benton Park Historic District is close to downtown St. Louis and The Gateway Arch along with its many nice restaurants including the Broadway Oyster Bar, Chava's Mexican Restaurant, Blue City Deli, and The Shaved Duck. Being near the center of town, local residents enjoy great shopping at the Union Station shopping mall and Cherokee Antique Row as well as fun activities at places like the St. Louis Aquarium.
Kids living in Benton Park receive a solid education from local schools like the McKinley Classical Leadership Academy High School. For fun, many children enjoy going to the nearby Ramp Riders indoor skate park.
5. Northampton | Great Place to Live for Families in St. Louis
As another one of the top St. Louis neighborhoods for families, Northampton has some of the best school programs around. You'll find Gateway Science Academy High in Northampton, which is ranked among the top high schools in the state. Local children between kindergarten and fifth grade attend campuses like Mallinckrodt Academy of Gifted Instruction or Kennard CJA Elementary School.
Residents of Northampton are conveniently located right next to the Hampton Village Shopping Center with a wide range of places to shop such as Target, Schnucks, CVS, the Buder Library, along with a handful of great local restaurants including Raising Cane's Chicken Fingers. If you're ever looking for a place to enjoy some time outside in this area, head over to Tilles Park.
6. Wydown-Skinker | Most Affluent Community in St. Louis
The wealthy St. Louis area known as Wydown-Skinker is recognized as the richest St. Louis neighborhood. While the median home listing price is around $360,000, some properties in the area have price tags near $1 million.
Residents of Wydown-Skinker have a great chance to live next to Forest Park as well as the highly-rated Saint Louis Galleria. The community has a bunch of great places to eat like Seedz Café, Carl's Deli, and Louie.
7. Shaw | Family-friendly St. Louis Community
Known as the Shaw Historic District, this pleasant neighborhood in St. Louis is mainly a residential area. But you will still find some local restaurants like Pappy's Smokehouse, Five Aces Bar-B-Que, and Sasha's on Shaw. There are also some other great amenities nearby such as the Missouri Botanical Garden, the Saint Louis Science Center, Compton Hill Reservoir Park, and Tower Grove Park.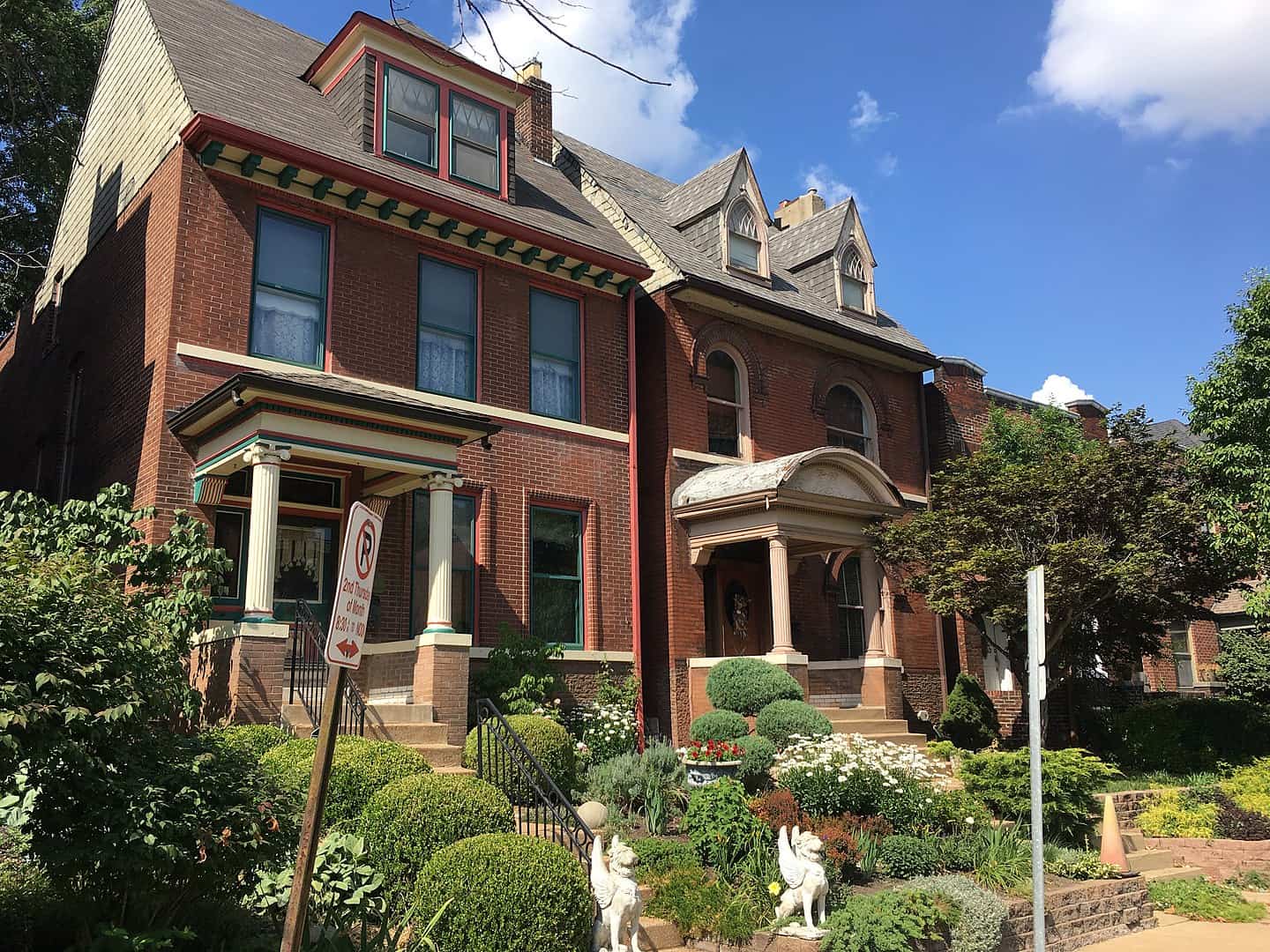 Families thrive in the neighborhood of Shaw as kids have access to the best schools in the city. The community hosts the Collegiate School Of Medicine and Bioscience, ranked as the 8th best high school in Missouri. They also have access to Grand Center Arts Academy High, another highly rated school. Saint Louis University is also located in Shaw and is ranked among the top 100 colleges in the U.S.
8. Southwest Garden | Affordable Housing in a Nice Neighborhood
On the opposite side of the Missouri Botanical Garden from Shaw is the beautiful St. Louis community of Southwest Garden. You'll rarely find a home in this neighborhood that costs over $300,000, making it an affordable place to live. Residents have convenient grocery shopping at the local Schnucks Arsenal and nice restaurants including Zia's Restaurant and Charlie Gitto's On the Hill.
Southwest Garden is home to a small business district filled with local offices of regional companies. Locals can also head over to Sublette Park to enjoy a nice day outside.
St. Louis Neighborhoods Map
Pick the Best St. Louis Neighborhood for You
With so many wonderful neighborhoods in St. Louis to choose from, the only problem you'll have is deciding which one is right for you. From great restaurants to enjoyable activities and prestigious schools, there's no wrong choice.
As soon as you've confirmed which of these top St. Louis communities is where you want to be, we would love to help you move. Here at Federal Companies, our top-rated St. Louis movers have years of experience serving the area. Give us a call today at (800) 747-4100 or complete the Request a Quote form above for a free St. Louis moving estimate!