Professional Chicago Movers
Relocating from or within the Chicagoland Area with Federal Companies
The third largest city in the United States, Chicago IL is known for its Lake Michigan beaches, attractions like the Field Museum and Willis Tower, and amazing cuisine with iconic local foods like deep dish pizza and Chicago-style hot dogs. Living in Chicago has so much to offer from the city's excellent public transportation and job opportunities to recreation and cultural attractions. However, even if you stay in the Chicago area, there's a good chance you will relocate at least once or twice. The average American moves 11 to 12 times during their lifetime!
Whether you're planning to buy a house in Chicago and put down roots, move out of the city to the suburbs, or leave Illinois completely, you deserve a positive and exciting moving experience. Federal Companies is ready to meet your moving needs with 5-star Chicago movers who go above and beyond. Our professional moving services are tailored to your needs. Federal Companies serves all of Chicagoland and beyond as an Allied Van Lines agent. Get a free quote today from the Chicago moving company you can trust to safeguard your belongings every step of the way.
Top Reasons for Relocating with a Chicago Moving Company
As you approach moving day, you probably have a lot to look forward to. The stressful moving process is also a time of big changes whether you're pursuing more affordable living, a better quality of life, new career opportunities, or moving closer to family.
If you're staying in the Chicago region, you may be buying your own home or changing neighborhoods for better schools, a lower cost of living, or better amenities. You might be relocating closer to work or need more space after getting married or welcoming a child into the family.
Leaving Chicago for a new city?
Maybe it's time to look to the best Chicago suburbs and charming Cook County cities and villages for lower crime, more space, family-friendly amenities, and less traffic.
Many of the relocations our moving company in Chicago handles are long distance within the region or cross country. Despite its many charms, there's no escaping the harsh Chicago climate, overall crime, and high cost of living. In 2020, twice as many people left Illinois as people who moved into the state. A major van line reported that 66% of its Illinois moves were outbound relocations. Chicago along with Lake County and Joliet all ranked among the top 25 metro areas in the country for outbound migration.
Top destinations for people leaving the city include Indiana, Florida, Texas, Arizona, Los Angeles, and other California cities. You might be considering a move out of the area for lower taxes, more affordable housing, and a better quality of life.
No matter why you're ready to make a change, you can count on Federal Companies for the superb moving services you need. Get started with a free moving estimate for full service or labor only service to learn more about what we can do for you!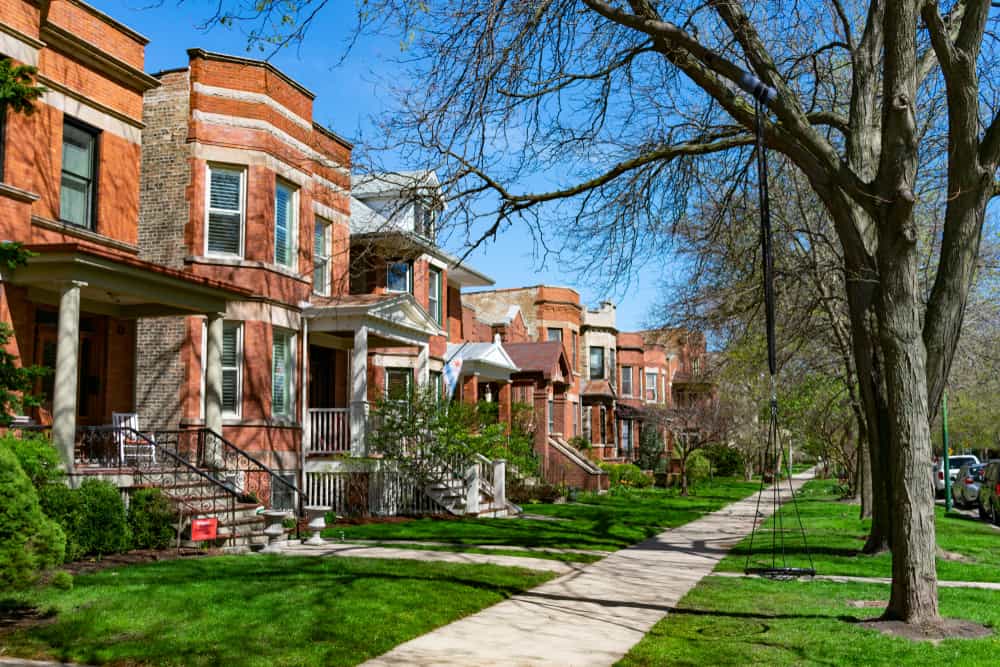 Benefits of Hiring Professional Chicago Movers
Moving to a new house is consistently ranked as the most stressful life events, even higher than divorce, major illness, and job loss. Moving requires months of planning, and it comes with the emotional turmoil of leaving your home, friends, school, and neighborhood. It's also expensive, no matter how you do it, risks damage to your belongings, and it's physically exhausting.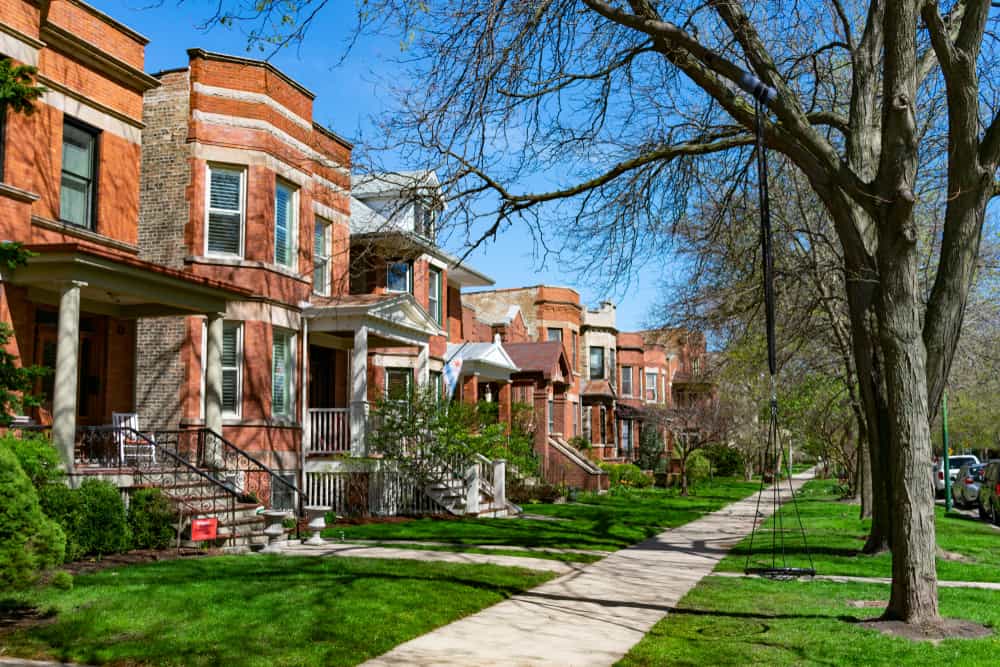 It's no surprise that 94% of survey respondents said hiring a moving crew was worth it while 43% who moved themselves said they regretted it.
Here's how our Chicago moving company will make your move easier, faster, and less stressful by loading and packing efficiently and putting years of experience to work.
Dedicated move coordinator creates a

customized plan of action

, oversees the logistics, and ensures a seamless relocation.
A

professionally trained, uniformed, and vetted team

arrives promptly with the necessary supplies and equipment.
You

avoid all heavy lifting

, repetitive bending, and loading/unloading of the truck to avoid all risk of injury.
Personalized packing services

save time and eliminate worry

. Movers use the right packing supplies to protect fragile belongings from harm.
Moving services are

tailored to your needs

whether you need your whole house packed and moved or just need labor only assistance with heavy or fragile items.
Your belongings are transported in a well-maintained truck by a licensed professional so

you aren't navigated congested, narrow Chicago roads

in a large commercial truck.
Optional unpacking, furniture assembly, and furniture arrangement services let you

settle right into the new home
Who says moving needs to be stressful? Give our team at Federal Companies a call today at (800) 747-4100 for a free quote and to learn what sets us apart from other moving companies.
Full Service Chicago Moving Services
Federal Companies has more than a century of experience performing Chicago IL moving services including office and household moves large and small. We have earned a sterling reputation for exceeding our customers' expectations with a focus on superior customer service.
Here are the moving solutions we offer to take the hassle out of your relocation.
Our full service or labor only services make local moving a breeze! Our movers in Chicago handle household and apartment relocations of all sizes.
Federal Companies serves the entire state of Illinois and the rest of the country with on-time long distance relocations. We use a dedicated fleet and move coordinators to make sure everything runs smoothly! We perform daily local moves throughout Illinois and Missouri and moves throughout the U.S.
Commercial Moving Services
Is your company renovating, expanding, or changing locations? Our business relocation service ensures a smooth relocation with minimal disruption. We handle professional office moves of all sizes and provide tailored commercial moving services for your industry and needs.
Want an easy, hands-off move? Our moving company in Chicago can help with professional packing performed by trained experts with the right packing supplies. We can help with just a few items or your entire home with customizable full or partial packing and unpacking.
Ditch the hassle of a storage unit which requires moving twice. We offer customers short and long term storage for business or household relocations. We have a 500,000 square foot climate controlled storage warehouse to safeguard your belongings and deliver them on your schedule.
How to Choose the Best Chicago Moving Company
Do not make the mistake of trusting your home and belongings with just any moving service. Here is what you should look for in a dependable company before you hire movers in Chicago IL.
Fully licensed. Make sure they have an Illinois state license for movers which you can verify here. For moves that cross state lines, they must be federally licensed with a US DOT number.
Free, written estimate. Professional movers must be willing to provide a free estimate in writing of your probable moving cost. Make sure you read their policy about charges if the estimate is too low or too high. Will you only pay actual charges if the estimate was too high?
Insured. Illinois requires minimum coverage on moves, and federal law requires basic liability coverage. A good company should have other options for insurance coverage, or you can purchase coverage through a third party.
Background checked moving team. Make sure the crew is vetted, experienced, and uniformed. This protects you and gives you peace of mind.
The Federal Companies Difference – Providing the Same Customer Service Excellence for 109+ Years
Federal Companies is a moving company you can trust with a sterling reputation going back to 1913. We have more than a century of experience in the moving industry with the expertise necessary for seamless, worry-free relocations completed on schedule and on budget.
Our moving company in Chicago is fully licensed and insured for your protection. A team of highly trained, background checked movers will carry out your move according to a customized plan of action using years of experience, specialized equipment, and the necessary supplies.
We are an Allied Van Lines agent with the network and fleet needed to handle moves throughout the United States. Our BBB-accredited business has earned an A+ rating and hundreds of positive reviews from satisfied customers. We have five locations in the region and more than 200 employees ready to deliver the superior moving service for which we are known!
How Much Are Movers in Chicago?
You will usually receive an hourly mover rate for local relocations and flat pricing for other moves. You can learn more about Chicago moving costs here.
The cost to hire a moving company is impossible to estimate without knowing the details of your relocation. However, you can count on transparent, affordable rates with Federal Companies! Get started with a free moving estimate online or by giving us a call at (800) 747-4100. We will perform a free in-home or virtual assessment to give you an accurate quote with no obligation.
There are many factors that are considered to give you a personalized moving quote:
Distance between locations
Type of move (office, apartment, detached home, etc)
Type and volume of items you are moving
Number of movers needed
Accessibility of your home
Moving dates
Level of service requested
Do movers assemble furniture?
Movers can disassemble and prep furnishings and reassemble your furnishings in your new home. They can even help with unpacking and arrangement.
Can movers pack everything in my home?
Experience movers can perform full or partial packing to pack your entire home with the correct materials or just handle packing and custom crating of specific items.
How much should you tip movers in Chicago?
A tip is never mandatory, but a great way to show appreciation for hard work and a job done well. The typical tip for movers is $5 per mover per hour or 5-10% of the total cost.
How much do local movers cost in Chicago?
You will typically be quoted an hourly mover rate depending on the number of movers needed. This hourly rate may be anywhere from $25 to $350 an hour depending on the type of move and crew size. Check our guide to
Chicago moving costs
for more information.
Tips for Stress Free Moving in Chicago
Use a moving binder to stay organized with task lists, estimates, contracts, school records, and other important paperwork


Use apps like Sortly which makes a visual inventory to make the move less chaotic


Donate furnishings and other items to save money. Use our guide to donating furniture in Chicago to find organizations that pick up donations.


Have electricity and water turned on before move-in day. Use our guide to Chicago utilities!


Download our ultimate moving checklist for items to take care of in advance of your big move.
Federal Companies: Chicago's Best Movers
Ready for the excitement of moving to a new city? Federal Companies looks forward to surpassing your expectations! Call our Chicago movers at (800) 747-4100 to discuss your relocation and get a free estimate today.