New business owners looking to furnish their office spaces are always on the lookout for deals and discounts to stretch their limited budgets. If you're a St. Louis business owner trying to outfit your office for the first time, a quick look through an office furniture store and you might wonder how you'll get everything you need. The answer? Look to St. Louis used office furniture stores to save money. Learning where to buy used office furniture results in a fully equipped office space that not only functions well but looks amazing.
In addition to saving as much as 50% off the price of new office furniture, the benefits of buying used office furniture include:
Time Savings
People often wait 4-6 weeks for new office furniture deliveries. Most furniture is delivered within 48 hours when you shop used office furniture shops.
Maintain Resale Value
Office furniture is a little like a vehicle – it loses its value the moment you take it off the showroom floor! Depreciation on new office furniture is about 25% or less of the original price over the first five years. Used office furniture maintains a resale value of about 75% of what you paid for it. As your business grows and starts turning a profit, you could decide to sell your furniture and purchase new.
Depreciation Benefits at Tax Time
The IRS accepts most office furniture with a seven-year depreciation rate. To get the tax write-off, calculate the value of the office furniture (less the sales tax) and it's depreciation over time.
Do Your Part for the Environment
When an office goes out of business or decides to replace their office furniture, the large wooden desks and file cabinets can take years to break down in the landfill. Buying used office furniture helps reduce the amount of furniture that goes to waste and takes up space in the city's already overcrowded landfills.
We've put together this guide to help you locate the top used office furniture stores in St. Louis:
View this post on Instagram
Warehouse of Fixtures has a large showroom of used office furniture open to the public with no appointment necessary. Stop by whenever it's convenient and browse the large selection of furniture and productivity solutions. We recommend visiting the Warehouse more than once as they add new products to the showroom daily and if you find what you need, they offer both pickup and delivery options.
Warehouse of Fixtures was originally founded by Arnold Singer over 60 years ago. In 2001, they closed the warehouse to make room for Saint Louis University apartments. In 2004, David Singer began selling the remaining furniture before heading to law school. David created Warehouse of Fixtures "The Next Generation" (TNG).
By 2010, Warehouse of Fixtures TNG moved into a new showroom facility with 28,000 square feet of new and used office furniture. Today, the Warehouse continues to grow and was named one of INC 5000 Fastest Growing Companies for five consecutive years.
Used and Refurbished Office Furniture
Warehouse of Fixtures has everything needed to outfit your office space, including gently used and pre-owned office furniture:
Office tables for training, meetings, break room areas, and conference tables
Office desks
Office chairs and task chairs
Cubicles
Cost-effective used storage solutions, bookcases, and filing cabinets
Accessories like coat trees, keyboard trays, and monitor arms
The experienced team at Warehouse of Fixtures works with you to select the best used office furniture to design the perfect workspace for your office space.
Available Brands
Because the used office furniture inventory changes daily, you'll find a wide range of name brands available at Warehouse of Fixtures, including:
Hon
Eurotech
Global
Haworth
Steelcase
Henry Miller
Contact Details
2720 Market Street, St. Louis, MO 63103. (314) 582-9094
Monday through Friday from 9am to 5pm
Better Office Furniture was founded in 2007 by Salena Mikos. The company has grown annually, with Salena spending time with each client to ensure they receive the office furniture they need for their space and business requirements. Due to the personalized experience, Better Office Furniture is open by appointment only but has staff available by phone between 10 am and 4 pm Monday through Friday.
Better Office Furniture equips the warehouse with high-quality used office furniture that will last for years to come. You can feel confident your purchase delivers high value and you won't have to replace your furniture within a few months of buying.
In addition to offering quality pre-owned furniture, the Better Office Furniture team offers no-obligation Free Space Planning solutions, including cubicle planning, to help you optimize your office space with the right furniture.
Used and Refurbished Office Furniture
View this post on Instagram
Better Office Furniture has everything needed to increase productivity and improve the layout of your office space, including:
Office desks
Office tables
Conference tables
Office chairs
Cubicles
Reception furniture
File cabinets and storage solutions
Office accessories
Take advantage of Better Office Furniture's 20 years of experience providing free office planning services to help you create a productive and beautiful-looking office.
Available Brands
Better Office Furniture supplies the most popular, in-demand furniture brands, including:
Global
Adaptive Series
Express Office Furniture
Jamestown
Hon
Contact Details
202 Rock Industrial Park Drive, Bridgeton, MO 63044. (314) 266 – 9083.
By appointment only.
ROS Office Furniture – Largest Preowned Office Furniture Dealer in The Midwest
ROS Office Furniture was founded in 1995 and has become the largest pre-owned office furniture dealer in the midwest. While located outside the immediate St. Louis area, many people make the trip to choose their office furniture. They maintain a fully stocked 11,000 square foot showroom and 400,000 square foot warehouse so business owners and managers can find and buy quality used office furniture for their workspaces.
ROS Office Furniture liquidates pre-owned office furniture from Fortune 500 businesses all over the country and sells them back to St. Louis area businesses at a fraction of the new price.
You won't have to worry about how you will get all of your pre-owned furniture back to your St. Louis office space since the experts at ROS deliver and install it for you.
Used and Refurbished Office Furniture
Due to the constantly updated inventory, ROS Office Furniture can supply your business or home office with gently used office furniture including cubicles, breakroom furniture, conference tables and chairs, and filing systems.
Available Brands
The inventory at ROS changes frequently, but they only source used office furniture from high-quality brands and manufacturers, including:
Steelcase
HON
Herman Miller
Kittinger
Knoll
Contact Details
6000 Parretta Drive, Kansas City, MO 64120. (816) 842-9993.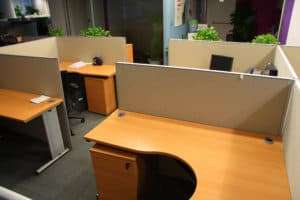 Larry and Jan Singer founded Office Furniture Solutions more than 30 years ago but have been part of the office furniture world for over 60 years. Larry is the son of Warehouse of Fixtures founder, Arnold Singer, and got his start in the office furniture industry as a young child and served as the president of Warehouse of Fixtures for over 20 years before starting his own business with his wife.
Larry and Jan take the family-owned, family-first mentality a step beyond running their own business. They love helping other small St. Louis businesses thrive and treat everyone like a part of the family whether you're buying furniture for one office or 50.
Used and Refurbished Office Furniture
Office Furniture Solutions provides both new` and used office furniture to St. Louis businesses, whether you need furniture for the home office or are looking for discounted commercial furniture solutions including office chairs, office desks, cubicles, and conference tables.
Available Brands
Larry has a self-proclaimed office furniture obsession. One night he was out to dinner with Jan, and Jan fell backward off her chair. Before helping her up, Larry looked at the brand name of the chair!
Office Furniture Solutions carries all of the major brands of commercial office furniture, including:
Hon
Eurotech
Global
Kittinger
Knoll
Allsteel
If you don't see what you're looking for in the showroom, just ask.
Contact Details
11485 Page Service Dr. St. Louis, MO 63146, (314) 567-5558
Tuesday – Thursday 10 am to 4 pm and Monday and Friday by appointment.
St. Charles Office Furniture stocks their warehouse with gently used office furniture designed to make a good first impression. From the moment a customer or employee walks into your office space, the office should create a welcoming and comfortable environment for clients and employees.
Used and Refurbished Office Furniture
The experienced team at St. Charles inspects, cleans, and repairs every piece of pre-owned office furniture so you can feel confident your office furniture will look great and promote productivity for many years to come. You'll find reception furniture, office desks and chairs, filing systems, and accessories always in stock.
Available Brands
You can buy one piece of office furniture at a time or enough to furnish your entire office. When you add new employees and need additional office desks or chairs, you can match your existing styles because St. Charles Office Furniture carries the same brands all the time:
Contact Details
660 Fountain Lakes Blvd. St. Charles, MO 63301, (636) 724-5224
St. Louis, MO Used Office Furniture Store Map
If you're planning to move to St. Louis, MO soon and need furniture for your office, the next step is figuring out how to make the move! Federal Companies are here to help. Give the St. Louis office movers a call at 800-747-4100 or contact us for a free quote or to ask any questions you have.