Recognized across the country as the home of the Gateway Arch, excellent BBQ, phenomenal blues music, and an 11 time World Series winning baseball team, St. Louis is a hub of culture and vibrance. With a population of 301,578 (as of the 2020 Census), and a metro area of 2.8 million residents, it is the second largest city in Missouri.
While living in St. Louis proper overflows with perks and benefits, the city features numerous suburbs for those who desire a more tranquil, easygoing environment. Local suburbs are a great option for those who are looking to reside in a spacious home with a sprawling yard. Because of their many schools, quiet roads, and community parks, St. Louis suburbs are a favorite among families. For those who are new to the differences between a suburb and a neighborhood, a suburb is classified as a census-designated place (CDP), town, or city that sits on the outskirts of a metropolitan area. Neighborhoods are smaller in size, with multiple comprising a single suburb.
Thinking about living in a St. Louis suburb? In addition to its many other advantages, the city has a long list of safe and peaceful places to call home. Explore some of the best suburbs in St. Louis.
Lauded for its tree-lined roads, exceptional selection of restaurants, historic homes, and peaceful way of life, Webster Groves is easily one of the best suburbs in St. Louis. The area is located west of downtown, and borders several of the nicest St. Louis suburbs — including Kirkwood and Brentwood.
One of Webster Groves's most noteworthy distinctions is its impeccable safety record. In fact, in 2021, The National Council for Home Safety and Security named Webster Groves as the safest city in all of Missouri. Total crime rates in this suburb are 65 percent below the national average, and 73 percent lower than the Missouri state average. Violent crime rates in Webster Groves are 72 percent lower than the national average, and property crime rates are 63 percent below the national average. With this outstanding record, Webster Groves is the safest St. Louis suburb.
View this post on Instagram
Clayton, MO – Charming, Affluent, and Historic St. Louis Suburb
Close to top schools, community parks, and the Saint Louis Zoo, Clayton is one of the best suburbs of St. Louis for families. Home to a young (median age of 29.5) and affluent population, this has also become one of the best St. Louis suburbs for young professionals. The drive from Clayton to St. Louis is eight miles (about 11 minutes), making it an ideal location for those who commute to the city for work.
Inside of Clayton, there are a myriad of benefits for locals. The suburb borders the land that encompasses the Saint Louis Zoo, the Saint Louis Art Museum, Forest Park Golf Course, The Highlands Golf & Tennis Center, Municipal Theatre Association (a popular outdoor performance stage), and the World's Fair Pavilion. Clayton also has a charming downtown area, lined with restaurants, office buildings, and cafes. A favorite attraction among families is Shaw Park, which is the oldest park in the city.
Chesterfield, MO – Family-Friendly St. Louis Suburb
Safe, convenient, and located on the Missouri River, Chesterfield is a family-friendly suburb with top amenities. The area is known for its upscale homes and high household incomes, making it one of the more affluent suburbs of St. Louis. With a thriving population of 47,603, Chesterfield is recognized as the 14th largest city in the entire state.
What can residents of Chesterfield expect upon moving to the area? Featuring easy access to top stores, recreation, and restaurants, everything that you could want or need is located minutes from home. Top destinations in Chesterfield include the Landings at Spirit Golf Club, the St. Louis Premium Outlets, the Sophia M. Sachs Butterfly House, and Central Park Chesterfield.
View this post on Instagram
Kirkwood, MO – Kid-Friendly St. Louis Suburb Located on the City's Inner Ring
Featuring a collection of kid-friendly amenities — including parks, elementary schools, and even the The Magic House St. Louis Children's Museum — Kirkwood is one of the best St. Louis suburbs for families. Safe and serene, this is an incredibly popular place for parents and their children to settle down near St. Louis.
Aside from its many kid-friendly features, Kirkwood also boasts a number of amenities for its adult residents. Those who enjoy playing golf can join the Greenbriar Hills Country Club. Looking for a great space to explore nature? Powder Valley Conservation Nature Center is equipped with walking paths, hiking trails, and an educational center. Kirkwood is also home to St. Louis Community College at Meramec, the Frank Lloyd Wright House in Ebsworth Park, and a vibrant shopping and dining scene along Old Route 66.
Ladue, MO – Affluent and Upscale St. Louis Suburb
Located on the inner-ring of St. Louis, Ladue is a suburb that is known for its high household incomes, upscale homes, country clubs, and top-tier privacy. Houses are grand and luxurious, offerings ample square footage and acreage. The area even features several estates that deliver the ultimate in high-end living.
The community itself boasts a multitude of positive characteristics and amenities. While overall crime rates are significantly lower than the national and state averages, violent crime rates in Ladue are a whopping 91 percent below the national average.
Local golf enthusiasts have the option to play at three local clubs — Old Warson Country Club, Bogey Golf Club, and the St. Louis Country Club.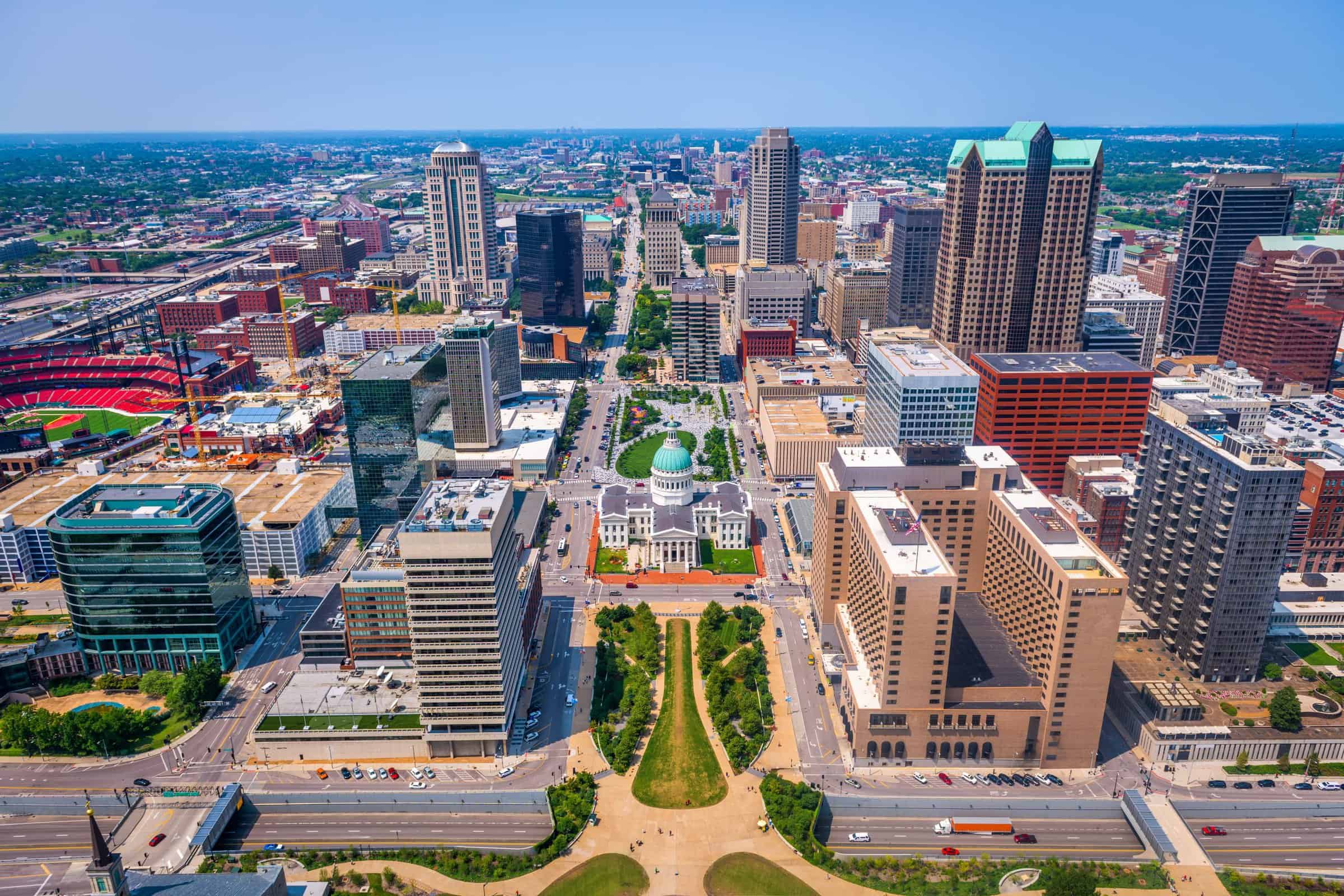 Brentwood, MO – One of the Most Affordable St. Louis Suburbs
Individuals, couples, and families who are looking to relocate to an affordable St. Louis suburb should explore the many benefits of living in Brentwood. Offering low median home prices and low monthly rent, residents can enjoy safe neighborhoods and top amenities.
Brentwood features centralized shopping and dining options that span nearly every interest and cuisine type. In the area, you can enjoy quick access to places such as Trader Joe's, Whole Foods Market, REI, PetSmart, Total Wine & More, Ulta Beauty, World Market, and more. Brentwood also has a thriving parks and rec department, which manages locations such as Memorial Park and Oak Tree Park.
Regarded as one of the nicest suburbs in St. Louis, Town and Country is a picturesque place to live. Lined with immaculate landscaping, stunning homes, and quiet roads, those in search of peace and privacy adore this locale. Town and Country is almost exclusively residential, which further adds to its tranquility.
Ellisville, MO – Ranked as One of the Best Places to Live in America
Ellisville has been recognized as one of the best suburbs in St. Louis, as well as one of the best places to live in the entire nation. In 2009, Money magazine listed Ellisville as the #25 Best Place to Live in America. Taking a tour around the area, it is easy to see why this charming and idyllic community earned this impressive distinction. Home to numerous community parks, the serene Klamberg Woods Conservation Area, highly-rated schools, and lovely, tree-lined neighborhoods, Ellisville is a wonderful place to move near St. Louis.
Map of St. Louis Suburbs
Searching for the best St. Louis movers to help you relocate to one of the area's best suburbs? Our five-star team at Federal Companies is ready to make your move one that is seamless and hassle-free. Using industry-leading equipment and tools, as well as the latest training, every member of our moving staff can help ensure that your upcoming journey is handled efficiently and with the utmost care. Contact us today at 800-747-4100 to learn more about our residential moving services.