The incredibly scenic and eclectic city of St. Louis is home to a diverse economy, a famed sports and blues music scene, eye-catching steamboats, and the iconic Gateway Arch. As the "Gateway to the West," the vibrant city of St. Louis is situated near the Mississippi River and maintains a friendly Midwestern charm with tight-knit communities around every corner. This affordable mid-sized city allows families, singles, and students to enjoy all four seasons, endless job opportunities, top-rated St. Louis school districts, and some of the most culturally progressive colleges in the nation.
If you're contemplating moving to St. Louis, it's wise to know what you're getting into as far as costs go. With that in mind, is St. Louis an expensive place to live? Despite loads of big-city entertainment and amenities, the cost of living in St. Louis is surprisingly low – especially in contrast to cities of similar size! The city's favorable affordability serves as a significant motive for people to move here. In fact, St. Louis ranks among "The 25 Best Affordable Places to Live in the U.S." To your convenience, the Economic Research Federal Reserve Bank of St. Louis has a comprehensive cost of living guide.
From the utilities to the amenities to the house prices, it's time to dive deeper into the St Louis cost of living.
Cost of Living in St Louis
An average cost of living varies across different cities, towns, and neighborhoods. The bills a person receives in the mail are based on their circumstances. This includes how big their household is, their lifestyle choices, and the county they live in. While the cost of living index shouldn't be the key determining factor in what you can expect to pay, it is a great place to start.
St. Louis Cost of Living Index
Exactly how much is the cost of living in St Louis? The city is recognized for its high affordability. The Cost of Living Index (COLI) is based on the cost of living compared to the U.S. average, which is set at 100. The St. Louis MO-IL Metro area has a cost of living index of 87.1, which means it's 12.9% less expensive in St. Louis than in the rest of the U.S. Likewise, the St. Louis COLI is 4% lower than the state of Missouri. The St Louis cost of living is 167.9% lower than in Manhattan, 107% lower than in San Francisco, 66.1% lower than in Boston, and 36.2% lower than in Chicago.
You can have peace of mind knowing that pretty much all major categories of the St. Louis cost of living stay below the national average. In fact, the COLI for groceries in St. Louis is 0.5% below the U.S. average, which is about as high as it gets.
St. Louis Consumer Price Index
Below is the most recent Consumer Price Index for St. Louis, Missouri. The area saw a 0.1% increase in two months and a 7% increase year-over-year. The CPI for energy over the last recorded year increased by 14.7%, whereas food saw a 14.3% increase in 2017.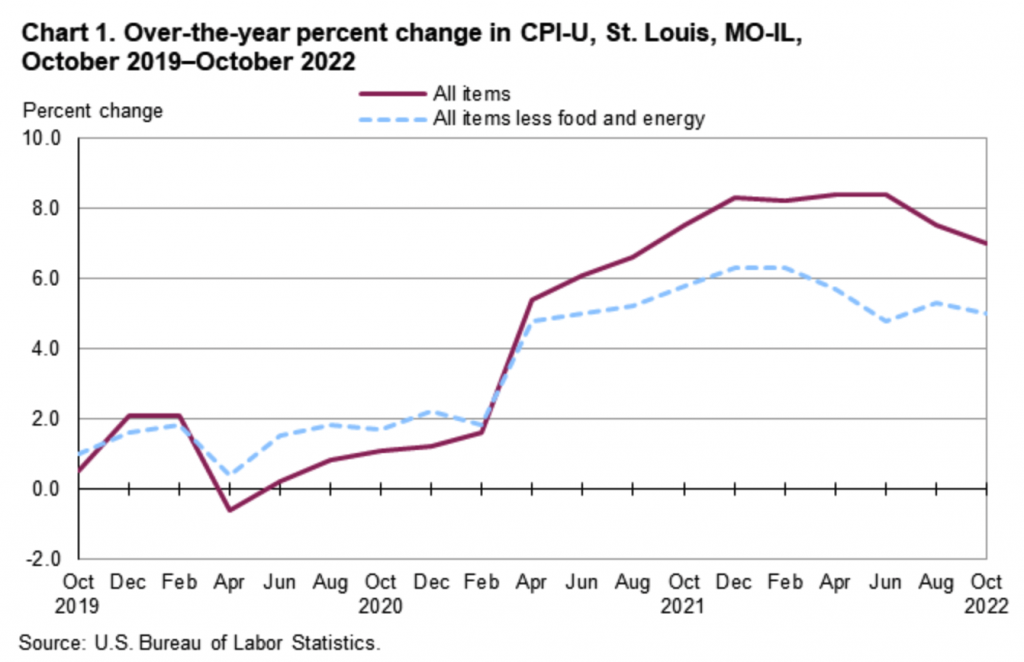 Based on the survey, St. Louis experienced a jump between 2020 and 2022. This is a common occurrence for many cities across the United States which could be a result of the increasing inflation since the coronavirus pandemic.
BLS Consumer Expenditure Survey in St. Louis
Data based on expenses, income, and the consumer's characteristics can be viewed via the Consumer Expenditure Survey. In the St. Louis Metropolitan area, the average household ended up spending $67,032 per year based on the most recent analytics from 2020-2021. This is 4.24% more than the national average. Expenditures for housing in St. Louis were 34.3% below the national average.
Here's a percentage breakdown of where and how much the average household spends their income:
Housing: 30.7%
Transportation: 14.9%
Food: 13%
Personal insurance and pensions: 11.9%
Healthcare: 9.1%
Entertainment: 5.8%
Cash contributions: 4.8%
Apparel and services: 3.1%
Family Budget Calculator For St. Louis MO – Is St. Louis Affordable?
Wondering how much you need to earn to live the most comfortably in St. Louis? According to the Economic Policy Institute, a family of four living in Saint Louis needs to make $74,660 a year to live comfortably.
Below is what you can expect to spend in month if you consider there are two adults and two children living in the household:
Housing: $858
Food: $812
Child Care: $1,140
Transportation: $998
Health Care: $1,176
Other Necessities: $605
Taxes: $632
Cost of Living in St Louis: Household Items, Food, Gas, and Groceries
Before you pack your bags and head to Saint Louis, here's a list of median prices you can expect to pay when it comes to everyday items and expenses:
St. Louis Average Grocery Costs
Here are a few average food and grocery costs in St. Louis Missouri:
Steak (ribeye, 1 pound): $18.02
Milk (whole, ½ gallon): $1.78
Eggs (1 dozen, grade A): $1.34
Potatoes (5 lb bag): $2.97
Bread (wheat, 1 loaf): $3.18
Beer (Heineken 6-pack): $9.32
Bottle of wine: $8.09
McDonald's burger (¼ pounder): $5.12
Additional common expenses include:
Movie ticket (1st run): $10.31
Doctor's visit: $81.57
Average Cost of Monthly Bills in St. Louis
According to COLI and Numbeo, here's what you can expect regarding the monthly bills in St. Louis:
Average cell phone bill: $197.28
Cable/satellite TV, high-speed internet, and home phone: $60.06
Average monthly cost of St. Louis utilities: $184.17
The fastest and most convenient ways to get around St. Louis are by car and MetroLink. Saint Louis is served by the Metropolitan Saint Louis Transit Agency whereas monthly passes can be purchased.
It's time for the fall breeze and autumn leaves! 🍁 pic.twitter.com/k9dgJbldtP

— Metro (@STLMetro) September 22, 2022
A monthly fare pass costs $78 ($39 for seniors and disabled). The cost of a regular cash fare costs $2.50. If you prefer to drive your own car, the average price of gasoline in St. Louis and other midwestern areas is $3.212 according to the US Energy Information Administration (the national average is $3.390).
St. Louis Real Estate Market
View this post on Instagram
As of 2022, a shortage of homes is pushing up median sales prices in Saint Louis, whereas the inventory is down. This lack of housing inventory makes the city especially popular for renting. St. Louis also ranks in the top 10 housing markets with the lowest median loan amounts. You can stay in tune with St. Louis real estate news here.
St. Louis is home to a very competitive real estate market. According to the Census Reporter, 54% of residents in Saint Louis own their homes. According to Redfin, homes sell in an average of 17 days once released on the market. If you're interested in buying a home in St. Louis, the median home price in St. Louis is $210,000, whereas the state median sits at $240,100. The price per square foot is $145 and most of the homes in St. Louis sell for around the same as the list price- about 0.4% sell below the list price.
ATTOM has a Rental Affordability Report where you can hover over the desired area to gain further information about the area's current real estate market.
In case you're unsure if your best option is to rent or buy, the Price-to-Rent ratio is a great source of help. Imagine you are buying a home for $350,000. If the median annual rent costs you $16,899, you divide the $350,000 by $16,899, which leaves a ratio of 1:20. It's wise to buy if the ratio falls between 1 to 15, whereas a ratio of 16 to 20 indicates that renting is probably the best option. Any ratio over 21 means you should strongly consider renting.
St. Louis is home to several safe and low-cost areas to call home. A few of the best and most affordable neighborhoods in St. Louis include Southwest Garden, Dutchtown, and Hi-Pointe.
Rental Market – Average Rent in St. Louis
On top of relatively affordable housing, St. Louis boasts budget-friendly rent costs that don't leave your pockets empty. The average apartment rent in St. Louis is $1,113 for an 838-square-foot apartment, which is about $355 below the U.S. average. When compared to the nearest large city, the average St. Louis monthly rent price is $89 less expensive than in Kansas City, MO.
One of the most popular and top-rated apartment complexes in St. Louis is The Laurel Apartments. This pet-friendly community offers excellent amenities such as a 24-hour fitness center, a clubhouse, and a dipping pool all while maintaining affordable costs.
The most affordable neighborhoods to rent an apartment in St. Louis are Benton Park West, Gravois Park, and Marine Villa. On the other hand, the most expensive rent is located in Missouri Botanical Garden, Shaw, and The Hill.
With the zip code of 63101 and without exceeding 30% of your income on housing, let's look at what you should be making to afford rent in St. Louis:
Hourly Wage For A Two-Bedroom: $21.35
Hourly Wage For A One-Bedroom: $16.73
Median Household Income: $72,562
Average Salary & Household Income in St. Louis
The average salary in St. Louis is $70,000 per year or $20.20 per hour. Here are a few jobs in St. Louis and their average hourly rate:
Medical Assistant: $16
Licensed Practical Nurse: $24
Administrative Assistant: $17
Office Manager: $18
Registered Nurse: $29
According to the U.S. Bureau Labor of Statistics, here are the most popular industries for occupations in St. Louis and their median hourly wages:
Business and Financial: $35.45
Management: $47.62
Computer and Mathematics: $38.60
Architecture and Engineering: $38.06
Educational Instruction and Library: $23.12
Healthcare Practitioners and Technical: $29.73
These are all above the Missouri median wage of $17.99.
Income, Sales & Property Taxes in St. Louis
The state of Missouri has a lot to offer – world-famous barbeque, rich history, and renowned landmarks. On top of that, the income tax here is nothing to stress over.
The income tax in St. Louis is 1%. St. Louis's sales tax rate is 9.18%. This is a combination of the state sales tax and the city's local sales taxes.
Sales Tax For Missouri State: 4.23%
Sales Tax For St. Louis: 4.95%
Missouri ranks #11 out of the 50 states in the U.S. based on the State Business Tax Climate Index.
Regarding real property, the property tax rates are amounts per $100 of assessed value. The St. Louis property tax rate is 8.2661, whereas the assessment rate is 19%. These taxes are levied by political subdivisions such as your school district, library, and the city of St. Louis. On average, St. Louis city and the rest of St. Louis County has the highest property tax rate compared to other counties in Missouri.
Bills for Personal Property and Real Estate taxes have hit the mail. Real Estate bills are posted online and Personal Property should be posted later today. Friendly reminder that you can pay online through PayIt StL. https://t.co/6doeBsaDCi

— STL City Assessor (@AssessorStL) November 9, 2022
St. Louis collects about 1.25% of a property's assessed fair market value as property tax. Your St. Louis property tax is calculated by multiplying the estimated market value by the assessment rate (19%). This gives you the estimated assessed value which is then divided by 100. This number is then multiplied by the tax rate ($8.2661), which leaves your estimated tax bill.
Cost of Living in St Louis Versus Kansas City
| | | |
| --- | --- | --- |
| | St. Louis, MO | Kansas City, MO |
| Median sale price | $210,000 | $254,950 |
| Average rent | $1,113 | $1,202 |
| Price-to-rent ratio | 11.96% | 14.33% |
| Average salary | $70,000 | $69,000 |
| Property Tax (assessed at true value) | 19% | 19% |
For cities across the U.S., it's often assumed that a lower cost of living accounts for a lower salary, but not for St. Louis! As you can see, the average cost of living in St Louis boasts slightly lower costs yet a higher salary compared to Kansas City.
Thinking about moving to St. Louis, Missouri? The St Louis cost of living is affordable, yet it's one of the largest cities in Missouri! For a smooth and quick transfer to your new home, reach out to Federal Companies at 800-747-4100 today!