Ranked the third largest city in the United States, Chicago is home to 2.7 million residents. This city is rich in history and a true melting pot. There's something for everyone in Chicago, whether you're a sports fanatic, nature lover, foodie, or connoisseur of music and the arts. But, is Chicago a safe place to live? When you choose a large city, there may be high crime rates. However, like any city, there are safe parts and unsafe areas of Chicago.
Moving can feel overwhelming; and if you're moving to a metropolis like Chicago, there's a lot to consider. With 77 Chicago neighborhoods to choose from, finding the area that's right for you might seem impossible. An easy way to narrow the options is safety, which is surely at the top of your list. This safe Chicago neighborhoods guide will help you and your family choose the best area so you can rest assured you've made a good decision.
Crime Stats in Chicago
It's no secret that Chicago deals with a high crime rate. However, by taking a closer look at the neighborhoods that interest you, you can easily find a safe place to live here. Here are some crime statistics for Chicago as a whole:
Chicago crime rates are 62% higher than the national average
Violent crimes in Chicago are 164% higher than the national average
Chicagoans have a 1 in 24 chance of being a victim of a crime
Crime in Chicago is decreasing by 4% each year, and has seen an 8% decrease in violent crime specifically
Though the statistics might not sound promising, there are plenty of safe neighborhoods to choose from. Click here to view an interactive map of crime in Chicago. The Chicago Police Department publishes detailed crime data as well, and you can easily track what is happening in the neighborhoods you're considering.
Safest Neighborhoods in Chicago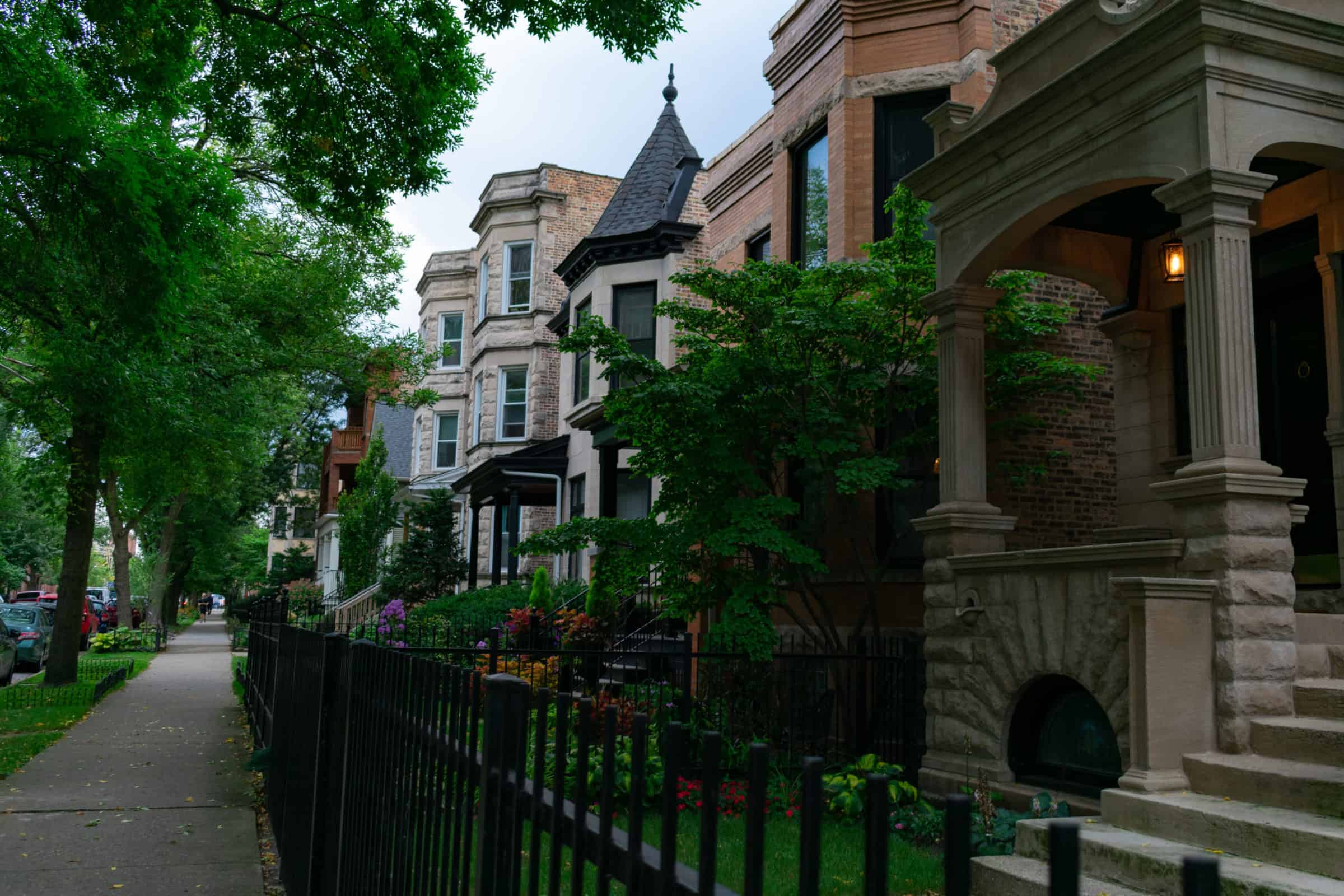 There's more than just data to consider when choosing a safe neighborhood to live in Chicago. You should also take into account home prices and who the neighborhood appeals to, as well as what's important to you personally. Whether you want to be right in the heart of the city or you're looking for a more residential vibe, Chicago has a safe option for you. The safest neighborhoods in Chicago are Edison Park, Forest Glen, Norwood Park, Lake View, Lincoln Park, and Rogers Park.
Edison Park – Safest Chicago Neighborhood
Crime: 77% lower than Chicago average
Median Home Price: $334,700
Great for: Families
In the northwest corner of the city sits the quiet neighborhood of Edison Park. Once a town in its own right, Edison Park still feels self-contained, but it's a very welcoming community. Many Chicago police officers call Edison Park home, which is a big factor in the low crime rate here. The laid back pace and tree-lined streets give the area a very suburban feel. Residents enjoy lots of casual dining options and recreation in Olympia Park. The Edison Park Fest is an annual community festival that attracts people from all over the city.
Forest Glen – Safe Family-Friendly Chicago Suburb With Lots To Do
Crime: 71% lower than the Chicago average
Median Home Price: $535,000
Great for: Active families, commuters, and retirees
Forest Glen and its surrounding areas are considered very safe neighborhoods in Northwest Chicago. The laid-back suburban feel area attracts retirees and young families alike. Almost half the residents are households with children under the age of 18. The community is served by highly rated schools. Don't let the suburban feel fool you – there's plenty to do here! The area has many family-owned restaurants, parks, and bike trails nearby. Forest Glen is a great option for commuters as well – the Milwaukee District North Metra stop is conveniently located on the western border of the neighborhood.
Norwood Park – Low-key Historic Charm
Crime: 72% lower than the Chicago average
Median Home Price: $382,500
Great for: Retired individuals
Another neighborhood known for its green spaces and safe suburban appeal is Norwood Park. The 14 acre park after which the neighborhood is named offers a community pool and lots of recreational activities. Residents also enjoy access to nearby Whealan Pool Aquatic Center and Edgebrook Golf Course. Like other large Chicago neighborhoods, Norwood Park is further divided into smaller communities, each with varying density.
Lake View – A Renter's Dream Location
Crime: 40% lower than the Chicago average
Median Home Price: $428,000
Great for: Singles and professionals
Lake View is a large neighborhood on the north side of Chicago, overlooking Lake Michigan. With its proximity to Downtown and easy access to public transportation, it's a commuter's dream. It's more affordable than nearby Lincoln Park, and prices decrease as you continue north. Residents living in the west side of the neighborhood also enjoy lower real estate expenses, but they do have to deal with the crowds of Wrigley Field. Prospective residents should expect a typical urban experience here – tons of dining options, shopping, and a vibrant nightlife all within walking distance.
Lincoln Park – Safe Sophistication
Crime: 24% lower than the Chicago average
Median Home Price: $605,000
Great for: Professionals and singles
Just south of Lake View sits the upscale Lincoln Park area. An affluent neighborhood buzzing with activity, this area attracts tourists, young families, and professionals alike. Residents are never bored here – the neighborhood boasts a vibrant nightlife, North Pond Nature Sanctuary, farmers markets like the Green City Market, boutiques and an array of restaurants.
Rogers Park – Affordable LGBTQ+ Chicago Community
Crime: 23% lower than the Chicago average
Median Home Price: $195,000
Great for: Singles and couples, members of the LGBTQ+ community
If you're looking for diversity and one of the safest neighborhoods in Chicago, Rogers Park is a great option. Located at the northwest end of Chicago, this eclectic area is welcoming and affordable. There is a thriving theater scene here, and the Gerber/Hart Library and Archives is famous for its extensive collection of LGBTQ+ literature and interesting exhibitions. Those who enjoy architecture will love to live among several homes designed by Frank Lloyd Wright, including the Emil Bach House. In the 1990s, this neighborhood in Chicago was one of five areas in which the Chicago Police Department implemented their controversial CAPS program, which attempted to bridge the gaps between the police department and the communities it served. Though the program seems inactive now, the Rogers Park area saw a marked decline in crime, and is now considered one of the safer neighborhoods in Chicago.
High Crime Areas of Chicago
In any big city, it's important to stay aware and make smart decisions, even in safer areas. However, there are also places with higher volumes of crime. When moving to a metropolis like Chicago, it's a good idea to know the bad areas of Chicago with higher crime rates. With 77 neighborhoods in Chicago, it can feel overwhelming to narrow down safe options. Here are the top 10 most dangerous neighborhoods in Chicago:
West Garfield Park: 257% more crime than the rest of Chicago
Washington Park: 227% more crime than the rest of Chicago
East Garfield Park: 206% more crime than the rest of Chicago
Englewood: 201% more crime than the rest of Chicago
North Lawndale: 198% more crime than the rest of Chicago
Grand Crossing: 184% more crime than the rest of Chicago
West Englewood: 176% more crime than the rest of Chicago
Riverdale: 160% more crime than the rest of Chicago
South Shore: 144% more crime than the rest of Chicago
Chatham: 108% more crime than the rest of Chicago
Safest Chicago Neighborhoods FAQ
Is downtown Chicago safe?
Downtown Chicago, or The Loop, is actually considered a safe area in Chicago. Most crime here is pickpocketing. However, you should use common sense while there and watch your surroundings.
Which neighborhoods should you avoid in Chicago?
West Garfield Park, Washington Park, and East Garfield Park are considered the three most dangerous neighborhoods to live in Chicago.
Is it safe to live in Chicago, IL?
Yes, it's safe to live in Chicago. Do your research for the safest Chicago neighborhoods and avoid areas deemed unsafe.
Safe Neighborhoods in Chicago Map
Are you thinking of moving to one of these safe Chicago neighborhoods? Give our top rated Chicago moving company a call for a free quote. We will help you get to your new home with no stress!