Located in Northern Illinois, Vernon Hills is a village and suburb just north of Chicago that was first established in June of 1958 with 125 houses and 123 residents. During the first 20 years of existence, the village and police department was run out of a local motel. In 1971, Vernon Hills started to add real estate and job opportunities and quickly became one of the fastest-growing suburbs in the Chicago area. 
Citizens living in Vernon Hills have an easy commute to Chicago, great real estate, and a low crime rate. Known for all of these benefits, along with many others, Vernon Hills is a great place to live.
Where Is Vernon Hills IL?
Vernon Hills is in Lake County, which is located in northeastern Illinois. This village is a suburb just north of the Chicago area and is bordered by Libertyville, Lake Forest, Long Grove, Lincolnshire, and Buffalo Grove.
If you are planning on commuting to the city when living in Vernon Hills, it is about 37 miles (39 minutes) from Chicago to Vernon Hills. It is about 62 miles (59 minutes) from Vernon Hills to Milwaukee, Wisconsin.
The best way to get around Vernon Hills is by car, but you can also take advantage of the Metra Station, which provides a commuter train line that goes straight to Chicago's Union Station.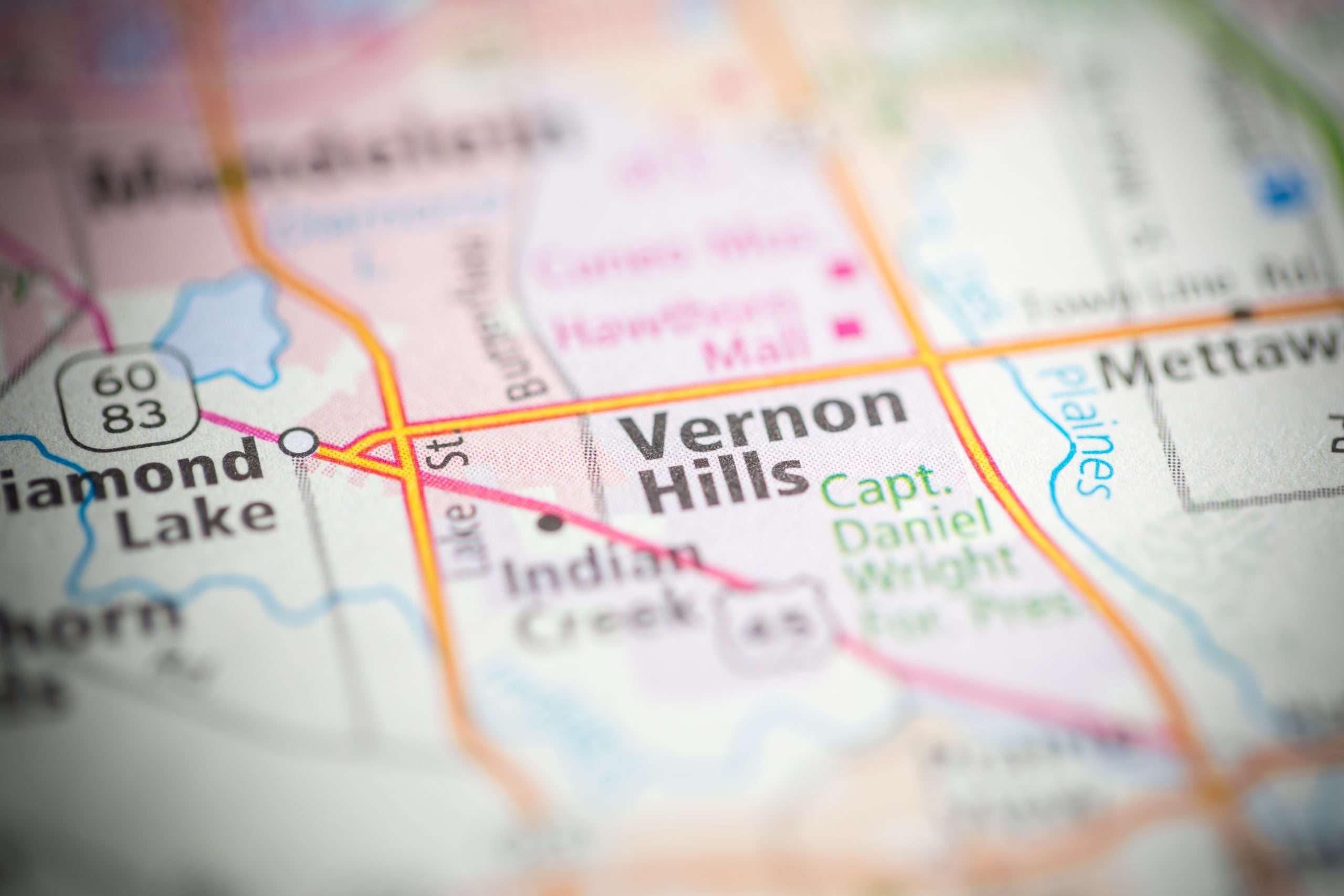 Vernon Hills Population & Demographics
The population of Vernon Hills is 26,850, which is about 3,486 people per square mile. This is a 6.9% increase in the past decade! Vernon Hills is home to many notable people, such as football player Sam Acho, Youtube star David Dobrik, and hockey player Steve Dubinsky.
Vernon Hills IL Demographics:
Sex ratio: 51% female, 49% male
Median age: 40.5
Racial and ethnic composition: 57.8% White, 24.4% Asian, 12.4% Hispanic or Latino, 5.4% two or more races, 1.6% Black or African American, 0.1% American Indian
Median household income: $107,938 (compared to the Illinois average of $72,563)
Educational attainment: 94.5% high school degree (or higher), 63.2% bachelor's degree (or higher)
Foreign-born population: 31.6%
Vernon Hills is a safe place to live. According to the FBI, the Vernon Hills crime rate is 180 crimes per 100,000 people. This is 90.9% lower than the state of Chicago and 92.3% lower than the national average. The violent crime rate is only 89 per 100,000 people, and the property crime rate is 101 per 100,000 people.
When living in Vernon Hills IL, you will be served by the Vernon Hills Police Department, which has 40 active officers on the force.
Cost of Living in Vernon Hills, Illinois
Is Vernon Hills expensive? The Cost of Living Index in Vernon Hills is 102.4, which means that living in Vernon Hills is 2.4% more expensive than the national average of 100. According to the Economic Policy Institute, a family of four needs to earn $100,067 per year to afford to live in Vernon Hills, IL. This number goes down to $60,251 for a couple with no children.
Typical Vernon Hills Living Expenses
Average Vernon Hills utilities per month: $144.04
Meal at an inexpensive restaurant: $15.00
A gallon of milk: $2.75
Loaf of bread: $3.99
A pound of red meat: $6.16
Movie ticket: $12.50
A gallon of gas: $3.14
Source: Numbeo
Looking for homes for sale in Vernon Hills IL? The Vernon Hills average home price is $340,000, which is lower than the national average of $388,310. This comes out to about $178 per square foot. Single-family Vernon Hills houses are a bit more expensive, selling for an average of $639,900. Townhouses sell for an average of $350,000, and condos for an average of $227,500. The Vernon Hills real estate market has been winding down the past year, with houses staying on the market for 76 days compared to 28 days last year.
On the hunt for apartments for rent in Vernon Hills? According to RentCafe, the average rent in Vernon Hills IL is $2,120 for a 945 square foot apartment. Vernon Hills apartments are only slightly cheaper than the average rent in Chicago, which is $2,224. Some of the most popular apartment complexes in the area include Emerald Pointe Apartments and Arrive Town Center.
Vernon Hills Neighborhoods | Where to Live in Vernon Hills
Some of the best areas in Vernon Hills include Woodland Chase, Lakeside, and Big Bear Lake.
Woodland Chase – Beautiful New-Construction Homes Great for Large Families
Woodland Chase is a beautiful neighborhood consisting of 51 customizable new-construction homes. These large homes start in the $800,000's and are close to many top-rated schools as well as shopping and dining opportunities.
Lakeside – Family-Friendly Area Bordering a Beautiful Park
If you are thinking about moving to Vernon Hills with your family, then look no further than the Lakeside area. The homes in this neighborhood are just a stone's throw away from Hartmann Park, which offers walking trails, playgrounds, and soccer fields for your family to enjoy all year round.
Big Bear Lake – Peaceful Area Perfect for Young Couples and Retirees
The Big Bear Lake area is home to some of the best condos and apartments in Vernon Hills IL. The homes surrounding Big Bear Lake are small and affordable, making them perfect for couples or small families.
View this post on Instagram
Vernon Hills IL Weather & Climate
How is the weather in Vernon Hills IL? According to the Köppen Classification, Vernon Hills has a humid continental climate. This means that the area has four distinct seasons and large seasonal temperature differences. The summers are hot and humid, and the winters are cold and snowy.
The Vernon Hills weather forecast is all over the place. The hottest month of the year in Vernon Hills is July, with an average daily high temperature above 73ºF. The coldest month is January, with an average low of 17ºF.  Pack a snow shovel when moving to Vernon Hills – the annual average snowfall is 38 inches!
Things to Do in Vernon Hills
When living in Vernon Hills, you will have access to fully-stocked grocery stores such as ALDI and Whole Foods. Looking for a Vernon Hills shopping center to explore? Check out the Hawthorn Mall and Rivertree Court. Here are a few of the best things to do in Vernon Hills.
Sky Zone is one of the best things to do in Vernon Hills with kids. This trampoline park offers freestyle bouncing, dodgeball, fitness programs, birthday parties, and more!
Sky Zone Trampoline Park, 701 N Milwaukee Ave Suite 244, Vernon Hills, IL 60061, (224) 377-0946
Half Day Forest Preserve is a beautiful scenic preserve with picnic shelters, pond fishing, and walking trails. Many areas are perfect for viewing migratory songbirds in the summertime.
Half Day Forest Preserve, 24255 IL-21, Vernon Hills, IL 60061, (847) 367-6640
View this post on Instagram
The Vernon Hills Golf Course has been ranked as one of the top ten best nine-hole courses in the Chicagoland area. After playing a round or two, make sure to stop by the full-service clubhouse to enjoy their lunch menu and a full-service bar.
Vernon Hills Golf Course, 291 Evergreen Dr, Vernon Hills, IL 60061, (847) 680-9310
Additional Attractions in Vernon Hills
Looking for more things to do in Vernon Hills? The Vernon Hills Park District manages several parks, community facilities, and fun events. You can also check out the Village of Vernon Hills Event Calendar to discover any upcoming activities.
Vernon Hills Restaurants
With its close proximity to Chicago, it is no secret that Vernon Hills cuisine is home to some incredible restaurants serving iconic pizza and hot dog dishes. Here are just a few of the best restaurants in Vernon Hills.
Portillos is one of the most iconic Vernon Hills restaurants. This Chicago-born chain serves hot dogs, Italian beef sandwiches, and delicious chocolate cake, all at an incredibly affordable price.
Portillos Vernon Hills, 221 E Townline Rd, Vernon Hills, IL 60061, (847) 367-7290
View this post on Instagram
Lazy Dog Restaurant & Bar is perfect for any night out. This laid-back joint offers American-style comfort food in large portions as well as a beer menu with dozens of local options.
Lazy Dog Vernon Hills, 1115 N Milwaukee Ave, Vernon Hills, IL 60061, (847) 780-7977
Tsukasa of Tokyo is one of the most unique restaurants in Vernon Hills. This establishment features incredible Japanese cuisine prepared by chefs right in front of your table.
Tsukasa Vernon Hills, 561 N Milwaukee Ave, Vernon Hills, IL 60061, (847) 816-8770
Jobs in Vernon Hills, Illinois
Looking for jobs in Vernon Hills? The top employers in Vernon Hills include the Hawthorn Mall, American Hotel Register, and Mitsubishi Electric Automation. Many people also commute to the Chicago area, which is the second-largest business district in the United States.
According to PayScale, the average salary in Vernon Hills is $76,000. If you need help finding Vernon Hills jobs, check out the Village of Vernon Hills Job Board or search for "Jobs in Vernon Hills" on Indeed.
Vernon Hills IL Schools
When living in Vernon Hills, you will be served by the Hawthorn School District 73. This school district consists of nine schools ranging from Pre-K to eighth grade. The Vernon Hills high schools are Vernon Hills High School and Libertyville High School, which are a part of the Community High School District 128.
There are no public colleges or universities in Vernon Hills, but there are many nearby. Some of the closest higher education options are Trinity International University (6.4 miles away), the University of Illinois at Chicago (36 miles away), and Robert Morris University (37 miles away).
The Empire Beauty School is a popular cosmetology school in the Vernon Hills area.
Vernon Hills Statistics & Information
County: Lake County
Township: Libertyville, Vernon
Vernon Hills Area: 7.94 square miles
Vernon Hills Zip Code: 60061
Vernon Hills Area Code(s): 847, 224
Vernon Hills Elevation: 734 feet
Vernon Hills Time Zone: Central Standard Time (CST)
Closest airport to Vernon Hills: Chicago O'Hare International (ORD), 17.3 miles away
Vernon Hills IL Map
Explore more things to do, restaurants, and amenities with this map of Vernon Hills.
Is moving to Vernon Hills in your future? With a variety of services available, from full service to labor only assistance, the experts at Federal Companies are here to help! Contact us today at (800) 747-4100 for a free quote.