The widely recognized city of St. Louis, MO is known for its baseball history, draft beer, and the second most famous arch aside from McDonald's. St. Louis is located right along the Missouri-Illinois state line and is bordered by nearby areas such as Clayton, East St. Louis, Jennings, Madison, Maplewood, Pine Lawn, Richmond Heights, Shrewsbury, University City, St. Charles, and Wellston.
European explorers Jacques Marquette and Louis Jolliet first discovered the area back in 1673 as they were heading along the Mississippi River valley area. It started off as a portion of Louisiana until the famous Louisiana Purchase occurred. The town was founded in February 1764 but St. Louis wasn't incorporated as a city until 58 years later in 1822, the year after Missouri became a state.
St. Louis has a well-known nickname of "Gateway to the West" due to the world-famous Gateway Arch that stands near the Mississippi River. But it has also been called Mound City, The Lou, Lion of the Valley, and Rome of the West.
There have been many notable people who have lived in St. Louis including historic individuals such as famous explorers Lewis and Clark as well as civil rights activist Maya Angelou. Rapper Akon, Cedric the Entertainer, actor John Goodman, and singer Tina Turner have resided in the city as well. But with its history in baseball, St. Louis has housed many MLB players such as Yogi Berra, Mark McGwire, Lou Brock, Mark Buehrle, and more.
1. People of St. Louis, MO – Population & Demographics
How many people live in St. Louis? The city was once home to over 850,000 people during the 1850s. But suburbanization between the 1950s and 1990s greatly reduced the number of people residing in St. Louis as new housing developments were built away from the central city.
The current population in St. Louis is 300,576 residents with a median age of 36 years old. While few people are relocating to St. Louis, it remains the second-largest city in Missouri only behind Kansas City.
St. Louis demographics show the population is diversely made up of about 45% Black or African American, 44% Caucasian, and 4% Asian. The most common ancestry in St. Louis includes 16% German, 10% Irish, 5% English, 4% American, 4% Italian, and 2% French. The St. Louis gender ratio leans slightly in favor of women with about 52% female and 48% male.
About 35% of residents living in St. Louis are married as the city has an average of about 2 people per household. The median household income in St. Louis is $47,176, which is lower than the national average.
2. St. Louis Neighborhoods
The city of St. Louis is considered independent, which means it isn't part of a county, though it is directly connected along the eastern border of St. Louis County.
Where should you live in St. Louis? As people consider moving to St. Louis, they often wonder where they can find the best neighborhoods around the city.
Skinker-Debaliviere
As a beautiful St. Louis community, Skinker-Debaliviere is a great place for families with access to reputable schools and fun things to do.
Population:

4,077

Average price of a home:

$242,000
Hi-Pointe
The neighborhood of Hi-Pointe is one of the safest places to live in St. Louis, giving residents peace of mind as they travel to and from their homes. 
Population:

2,196

Average price of a home:

$165,000
Dutchtown
Among the most populated neighborhoods in St. Louis, Dutchtown is also one of the most affordable places to live across the entire city.
Population:

15,769

Average price of a home:

$113,000
Benton Park
If you're looking for fun activities, then the area known as Benton Park may be a great fit for you.
Population:

4,376

Average price of a home:

$250,000
Northampton
Another great St. Louis community for families is Northampton as it provides good school options, nice amenities, and other benefits.
Population:

7,892

Average price of a home:

$199,000
3. Cost of Living in St. Louis, MO
The average cost of living in St. Louis is 19% lower than the national average and about 5% lower than the Missouri state average. People moving to St. Louis can often expect to pay less for healthcare, housing, and utilities when compared to many other parts of the state. Though food and local transportation costs do tend to be on the higher side.
The St. Louis property tax rate is 1.050%, so you can expect to pay around $1,964 per year in property taxes for a $187,000 home.
Missouri state income tax rates in St. Louis are between 0% to 5.4% based on your annual income. 
How much does it cost to live in St. Louis, MO? Statistics from Numbeo will give you a decent idea of what you can expect to pay for some of your St. Louis expenses.
St. Louis Typical Living Expenses
Meal inexpensive restaurant $12

Meal for 2 People Mid-range Restaurant $50

Milk (regular) $3

Loaf of Fresh White Bread $1.81

Rice $1.31

Eggs $1.82

Local cheese $4.82

Chicken filets $4.22

Beef round $6.35

Basic monthly utilities $180.33 

Internet $59.43
4. Crime Rate in St. Louis
There is a crime rate in St. Louis of 1,927 per 100,000 people, which is about 226% higher than the national average. The property crime rate in St. Louis is 6,194 per 100,000 people.
Along the same line, violent crime in St. Louis is about 408% higher than the US average. The violent crime rate in St. Louis is 1,927 per 100,000 residents with aggravated assault being the most common. All in all, residents living in St. Louis have a 1 in 13 chance of becoming a victim of crime.
Some may not consider St. Louis a safe place to live, but it still has plenty of secure and comfortable areas to call home.
The metro police department offers access to a St. Louis crime map, which allows you to see crime statistics and where the incidents took place.
5. St. Louis, MO Weather
The humid subtropical climate in St. Louis means the city experiences mildly cold winters and long, muggy summers. St. Louis weather 
The average temperature in St. Louis during the summer varies between lows in the 70s and highs in the mid-90s with an average humidity of 63.5%. Winters cool down quite a bit as temperatures fall to the low 20s at night and get up to the low 40s during the day.
St. Louis weather also brings an average of 42 inches of annual rain and about 15 inches of snow per year.
The best time to visit St. Louis is usually during springtime in April and May or as fall starts in September and October.
6. Things to Do in St. Louis
With a wide range of fun outdoor activities, popular points of interest, and beautiful parks, you are sure to find plenty of enjoyable places to visit in St. Louis.
Top Attractions
View this post on Instagram
Entertainment, Museums, & Arts
View this post on Instagram
Parks & Outdoors
Missouri Botanical Garden

– Atop the list of outdoor activities in St. Louis, this gorgeous garden covers 79 acres and features a Victorian home, a greenhouse, and a butterfly garden.

Forest Park

– As home to the local zoo, multiple museums, sports fields, and a golf course, there are a massive amount of things to enjoy at this huge 1,371-acre park in St. Louis.

Citygarden Sculpture Park

– Wander through this St. Louis point of interest and admire the sculptures, water features, walkways, and other amazing sights.
View this post on Instagram
Shopping
Saint Louis Galleria

– For a high-end shopping experience, look no further than the amazing stores, classy restaurants, and new-release movie theater at this local shopping center.

Plaza Frontenac

– As another one of the best places to visit for shopping in St. Louis, Plaza Frontenac has a great selection of department shops, restaurants, small boutiques, and more.
View this post on Instagram
7. Places to Eat in St. Louis
Once you're in the area, there's no doubt you'll want to know where you can find the top restaurants in St. Louis.
Pappy's Smokehouse

– Stop at this top-rated eatery in St. Louis for mouthwatering Memphis-style barbecue including ribs, pulled pork, sandwiches, platters, and more.

Broadway Oyster Bar

– If you're a fan of Cajun food like oysters, shrimp, and wings, this is one of St. Louis's top places to eat.

Zia's Restaurant and Catering

– With Italian cuisine like pasta, cod, chicken, and other items on their menu, Zia's is among the best restaurants in St. Louis.
View this post on Instagram
8. St. Louis Real Estate
The St. Louis real estate market is very competitive due to the low cost of housing found across the city. The homeownership rate in St. Louis is 43.7%, showing less than half of its residents buy their living spaces.
St. Louis, MO homes for sale range from small two-bedroom houses up to a few large, multi-million dollar properties. The average price of a home in St. Louis is $187,000, which comes out to a median sale price of $139 per square foot.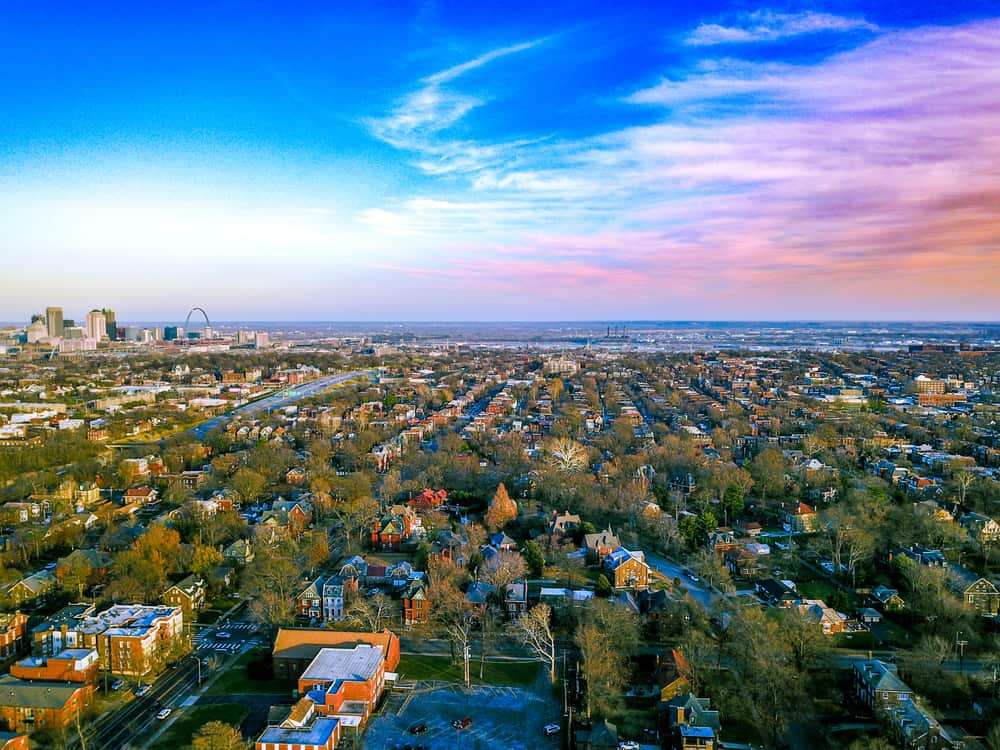 At around 56.3% of the population, the slight majority of residents living in St. Louis rent their homes and apartments. The average price of rent in St. Louis $969 per month, which is a 1% increase compared to last year.
The main utility companies in St. Louis are:
9. St. Louis Schools
About 63,120 kids between the ages of 0 and 18 years old are living in St. Louis, making up around 21% of the city's population. While reviews are often mixed, a good portion of residents feels St. Louis is an excellent place for families to live.
As part of the reputable St. Louis City Public School District, a few of the top St. Louis schools include:
Mallinckrodt A.G.I. Elementary School

Kennard/Classical Jr. Academy

Community Access Job Training 8-12

Mckinley Classical Leadership Academy

Metro High School

St. Louis Med/Bio Science High School

(ranked 8th best high school in Missouri)
There are a handful of great colleges and universities found within St. Louis city limits. New high school graduates can choose between Washington University in St. Louis and Saint Louis University as well as multiple community colleges and trade schools.
10. Jobs in St. Louis
St. Louis is home to multiple service industries as well as manufacturing, trade, transportation, and tourism industries. This opens up many opportunities to work at great St. Louis jobs that fit a variety of skill sets.
The average salary in St. Louis is $65,000 per year with an average hourly rate of $18.57 per hour. The most recent St. Louis unemployment rate is 6.9%.
When it comes to St. Louis jobs, hundreds of employers provide chances to put your talents and experience to the test. A few of the best places to work in St. Louis are:
Centene

BJC HealthCare

Anheuser-Busch

Schnucks
If you are searching for a job in St. Louis, check out available careers on Indeed.
11. Transportation in St. Louis
Wondering how to get around St. Louis? Thanks to a reliable St. Louis transportation system and the small area the city covers, traveling around the area is simple.
The city is served by Metro St. Louis, which provides local access to buses, the MetroLink train, and its own "Call-A-Ride" program for scheduled pickups. Rideshare services including Uber and Lyft also provide residents with additional help getting around St. Louis.
St. Louis has minimal traffic issues and stands among the easiest cities for commuting. The average commute time in St. Louis is 24.4 minutes. 
The St. Louis Lambert International Airport (STL) provides people with a convenient place they can plan flights to or from St. Louis.
12. Sports in St. Louis
Professional sports teams in St. Louis include the St. Louis Cardinals (MLB), the St. Louis Blues (NHL), and the St. Louis City SC (MLS) who will make their league debut in 2022.
The St. Louis Cardinals baseball team has won the World Series 11 times with the most recent victory in 2011. They play their home games at Busch Stadium, which offers a great view of the Gateway Arch behind center field.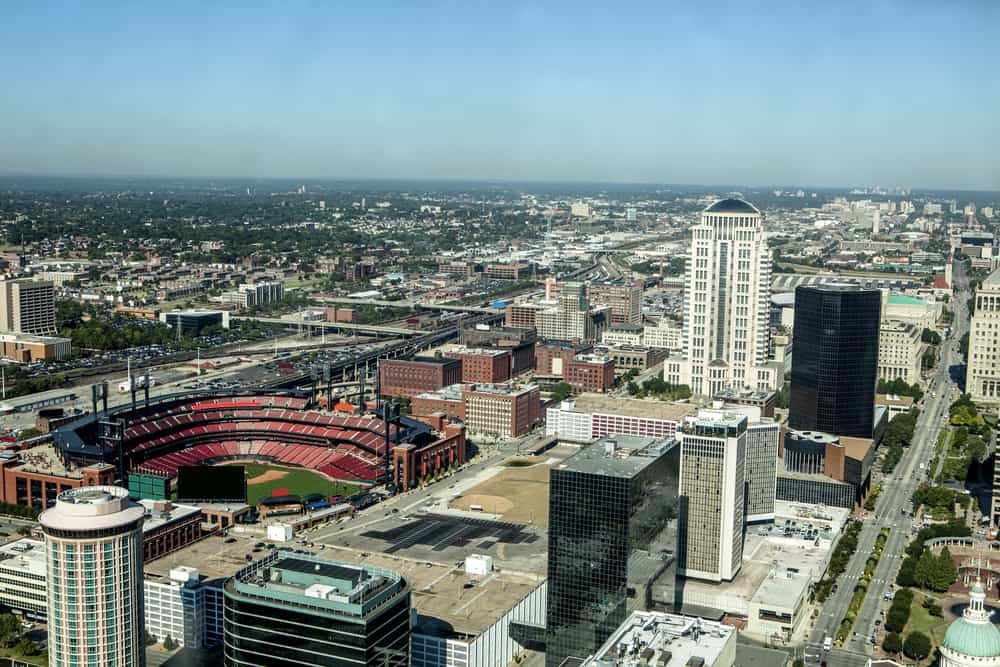 The St. Louis Blues hockey team won the Stanley Cup in 2019. The Blues play home games at the Enterprise Center, which also hosts events for NCAA sports, concerts, and more.
Living in St. Louis Pros & Cons
Pro:

You'll find more than enough fun activities, great things to do, and local attractions to keep you entertained.

Pro:

The St. Louis cost of living is lower than both the national average and the Missouri state average.

Pro:

Delicious food can be found all over the place with a huge selection of top-rated restaurants in St. Louis.

Con:

The high crime rate in St. Louis may make it more difficult to find a safe place to live.

Con:

If you're not a fan of humidity, you may not be a fan of St. Louis weather.
Moving to St. Louis, MO
There are some great reasons to move to St. Louis including its history, nice neighborhoods, and low cost of living. If you need dependable St. Louis movers to help with your upcoming relocation to the area, count on the team at Federal Companies! Give us a call today at (800) 747-4100 or fill out the Request a Quote form on this page for a free moving estimate!