The steadily-growing city of Creve Coeur, MO is conveniently located about 14 miles northeast of downtown St. Louis. It is bordered by Chesterfield, Frontenac, Ladue, Olivette, Town and Country, Westwood, Breckenridge Hills, Crystal Lake Park, Des Peres, Huntleigh, Maryland Heights, Overland, Rock Hill, St. Ann, and Warson Woods.
Pronounced "krev kor", Creve Coeur is French for "broken heart".
The area was first settled in the early 18th century when French explorers started developing it as a fishing and farming community. The land was part of the 1803 Louisiana Purchase when the United States took ownership. Creve Coeur was officially incorporated as a city in 1949.
Best known for being a bedroom community of St. Louis, Creve Coeur is mostly residential with a handful of commercial areas scattered throughout the suburb.
Over the years, Creve Coeur has been home to a variety of notable people such as actor Jon Hamm, NBA player Jayson Tatum, NBA player Bradley Beal, MLB player Yadier Molina, and NASCAR driver Spencer Boyd.
As a safe city with lots of benefits and amenities, Creve Coeur is a great place to live. Learn all of the benefits of moving to Creve Coeur in this helpful guide.
1. People Living in Creve Coeur, MO – Population & Demographics
How many people live in Creve Coeur? The area has more than tripled in size since the 1960s with over 13,000 newcomers relocating to Creve Coeur in that period. The Creve Coeur population is 18,538 people with a median age of 49 years.
Creve Coeur demographics are slowly growing more diverse with each passing year as the area includes about 74% Caucasian, 11% Asian, 9% Black or African American, and 4% Hispanic or Latino. The local gender ratio is 51% female and 49% male as women hold a slight numbers advantage over men.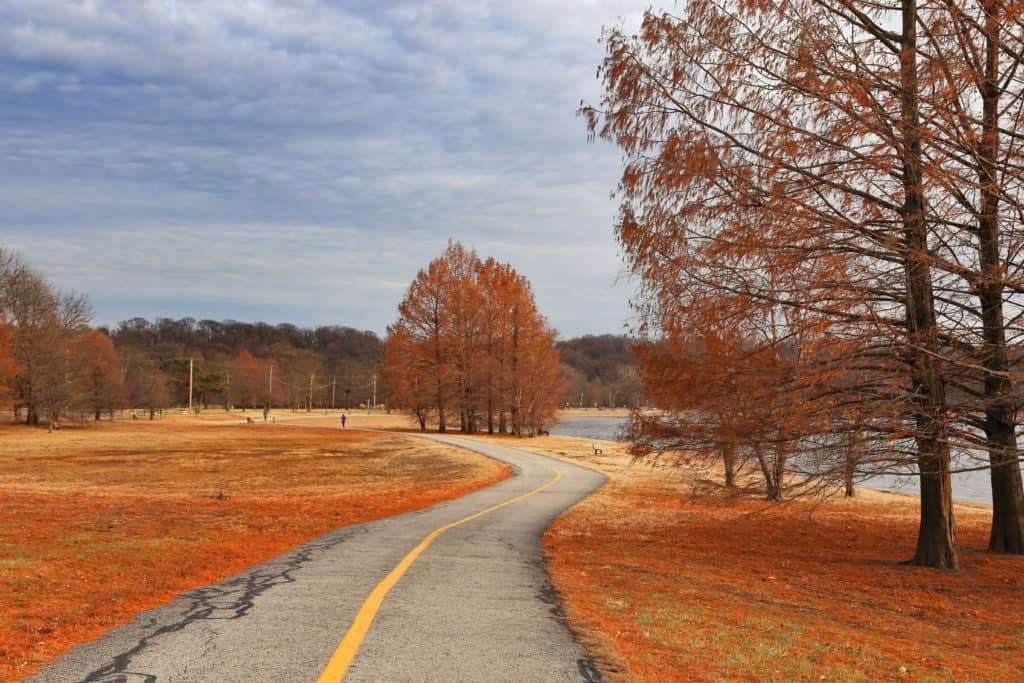 The median household income in Creve Coeur is $96,319 per year, offering an area that is becoming increasingly affluent.
Is Creve Coeur a safe place to live? As the 11th safest city in Missouri, the crime rate in Creve Coeur is 34% lower than the state average and about 13% lower than the national average. With family-friendly communities and secure neighborhoods, Creve Coeur is a safe place to live.
People residing in the area are served and protected by the Creve Coeur Police Department, which currently has about 47 men and women on the police force.
2. Cost of Living in Creve Coeur, MO
How much does it cost to live in Creve Coeur, MO? The average cost of living in Creve Coeur is about 40% higher than the Missouri state average and about 26% higher than the national average. Lower costs can be seen in healthcare and local utilities, while higher prices show up for groceries, transportation, and the Creve Coeur real estate market.
The homeownership rate in Creve Coeur is 69.4%. Local Creve Coeur, MO homes for sale offer spaces that are built to fit every type of need and lifestyle, from single-family houses to condos. The average price of a home in Creve Coeur is $397,500 with a median sale price of $152 per square foot.
The Creve Coeur property tax rate is 1.380%, so a $397,500 home would have about $5,486 in property taxes per year.
Nearly 31% of residents living in Creve Coeur rent or lease their homes and apartments. The average price of rent in Creve Coeur is $1,214 per month, which varies based on the community and its features.
3. Creve Coeur Neighborhoods | Where to Live in Creve Coeur
Where should you live in Creve Coeur? With so many safe communities located around the city, it's easy to find comfortable neighborhoods in Creve Coeur like:
Kings Landing

Cove West

Vicino on the Lake
Creve Coeur has six local parks, which offer open space and green grass for all to enjoy. The Creve Coeur Parks & Recreation Department manages these properties to ensure they stay clean and properly maintained.
Convenient shopping in Creve Coeur is available at stores like Walgreens, Westgate Centre, Trader Joe's, Aldi, Petco, and Bellerive Plaza.
Creve Coeur is 14 miles from St. Louis and traveling from Creve Coeur to St. Louis is easy whether you want to commute or visit a drive that takes 20 minutes.
4. Creve Coeur, MO Weather & Climate
The average temperature in Creve Coeur is between lows in the 20s and upper 30s during wintertime. Summers heat up to warmer temps ranging from the upper 60s at night to the upper 80s during the day.
There is a continental climate in Creve Coeur, which means people living in the area get both snow and rain during the year. The weather in Creve Coeur brings about 43 inches of rain and over 14 inches of snow annually. Residents will want to always keep an umbrella close along with winter clothes like coats, boots, and sweaters.
5. Things to Do in Creve Coeur
People living in Creve Coeur have lots of outdoor activities, points of interest, places to visit, parks, and landmarks to enjoy across the city.
View this post on Instagram
Among the top-rated Creve Coeur attractions, the local Millennium Park covers a large area of 25 acres. The space offers lots of outdoor activities for kids and adults including two children's playgrounds, a splash pad, sports fields, picnic areas, and more.
Millennium Park, 2 Barnes W Dr, Creve Coeur, MO 63141  (314) 872-2570
One of the best things to do in the community is to visit the Creve Coeur Ice Arena, which is open all year round. This top-rated place to visit in Creve Coeur offers clubs, skating lessons, hockey classes, figure skating training, and free skate sessions.
Creve Coeur Ice Arena, 11400 Olde Cabin Rd, Creve Coeur, MO 63141
Additional Creve Coeur Attractions
6. Creve Coeur Restaurants
If you're thinking about moving to Creve Coeur, there's no doubt you'll want to learn about the best places to grab some food in the city.
One of Creve Coeur's top places to eat is Gulf Shores Restaurant & Grill, a laid-back Cajun diner. Specializing in this popular cuisine, their menu boasts mouthwatering items like soups, gumbo, seafood tacos, jambalaya, oyster platters, po' boys, and beyond.
Gulf Shores Restaurant & Grill, 12528 Olive Blvd, Creve Coeur, MO 63141  (314) 878-3306
View this post on Instagram
As one of the tastiest restaurants in Creve Coeur, Gobble Stop Smokehouse is the place to go for delicious BBQ. They have a fantastic selection of smoked ribs, chicken wings, brisket, pulled pork, and savory sauces.
Gobble Stop Smokehouse, 1227 Castillon Arcade Plaza, Creve Coeur, MO 63141  (314) 878-5586
7. Jobs in Creve Coeur
According to Payscale, the average salary in Creve Coeur is $65,000 per year. Based on local regulations, there's a 5.9% state income tax rate. When it comes to working stats, there is a 4.5% Creve Coeur unemployment rate.
Even in the small amount of commercial space, it's easy to find great Creve Coeur jobs nearby. There's a spread of reputable companies around town offering trusted places to work in Creve Coeur such as:
Elder Manufacturing Co

Barnes-Jewish West County Hospital
8. Creve Coeur Schools
About 19% of the population living in Creve Coeur are children with around 3,522 kids between the ages of 0 and 18 years old. There are so many advantages around the city that make Creve Coeur an excellent place for families to live.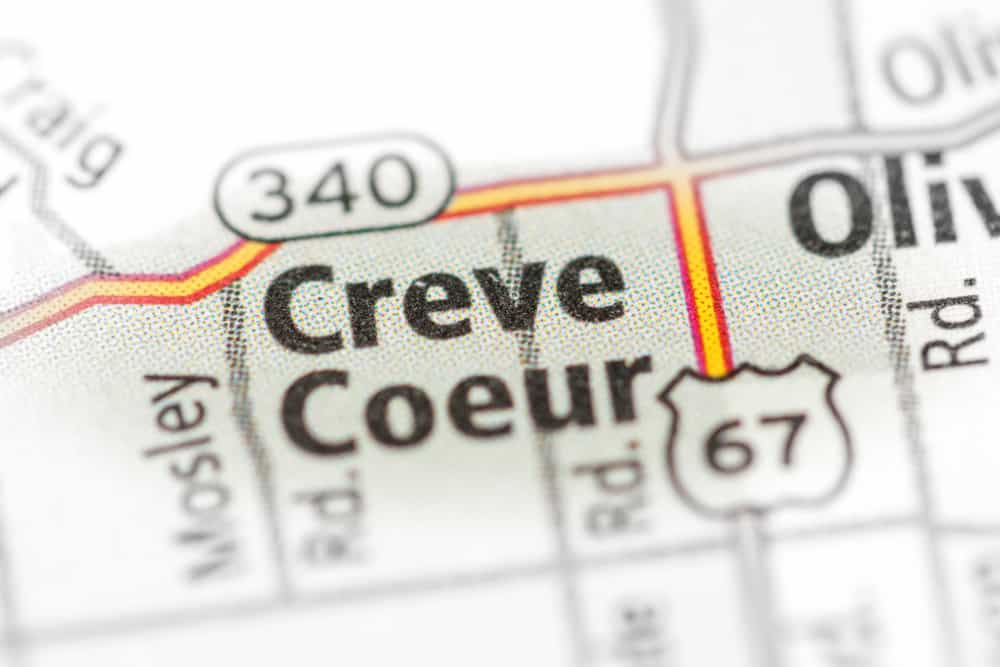 Most schools in Creve Coeur are hosted by the Ladue School District and the Parkway School District. Between these two districts, the top local schools are:
Bellerive Elementary School

Willow Brook Elementary School

Northeast Middle School
The nearest colleges and universities to residents in Creve Coeur are the University of Missouri-St. Louis and Missouri Baptist University.
Students, children, and adults all have access to the free St. Louis County Library – Thornhill Branch as well.
9. Creve Coeur Statistics & Information
Creve Coeur spans a geographic area of 10.3 square miles and is centrally located in St. Louis County, Missouri. Zip codes for the city include 63131, 63132, 63141, and 63146. The only local area code is 314.
The time zone in Creve Coeur is Central Standard Time (CST) and Central Daylight Time (CDT) during daylight savings time.
The elevation in Creve Coeur is 604 feet above sea level.
Map of Creve Coeur, MO
Find other places to visit, things to do, and restaurants close by with help from this local Creve Coeur map.
Tips for Living in Creve Coeur
As one of the safest cities in Missouri, residents living in Creve Coeur enjoy a strong sense of security.

Since the cost of living is rising, it's important to confirm your budget fits local expenses.

Make sure you have winter gear ready for the rain and snow during the colder months.
Moving to Creve Coeur, MO
There are so many perks with relocating to Creve Coeur which have made it one of the top St. Louis suburbs to call home. If you're interested in making this comfortable city your new place of residence, count on the trusted Creve Coeur movers here at Federal Companies to help you! Give us a call today at (800) 747-4100 or fill out the Request a Quote form on this page for a free moving estimate!