Situated approximately 40 miles northwest of Chicago, Barrington is an affluent and family-friendly village and suburb of Chicago. Deer Park sits along the village's eastern border, while Barrington Hills is located just west of the area. Nearby, you'll find other popular Chicago suburbs — including Inverness, Lake Zurich, and Buffalo Grove. The village is also minutes from Cuba Marsh Forest Preserve, Makray Memorial Golf Club, Hawley Lake, and Baker Lake.
Barrington was first founded in 1865. Locals can learn about its rich history at the Barrington History Museum. Today, the suburb is well-known for its historic 19th century architecture, high-end homes, and breathtaking natural spaces. Downtown Barrington is known for its small town charm, top-rated restaurants, numerous parks and nature preservers, and convenient shopping. Locals living in Barrington especially appreciate the tranquil residential neighborhoods that comprise this breathtaking community.
Throughout the years, various celebrities and notable personalities have lived in Barrington. Author Veronica Roth, fashion designer Cynthia Rowley, and NFL player Kirk Cousins have all resided in the area.
Barrington Population & Demographics
The Village of Barrington's population is 10,722 (as of 2020). This is an increase from 2019 (when the area was home to 10,290 residents). An estimated 54 percent of the population identifies as female, whereas 46 percent identify as male. The median resident age is 40.8 years old, which is about 10 percent higher than Illinois's median age.
Among the 3,988 households in town, 74 percent include married couples. Locals are highly educated, with 95.6 percent of people having at least a high school diploma. Nearly 70 percent of the population have a bachelor's degree or higher. Reflecting this high level of education is the village's median per capita and household income figures. The median household income of Barrington is $112,794, which is one and a half times higher than that of the Chicago metro area. Median per capita salaries hover around $64,507, which is also significantly higher than figures in the Chicago metro area.
Approximately 82 percent of people living in Barrington identify as White. Nine percent identify as Asian, five percent as Hispanic, two percent as Black, one percent as two or more races, and one percent as "other."
Barrington is a safe place to live. Total crime is significantly lower than in surrounding areas. In fact, when compared to the rest of Illinois, Barrington crime rates are 61.5 percent lower. Incidents of violent crimes are 95.3 percent lower than the state's current rate. Keeping the village safe is a fantastic staff of officers at the Barrington Police Department.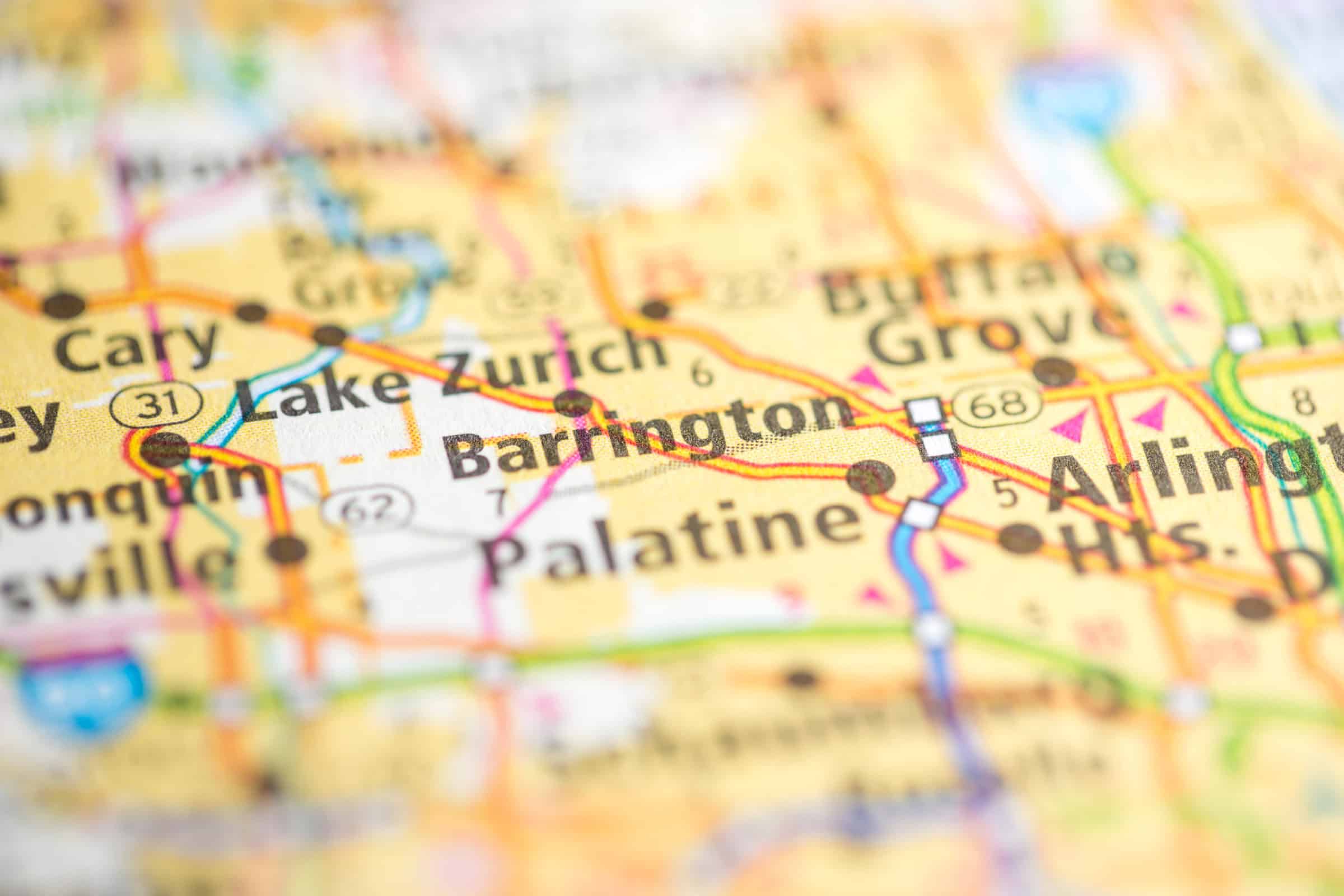 Cost of Living in Barrington
Wondering to yourself, "what is the cost of living in Barrington?" As an upscale Chicago suburb, individuals who are planning on moving to Barrington can expect to pay higher than average prices for a variety of items.
The Barrington median home price currently sits at $475,600. This figure is two times higher than median home prices in the Chicago-Naperville-Elgin, IL-IN-WI metro area. Approximately 39 percent of the homes in Barrington are valued between $500,000 and $1 million. In addition to its prime location, property sizes are another main driver of these higher prices. The vast majority of houses offer four or more bedrooms, and thousands of square feet of interior space.
Barrington everyday living expenses
Meal at an inexpensive restaurant: $17.38
Meal for two people, Mid-range restaurant, Three-course: $70.00
Loaf of fresh white bread (1 lb): $1.50
Internet (60 Mbps or more, Unlimited data, Cable/ADSL): $97.47
(Source: Numbeo)
According to the Economic Policy Institute, a family of four will need to earn $89,187 per year to afford to live in Barrington.
Barrington Neighborhoods | Where to Live in Barrington
When moving to Barrington, the best places to live depend largely on an individual's preferences. While all neighborhoods are safe and serene, the village's parks and things to do are a determining factor in what area is most suited to your needs.
Those who are in search of a spacious suburban home that is surrounded by breathtaking natural spaces should consider relocating to the Fox Point North neighborhood. Lake Shore Drive South winds around awe-inspiring Lake Louise, with roads leading directly to the Cuba Marsh Forest Preserve.
Individuals who prefer being close to it all should explore the center of Barrington (on and just off of East Main Street). Here, you'll find much of the area's historic architecture, as well as its top-rated shopping and dining establishments.
Plan on commuting from your chosen neighborhood to the city for work? The distance from Barrington to Chicago is about 38.1 miles. When researching Barrington, IL homes for sale, click here for directions from Barrington, IL to Chicago, IL.
Barrington Weather & Climate
Mild summers and long, chilly winters are common weather patterns in Barrington. Featuring all four seasons, the climate in this Chicago area suburb is much like you'd expect in the Midwest.
Depending on the time of year, the average daily low and high temperatures fluctuate between 14°F to 85°F. Cold temperatures begin to arrive at the end of October. By November, daily highs only reach 47°F. In May, the average high jumps dramatically to 71°F.
Snowfall and ice are major considerations in winter. January alone sees average snowfall totals of 4.8 inches. However, this number can easily rise with just one winter storm or blizzard. Before moving to Barrington, be sure to pack your winter coats, gloves, and snow boots.
Things to Do in Barrington
Barrington overflows with things to do for people of all ages. Even when the weather is cold and snowy, there is plenty to see and experience year-round.
Learn about the area's rich history by taking a tour of the Barrington History Museum. Displaying permanent and rotating exhibits, visitors can get a firsthand, immersive glimpse into life since the founding of the village.
212 W Main St, Barrington, IL 60010, (847) 381-1730
Avid golfers should bring their club sets to Barrington's best golf course. This exclusive club offers golf clinics, special events, an expansive clubhouse with top-tier amenities, and the Oak Terrace Grille.
1010 S Northwest Hwy, Barrington, IL 60010, (847) 381-6500
View this post on Instagram
Surround yourself with 330 acres of scenic views at this stunning wildlife refuge. Visitors of this preserve can traverse hiking trails, soak in the tranquility of Baker Lake, and go birdwatching.
E Dundee Rd, Barrington, IL 60010, (800) 870-3666
Barrington operates four parks and other amenities for all residents to enjoy. Check out the complete list of events and destinations on the Barrington Parks and Recreation site.
In addition to these fun things to do, there are many events in Barrington. Click here for a calendar of events.
Barrington, IL provides for some very convenient shopping, including stores such as Jewel-Osco, Anderson's Candy Shop, M.J. Miller & Co., and Barrington Ace Hardware.
Barrington Restaurants
Close to Main Street, there are numerous highly-rated restaurants offering delectable dishes. Spanning various kinds of cuisines, it is easy to find new favorite food and beverage items at Barrington's best restaurants.
Sporting rustic decor that creates a casual, homey vibe, Farmhouse on North is one of Barrington's best places to eat. All housemade dishes use as many ingredients from local farms as possible. Although their menu is seasonal, two recurring favorites include the Famous Friday Fish Fry and hand battered Fried Chicken.
117 North Ave, Barrington, IL 60010, (847) 387-3408
View this post on Instagram
Craving wood fired pizza and wine? At Neoteca, enjoy a bouquet of authentic flavors that are sure to delight your palate. Sample tasty items such as the Burrata Pizza, Artisan Paninis, and one-of-a-kind Bruschetta menu.
130 S Hough St, Barrington, IL 60010, (847) 382-1330
View this post on Instagram
Egg Harbor Cafe
Themed after the cozy breakfast nooks found in Wisconsin's Door County peninsula, this local chain first originated in the south Chicago suburbs. Enjoy a delectable menu of omelets, pancakes, breakfast bowls, salads, and more.
125 W Main St, Barrington, IL 60010, (847) 304-4033
Jobs in Barrington
Among residents who work in town, the most popular industry in Barrington is Professional, Scientific, & Technical Services. Other popular categories of employment in Barrington include Finance & Insurance, Retail, and Professional, Scientific, & Technical Services.
Barrington Schools
The Barrington 220 School District is an exceptional school district in the Chicago suburbs. Barrington High School, Roslyn Road Elementary School, and Grove Avenue Elementary School all receive high marks from GreatSchools.org.
Students and others will enjoy the free Barrington Library. It is located just off of Highway 14 along East Valencia Avenue.
Barrington Statistics & Information
Zip codes: 60010, 60011
Area codes: 847, 224
Counties: Cook County and Lake County
Time zone: Central Time (CT)
Elevation: 830 feet
Total area: 4.79 square miles
Closest airport to the city: O'Hare International Airport
Map of Barrington
Discover additional things to do, places to eat, and beyond with this City Map.

Pros & Cons of Living in Barrington
Pro: Incredibly safe and peaceful neighborhoods
Con: High cost of living
Pro: Close to Chicago
Con: Cold and snowy winters
Pro: Encompasses multiple parks, nature preserves, and lakes
Preparing for your move to the Chicago suburbs? Trust our Barrington, IL movers to help you transport all of your items safely and efficiently. Contact us today at 800-747-4100 for more information.