Aurora is a city in Illinois that's part of the Chicago metro area and spans DuPage, Kane, Kendall, and Will counties. With a population of 199,326, Aurora is known as the "City of Lights" due to the fact that in 1881 it was one of the first cities in the US to boast all-electric street lights. Its historic downtown is located on the Fox River, and the city is home to striking architecture created by big names such as Frank Lloyd Wright and Bruce Goff.
Aurora found its beginnings as two villages: East Aurora, incorporated in 1845, and West Aurora, in 1854. In 1857, the two towns joined, becoming the city of Aurora we know today! Aurora is considered a nice place to live among a suburban-feeling community with many coffee shops and parks. If you're planning on moving to Aurora, IL, you should know that many people living in Aurora rated it as, "The Best City in the US to Live the American Dream." Let's find out why!
Where is Aurora, IL?
Aurora is in northeastern Illinois, USA, and spans Kendall, Will, Kane, and DuPage counties as part of the greater Chicago metropolitan area. The city is about 40 miles west of Chicago, and downtown is located on the Fox River. Aurora has long been a transportation hub for the region, with many stations for rail and bus lines with service to Chicago. Visitors and those living in Aurora are served by the Metra – Burlington Northern Santa Fe Railway (BSNF) and PACE Bus, which provide bus and commuter rail service within the area.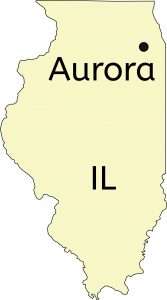 While Aurora isn't considered part of Chicago, it is part of the metropolitan area and a suburb of Chicago. It's 41 miles from Aurora to Chicago, IL while Aurora to O'Hare International Airport is 37 miles.
Aurora, IL Population & Demographics
Aurora's population was 199,326 as of the 2020 Census, making it the number one most populated city in Will, Kendall, and Kane Counties. Aurora spans over 45 square miles and has a population density of 2,877 people per square mile. The gender makeup in Aurora is 51.4% females and 48.6% males.
Aurora, Illinois, has a few homegrown famous names, including musician and teacher Jeff Olson, novelist and explorer Clive Cussler, and NFL player Larry English, to name a few.
The racial demographics in Aurora are diverse, with Hispanic or Latinos making up 41.53% of the population, or 74,981 people. Whites make up 33.8% of the population in Aurora, or 61,017 people, while Asians are 10.89% or 19,659 people. Black or African American are 10.49% or 18,930 people, followed by Mixed/Multi-Racial at 2.79%, Another Race 0.36%, Native American at 0.11% and Pacific Islander at 0.03%.
According to the 2020 Census, the median income for a household in Aurora is $74,659. In 2019, the median income in Aurora IL was $71,749; this increase shows an annual growth of 4.06%. The median age in Aurora, IL is 34.4 years. 95.9% of adults over the age of 25 graduated high school compared to the national average of 94%, while 53.4% of Aurora residents earned a Bachelor's degree or higher compared to the national average of 49%.
Some other noteworthy Aurora, IL demographics include:
The average commute time of workers living in Aurora is 29.2 minutes
The foreign-born population in Aurora is 25.6%
3,548 Aurora residents are veterans
Based on FBI crime statistics, the Aurora, IL crime rate is 550 per 100,000 people. This is lower than the state of Illinois, which is 72.3% lower than the state of Illinois, or 76.6% lower than the country. Violent crime is 8.3% lower than the country, while property crime is 89% lower than the country. Living in Aurora is considered safer than 76.6% of all US cities. As such, Aurora is a safe place to live.
The Aurora Police Department serves the residents of Aurora with 352 officers on staff, or 1 officer per 1,000 residents.
The Cost of Living in Aurora, Illinois
As part of the Chicago-Naperville-Arlington Heights IL metro, the cost of living in Aurora, IL is 113.3, while the U.S. average is 100. To live in the Chicago metro, the Economic Policy Institute indicates a family of four would need to earn $92,894 per year. Here is a further breakdown of expenses to live in Aurora as part of the Chicago metro. Overall, the cost of living in Aurora, Illinois is higher than in the state of Illinois, particularly when it comes to groceries and housing. The median home cost is $271,000 compared to Illinois, which is $234,000, or the US, which is closer to $402,983.
| | | | |
| --- | --- | --- | --- |
| Cost of Living | Aurora | Illinois | USA |
| Overall | 113.7 | 93.4 | 100 |
| Grocery | 99.3 | 94 | 100 |
| Health | 90.6 | 97.2 | 100 |
| Housing | 128.1 | 79.5 | 100 |
| Median Home Cost | $271,000 | $234,000 | $402,983 |
| Utilities | 95.9 | 97.7 | 100 |
| Transportation | 124.4 | 106.2 | 100 |
| Miscellaneous | 108.3 | 98.1 | 100 |
To live in the Chicago metro, according to the Economic Policy Institute, a family of four would need to earn $92,894 per year. Here is a further breakdown of expenses to live in Aurora as part of the Chicago metro.
| | |
| --- | --- |
| Housing | $1,299 |
| Food | $800 |
| Child Care | $1,654 |
| Transportation | $1,041 |
| Health Care | $1,176 |
| Other Necessities | $761 |
| Taxes | $1,010 |
| Monthly Total | $7,741 |
| Annual Total | $92,894 |
Typical Chicago Metro Living Expenses:
Average Aurora utilities per month: $117
Gallon of Milk: $3.25
Loaf of White Bread: $2.67
Meal, Inexpensive Restaurant: $13.50
Meal for 2 People, Mid-range Restaurant, Three-course: $70.00
One-way Ticket (Local Transport): $2.25
Gallon of Gasoline: $4.04
Source: Numbeo
According to Redfin, Aurora has a median home price of $271,000. This is 8.2% lower than the national median of $402,983, which has gone up 7.4% since 2021. RentCafe lists the rent in Aurora, IL as $1,607 for an average apartment that measures 904 square feet.
Aurora Neighborhoods | Where to Live in Aurora
If you're planning a move to Aurora, you might be wondering if it's a good place to live. Residents living in Aurora, IL give the city a liveability score of 54, which is in the bottom half of the United States. The most affluent and expensive neighborhood in Aurora is Eagle Pointe on the southwest corner of the city, while more affordable houses are in the central regions.
If you plan to move to Aurora, it shouldn't be difficult to find neighborhoods and subdivisions to fit all budgets. Here are a few popular neighborhoods to help narrow your list of Aurora, IL homes for sale.
Deerbrook is an Aurora neighborhood that features single-family homes built in the 2010s, east of Route30.
Marywood is a reasonably-priced subdivision in Aurora that features single-family homes south of I-88.
Aurora, IL Weather & Climate
A humid continental climate zone, the weather in Aurora has typical Midwestern freezing, snowy and windy winters, and long, warm, humid, and wet summers. Annually, the area receives almost 30 inches of rain and over 14 inches of snow.
In the summer, temperatures usually vary from 84 to 91 degrees Fahrenheit, while temperatures vary from 16 to -4 degrees Fahrenheit in the winter. January and December are considered the least comfortable and coldest months in Aurora, while mid-June to September are the best times to visit!
Things to Do in Aurora, IL
From award-winning theater, family fun museums, an outdoor concert venue, and nature trails along the Fox River, there are plenty of activities to make your time in Aurora memorable. Shopping is very popular at Chicago Premium Outlets, the Northgate Shopping Center, and the highly-rated Fox Valley Mall, and these are some of the best things to do in the city.
Here are a couple of must-see destinations loved by visitors and residents of Aurora!
Enjoy a fun day at the zoo. Established in 1915, it's open year round and remains free of charge!
1000 Ray Moses Dr, Aurora, IL 60505 (630) 256-3860
This riverside summer concert venue features live music, free parking, a river walk, and a bike path!
360 N Broadway, Aurora, IL 60505 (630) 896-6666
Enjoy some family-friendly fun with museums depicting rural life, a real carousel, paddle boats, and more!
100 S. Barnes Rd., Aurora, IL 60506 (630) 892-1550
View this post on Instagram
Additional Attractions in Aurora, IL
Abbey Farms
Blues on the Fox Festival
Kiddy Club
Downtown Architectural Walking Tour
If you're looking for more things to do in Aurora, check out the Calendar of Events in the Aurora Area of Illinois hosted by Enjoy Aurora and Aurora Parks and Rec.
Aurora Restaurants
Aurora, especially downtown, is where you can eat, drink, and play all year long. There are more than two dozen places to eat in Aurora's downtown alone! Here are some of the most popular restaurants in Aurora:
View this post on Instagram
Jobs in Aurora
If you're thinking of moving to Aurora and you'll need to find a job, the city's largest employers are the Rush Copley Medical Center and West Aurora Public School District 129. According to Payscale, Aurora's average salary is $66,000/yr and $18.06/hr.
The unemployment rate in Aurora, IL is 4.7%—below the U.S. average of 6.0%. From 2019 to 2020, employment in Aurora, IL declined at a rate of 0.47%. If you're looking for a job in Aurora, the city of Aurora employment listings or the Indeed Job Board are good resources!
Aurora Schools
Aurora IL is proud to be the home of Aurora University, a branch of Rasmussen College, and two branches of Waubonsee Community College, and many private schools, academies, and magnet schools. There are top-rated public schools in the Aurora according to ratings of academic performance and equity, including Fred Rodgers Magnet Academy and
Il Mathematics & Science Academy.
The Aurora Public Library serves the city with multiple branches, an express center, and even a bookmobile!
Aurora Statistics & Information
County: DuPage, Kane, Kendall, Will Counties
Aurora Area: 45.91 mi²
Aurora ZIP Codes: 60502–60507, 60568, 60569, 60572, 60598
Aurora Area Code(s): 630, 331
Aurora Elevation: 718′
Aurora Time Zone: Central Standard Time (CST)
Closest Airport to Aurora: It is 56 miles to Chicago O'Hare International Airport (ORD / KORD) and 44 miles to Chicago Midway International Airport (MDW / KMDW)
Aurora, IL Map
Learn more about the city with this map of Aurora!

Considering a move to Aurora, IL? Reach out to our Aurora IL movers for all your moving needs. We're a leader among moving companies in East Peoria, IL & the Greater Chicago, IL & St. Louis, MO areas, and we can't wait to be the first to welcome you home!