Chicago is the largest city in the Midwest and one of America's most culturally exciting cities. The "Windy City" was settled on the shore of Lake Michigan in 1780 and grew rapidly once it was incorporated in 1837. The city famously survived the Great Chicago Fire of 1871 that destroyed much of its infrastructure and led to a rise in stone and steel construction.
Chicago History — From the Air in 1914
While Chicago was once the railroad hub of the U.S. with an economy built around Lake Michigan, Chicago is known today for its finance, manufacturing, and healthcare industries. Living in Chicago may be right for you if you're looking for a fun urban lifestyle with museums, award-winning parks, and cultural attractions at your fingertips and one of America's best public transportation systems.
Considering moving to Chicago? Here's what you're going to love about life in the Windy City.
Chicago Population & Demographics
Chicago is the largest city in Illinois and the third-largest city in the United States. The population of Chicago, Illinois is 2.695 million with a Chicagoland metro population of 9.533 million. Between 1840 and 1940, Chicago was one of the world's fastest-growing cities. It had just 200 people in 1833 but just 7 years later it had grown to 4,000 people. By 1890, Chicago was home to 1.1 million people. It became the 5th largest city in the world at this point. The median age in Chicago is 35, slightly below the U.S. average.
The racial and ethnic composition of Chicago is 45% white, 33% Black or African American, 29% Hispanic, and 5.5% Asian. The median age in Chicago is 34.9 with 91.1 adult males for every 100 adult females.
Chicago has experienced many waves of immigrants over its history. African Americans from the South began arriving in Chicago in the early 20th century and settled in the "Black Belt" on the South Side and the West Side. The South Side soon had the second-largest urban black population after Harlem in New York.
Chicago also has the third-largest LGBT population in America.
Major ancestry groups in Chicago include:
Irish
Polish
German
Italian
Chinese
British
African-American
Chicago Weather & Climate
The Chicago climate is humid continental with hot, humid summers and four distinct seasons. During July, the average temperature is about 76 degrees and peaks around 85. About three weeks out of the year see temperatures above 90 degrees. Thanks to its location on Lake Michigan, cool winds keep lakefront areas of the city cooler than more inland areas.
Winters in Chicago are cold and snowy but with less snow and rain than cities in the eastern area of the Great Lakes region. The typical winter high is 36 degrees. Blizzards happen occasionally and, rarely, Chicago experiences deep colds well below zero. The lakefront effect that keeps areas in the north cooler in the summer contributes to brutally cold winters.
The best time to visit Chicago is April through May or September through October. During the spring and early fall, you'll enjoy warm, pleasant weather and plenty of festivals.
How to Get Around Chicago
Chicago is a regional transportation hub served by 7 major interstate highways including I-90, I-94, I-190, I-57, I-290, I-55, I-88, and I-355. Roadways are usually referred to by regional names including Kennedy Expressway (I-90 from O'Hare International Airport to downtown) and Edens Expressway (I-94 from Lake-Cook Road to the Kennedy Expressway interchange).
Almost 28% of Chicago residents do not have a car. Chicago has one of the largest public transportation systems in the world with the Regional Transportation Authority (RTA) coordinating operation of the Chicago Transit Authority (CTA), Metra, and Pace.
The CTA handles Chicago public transportation with a network of buses and a rapid transit system known as the L. There are 8 lines on the L, two of which offer 24-hour service, one of just two rapid transit systems in the U.S. with 24-hour service.
Metra is one of the country's most used passenger regional rail networks with commuter rail service in Chicago and major suburbs on 11 lines.
Pace offers bus transit in 200 Chicago suburbs and some within the city.
View this post on Instagram
Chicago is also the largest hub for railroad transit in the U.S. and it's one of the largest hubs for passenger rail service on Amtrak for long-distance travel. Chicago is served by O'Hare International Airport (ORD), the busiest airport in the world, and Midway International Airport (MDW).
Real Estate in Chicago, IL
The Chicago real estate market is definitely hot and experiencing soaring prices for the first time in years. In September 2020, Chicago home prices experienced the biggest gains since September 2013 with a year-over-year increase of almost 20%.
The average home price in Chicago is $319,450. Homes spend an average of 22 days on the market and sell for close to list price. You can check Chicago, IL homes for sale here to get an idea of what your budget can buy you.
Chicago is known for its diverse housing styles. The Two Flat was the first type of home for rural and urban families toward the end of the 19th century with a simple, rectangular structure and gables facing the sides. Two Flats are still common in areas like Lakeview, Lincoln Park, and Lincoln Square. Chicago bungalows are also common, particularly in Jefferson Park and Chatham. They're so commonplace that Chicago has a "Bungalow Belt." You'll see examples of original workers' cottages in Lincoln Park and Bridgeport. Chicago greystones and row houses are also a common sight in many neighborhoods.
Considering renting after moving to Chicago? The average rent in Chicago is $1,842, down 18% in 2020 from the year before according to RentJungle. You'll pay about $2,214 on average for a two-bedroom apartment. Rent depends largely on which area of Chicago you decide to settle. The most expensive neighborhoods in Chicago include: Near South Side ($2,591), Near North Side ($2,416), Near West Side ($2,261), the Loop ($2,208), and West Town ($2,006). Avondale, Lincoln Park, Hyde Park, and Lake View are desirable neighborhoods close to the average for rent. You can find more affordable neighborhoods with rent around $1,000 to $1,200 in Chicago.
Best Chicago Neighborhoods – Best Places to Live in Chicago
Chicago is home to about 77 neighborhoods. Where do you envision living in Chicago? Want to be close to the action, or do you prefer a safe suburban feel? Here are some of the best neighborhoods in Chicago to add to your list.
Boystown –Chicago's LGBT Neighborhood
While Chicago has many LGBT-friendly neighborhoods, Boystown is the oldest and officially recognized. Boystown is the heart of Pride Month celebrations in Chicago and it's home to over 16,000 residents. The neighborhood also offers a community garden, great parks like Martin Playlot Park, and a fun nightlife. Boystown is home to 3,300 people. The average home price in this small neighborhood is $342,500. You can check out Boystown, Chicago homes for sale here.
View this post on Instagram
The Loop – Downtown Is a Top Chicago Neighborhood Near Schools & Work
Downtown Chicago, or The Loop, isn't just the center of finance; it's also popular among college students who want to be near their university and young professionals who want to live near work. The Loop is home to 37,600 people. You'll also be close to fun amenities like the Chicago Riverwalk and an exciting nightlife. The average home price in downtown Chicago is $332,000. See The Loop, Chicago homes for sale here.
Edison Park – Safest Neighborhood in Chicago
Edison Park is one of the best Chicago neighborhoods for families with an incredibly low crime rate. This community feels like its own village with tree-lined streets and a quiet, suburban feel. The population of Edison Park is 29,500. Expect an average home price of $375,000. Click here to see Edison Park, Chicago homes for sale.
Norwood Park – Great Chicago Neighborhood for Families & Retirees
Norwood Park also offers a safe, suburban environment with tons of amazing amenities. Popular with retirees and families, residents enjoy the Edgewood Golf Course and Whealan Pool Aquatic Center nearby. The population of Norwood Park is 36,600. The average home price in the neighborhood is $355,275. Click here to see Norwood Park, Chicago homes for sale.
Chicago Neighborhoods Map

Cost of Living in Chicago, IL
How much does it cost to live in Chicago? That's definitely a big question to ask as you consider relocating to Chicago, Illinois. The cost of living in Chicago is about 23% higher than the national average.
While utilities in Chicago are cheaper than average, groceries are a bit more expensive. Housing and transportation costs really drive the Chicago cost of living higher. Chicago's housing costs are 56% higher than the national average. You'll pay about 27% more for transportation like gas and bus fare than most of the U.S. according to Payscale.
Chicago Typical Living Expenses
According to Numbeo, the estimated monthly living expenses for a family of four in Chicago are $3,800 without rent. Here's what you can expect to pay for typical living expenses:
Meal at an inexpensive restaurant: $15
1 gallon of milk: $2.94
1 dozen eggs: $2.20
1 pound chicken breast: $4.49
The average monthly utility bill in Chicago is $132.39 compared to the U.S. median of $160. Planning on using public transit? A 30-day CTA/Pace Pass is $105 with reduced fare passes available.
Chicago Tax Rates
Don't forget to consider how taxes affect the cost of living in Chicago, IL. Here's what you should expect.
Illinois has a flat income tax rate of 4.95%.
The Chicago sales tax rate is 10.25%.
The average effective property tax rate in Chicago is 2.12%, one of the highest in the U.S. Illinois is considered the least tax-friendly state for homeowners.
Chicago Economy
Chicago has the country's 3rd highest gross metropolitan product and it's considered one of the most balanced economies in America thanks to its diverse industries. Chicago is a world financial center with the country's second-largest central business district and major financial and futures exchanges like the Chicago Stock Exchange.
Chicago is a major distribution and transportation center with major industries including manufacturing, insurance, transportation, publishing, financial services, pharmaceuticals, education, and food processing. The service sector alone employs one-third of Chicago's workforce, particularly in finance.
View this post on Instagram
Jobs in Chicago, IL
Metro Chicago is home to 36 Fortune 500 companies. You'll have no trouble finding exciting employment opportunities in Chicago in major sectors like finance, manufacturing, education, healthcare, and government. The largest employers in Chicago include:
U.S. Government
Chicago Public Schools
Cook County, Illinois
Advocate Health System
JPMorgan Chase
University of Chicago
State of Illinois
United Continental Holdings
AT&T Illinois
Abbott Laboratories
University of Illinois at Chicago
Northwest Memorial Healthcare
American Airlines
View this post on Instagram
In healthcare, you'll find top employers like the Healthcare division of General Electric, Abbott Laboratories, Baxter International, and top hospitals like Northwest. In the financial sector, Chicago is home to one of the Federal Reserve Banks, the Federal Home Loan Bank of Chicago, and major banks like JPMorgan Chase and Bank of America. There are four banks headquartered in Chicago plus five large financial exchanges.
The median household income in Chicago is $57,200. According to Payscale, the average salary in Chicago is $71,000 or $19.57/hour.
Want to work at a top-rated company while living in Chicago, IL? According to employee feedback on Glassdoor, the best places to work in Chicago are:
Northwestern University
University of Illinois at Chicago
United Airlines
JP Morgan
Accenture
Chicago Healthcare & Top Hospitals
Chicago is home to a comprehensive healthcare system with one of the top-rated hospitals in America. The Illinois Medical District includes Rush University Medical Center which is the second-best hospital in metro Chicago and John H. Stroger Jr. Hospital of Cook County, one of the nation's busiest trauma centers.
Northwestern Memorial Hospital ranked 13th in the nation on the prestigious Honor Roll list by U.S. News & World Report. This makes it not only the best regional hospital but one of the best in the U.S. with national ranking in 11 specialties. Loyola University Medical Center, Advocate Christ Medical Center, and the University of Chicago Medical Centers also make the list of the best hospitals in the state.
Best Places to Eat in Chicago
What food is Chicago famous for? Its iconic deep-dish pizza, Italian beef sandwiches, the Chicago dog, Chicago-style barbecue. Ready to dig in and experience some of the best Chicago restaurants you'll enjoy once you relocate? Here are three top-rated restaurants in Chicago you'll love.
Gene & Jude's is home to the best Chicago dog in town. The Chicago hot dog is a beloved icon of Chicago cuisine with a Vienna sausage on a poppyseed bun with mustard, relish, tomato, hot peppers, onion, and dill pickles.
Gene & Jude's, 2720 N River Rd, River Grove, IL 60171 (708) 452-7634
View this post on Instagram
Want to try the famous Chicago-style pizza? Giordano's is a local chain and favorite among Chicago residents with world-class Italian food and famous deep-dish pizza.
Giodano's, 730 N Rush St, Chicago, IL 60611 (312) 951-0747
This hip restaurant is where Stephanie Izard serves small plates with a dramatic open kitchen layout. You'll love the cocktails and the experience which makes for a perfect date night in Chicago near the city's nightlife.
Girl & The Goat, 809 W Randolph St, Chicago, IL 60607 (312) 492-6262
Fun Things to Do in Chicago
Ready to find out why 58 million people visit Chicago every year? While living in Chicago, you'll never run out of fun Chicago attractions and activities. From sports to museums, performing arts, and cultural attractions to amazing parks and an exciting nightlife, Chicago is a city of endless entertainment. Here are some of the best things to do in Chicago for families, couples, history lovers, and anyone who appreciates the great outdoors.
Top Attractions in Chicago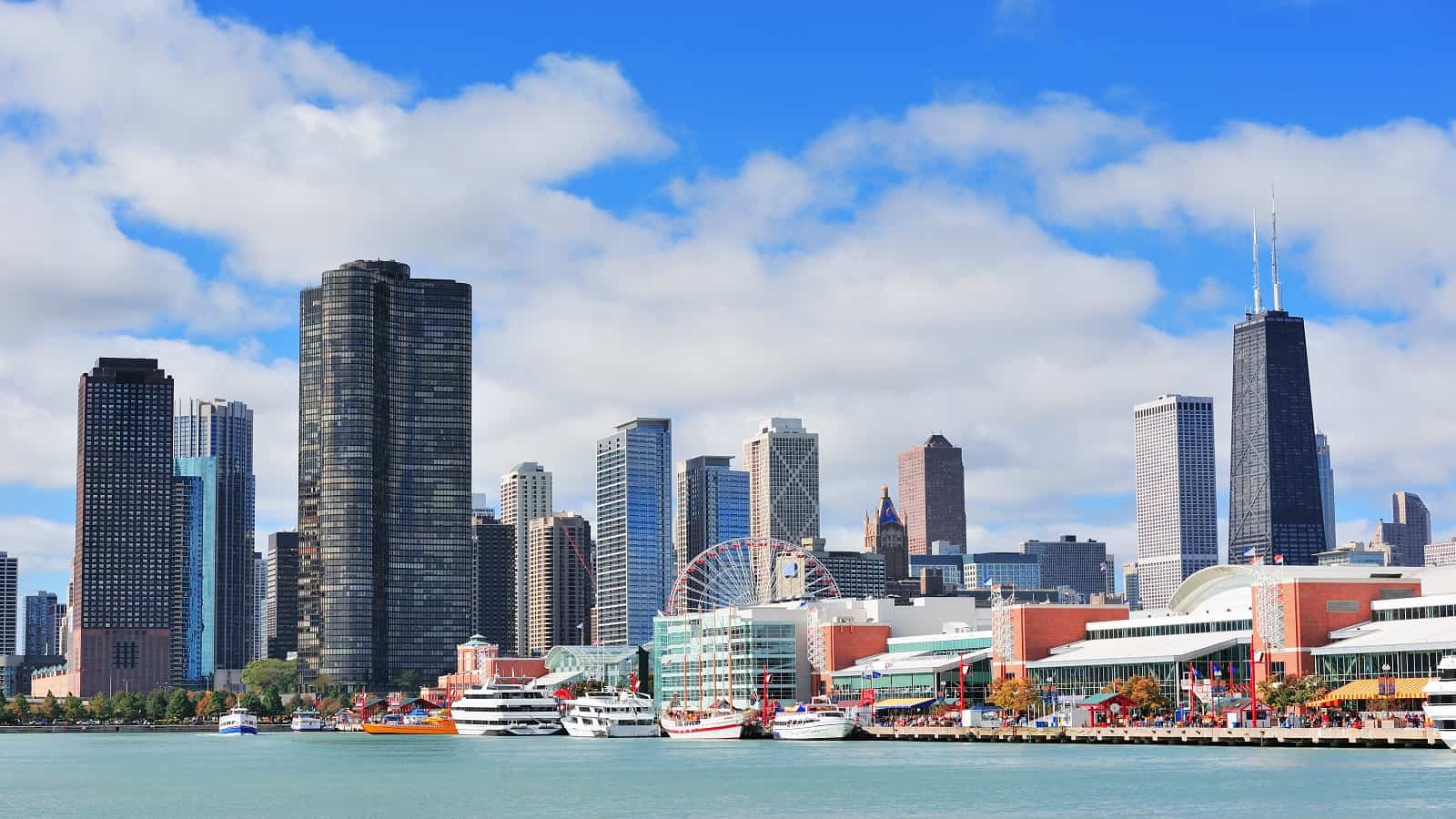 Chicago Parks
Chicago Entertainment & Arts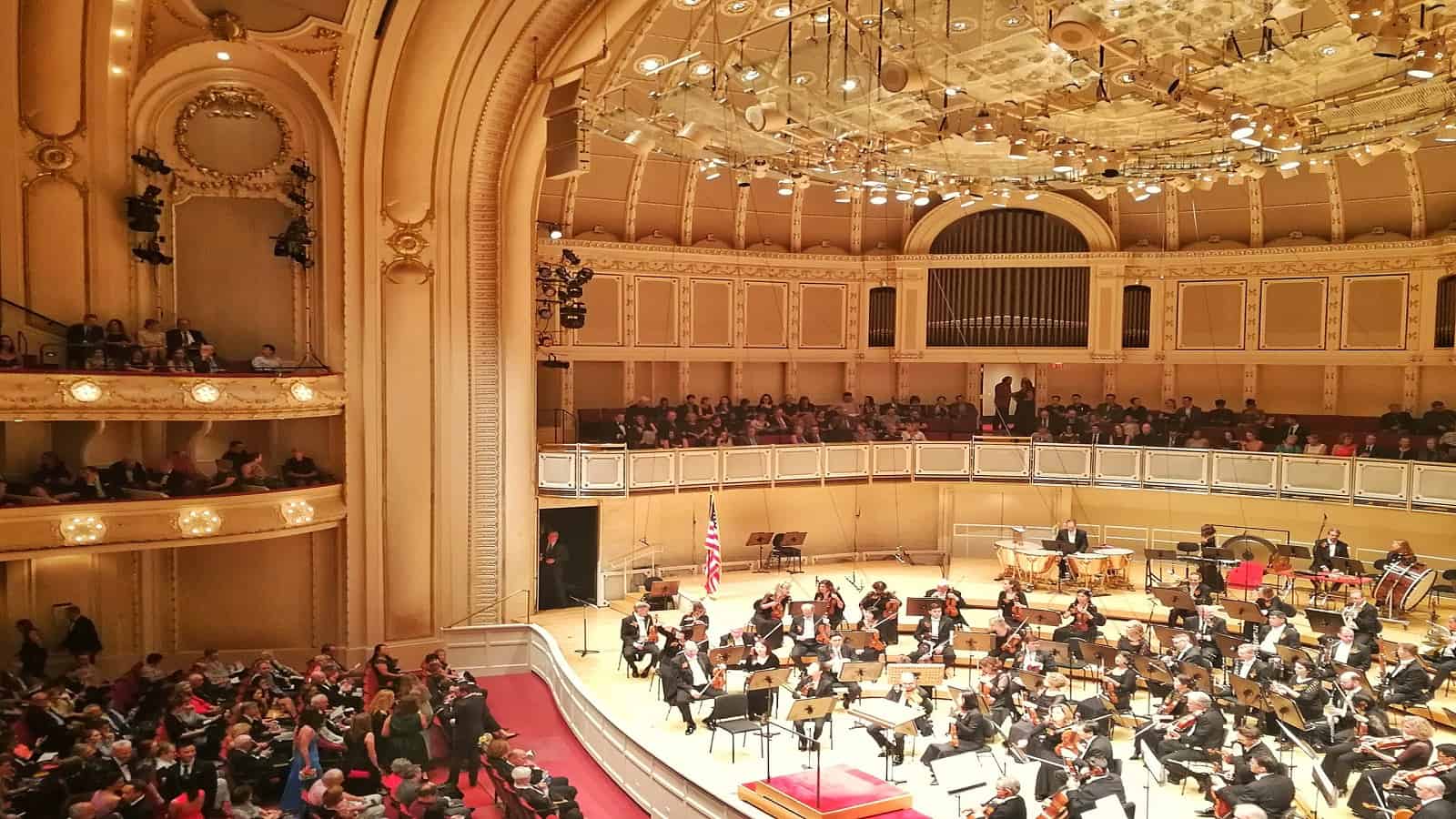 Shopping in Chicago
The Shops at North Bridge is one of the most popular malls in Chicago with popular restaurants and a large food court.
The Maxwell is a smaller shopping destination near the University of Illinois at Chicago with major retailers like TJ Maxx and Nordstrom Rack.
Water Tower Place is an upscale shopping center with spas, restaurants, and retail options. It's a Chicago landmark right on the Magnificent Mile with mixed-use development that features a hotel, condos, movie theater, and more.
Chicago Museums
Map of Things to Do in Chicago
Chicago Sports
As a sports fan, you'll love living in Chicago which has been named the Best Sports City several years by Sporting News. The Windy City is one of just 8 cities to win championships in all four major professional leagues and one of just 5 cities that has also won soccer championships.
Chicago Bears (NFL) play at Soldier Field. They've won 9 championships and one Super Bowl
Chicago Cubs (MLB) play at Wrigley Field and have won 3 World Series
Chicago White Sox (MLB) play at Guaranteed Rate Field and have won 3 World Series
Chicago Blackhawks (NHL) play at the United Center and have won 6 Stanley Cups
Chicago Bulls (NBA) play at United Center and have won 6 NBA Championships
Chicago Fire FC (MLS) play at Soldier Field and have won 1 MLS Cup and 1 Supporters Shield
View this post on Instagram
Chicago Schools & Colleges
While living in Chicago, you'll be served by Chicago Public Schools (CPS), a large district with more than 600 public schools. The city also offers 11 selective enrollment high schools in the district for the most academically advanced students. Of these, Walter Payton College Prep High School is the top-rated high school in Chicago and Illinois.
Chicago has a unique "choice system" that allows students who test or apply to attend one of several public high schools rather than being assigned a school based on their neighborhood. This sorts students of varying achievement levels into different schools that are low performing, middle performing, or high performing.
There are also several Roman Catholic and Lutheran schools in Chicago plus a handful of parochial schools belonging to other faiths like the Ida Crown Jewish Academy and secular schools like the University of Chicago Laboratory Schools affiliated with the university.
Chicago has an excellent reputation for its colleges and universities which are frequently ranked among the best in the U.S. Along with several community colleges, post-baccalaureate institutions, and graduate schools, top-rated universities in Chicago include:
Loyola University Chicago
University of Illinois at Chicago
Columbia College Chicago
DePaul University
Chicago Crime Rate – Is Chicago a Safe Place to Live?
Concerned about crime after moving to Chicago? Chicago has a reputation for its gun violence and the Chicago crime rate is higher than the national average. The Chicago homicide rate passed Los Angeles in 2010 and was double that of New York City the same year. However, homicides in Chicago are largely concentrated in the South Side and involve street gangs. Austin on the West Side and Englewood on the South Side both have homicide rates 10x higher than other parts of Chicago.
The crime rate in Chicago is 58% above the national average. The violent crime rate in Chicago is 149% above the U.S. average. The crime rate is 3,926 total crimes per 100,000 people compared with 2,253/100k people in Illinois.
Chicago is one of America's most gang-infested cities with an estimated 100,000 active gang members who were responsible for 61% of homicides in 2011.
While crime in Chicago may seem like a big deterrent to living in Chicago, remember that most violence is gang-related and occurs in a handful of neighborhoods. There are many safe areas of Chicago. For example, Edison Park in 2018 had just 77 violent crimes and 107 property crimes compared to Fuller Park, a dangerous neighborhood in Chicago with 266 violent crimes and 306 violent crimes in the same year.
The best way to choose where to live in Chicago is to use the Chicago crime map from the Chicago Police Department. You can search crime rates and types by address, school, park, ward, or community.
Setting up Chicago Utilities & Getting an Illinois Driver's License
The first step to living in Chicago? Setting up utilities in your new home and getting a driver's license in Illinois to establish yourself as a resident!
Setting up utilities in Chicago is easy. Electricity is provided by Commonwealth Edison (ComEd) and natural gas is supplied by Peoples Gas. You can click here to start or move service with Peoples Gas and click here to start service with ComEd.
To transfer a driver's license to Illinois, you must visit a Secretary of State location, surrender your old license, and pass a written and eye exam. This must be done within 90 days of moving to Chicago.
Ready for the excitement of living in Chicago, Illinois? Federal Companies is here to make your relocation to Chicago a stress-free and seamless experience. Get started by giving us a call for a free moving quote.