As one of the 77 community areas of Chicago, the large neighborhood of Lake View is a great place to live. It is named for being a beautiful area with a fantastic view of Lake Michigan. The community's name can be spelled as both Lake View and Lakeview depending on who you ask.
Lake View is home to Wrigley Field, the Music Box Theatre, Belmont Harbor, and a variety of other top-rated attractions in Chicago. It is known for its unique culture and arts scene with a handful of fun music venues, local festivals, and clubs, all located right on Lake Michigan!
Over the years, many notable people have lived in Lake View Chicago such as actor Charlie Chaplin, social reformer Lucy Flower, and Pulitzer Prize-winning columnist Mike Royko.
There are many benefits that come with moving to Lake View that make it a place worth considering if you're relocating to the Chicago metro area.
History of Lake View
The first recorded European settler to live in what is now Lake View was Conrad Sulzer who came from Winterthur, Zürich, Switzerland in 1837. Early residents James Rees and Elisha Hundley built the community's first permanent structure in 1853, which became a hotel resort at West Byron Street and North Lake Shore Drive.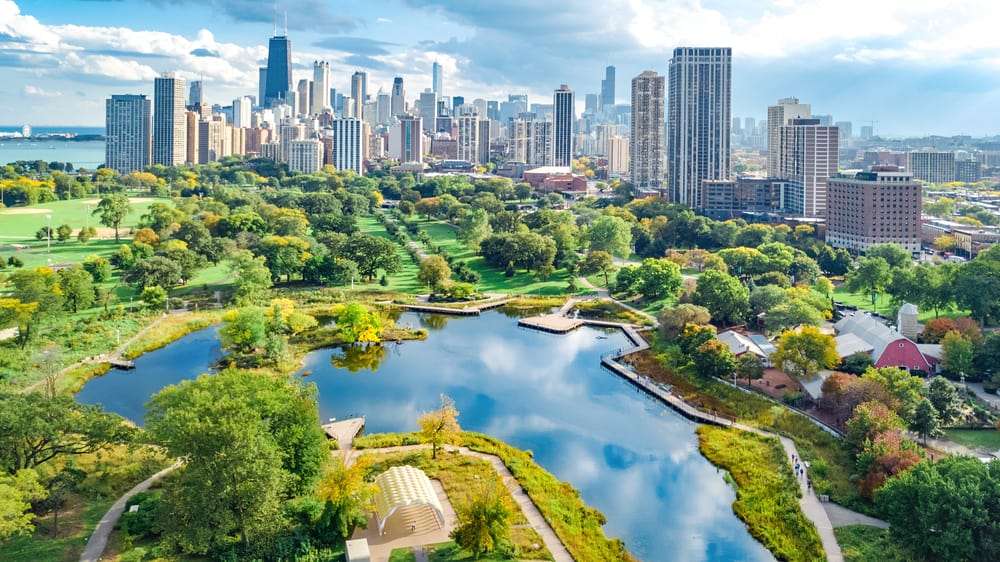 In 1857, Lake View was officially incorporated as its own township, but it was later annexed by the city of Chicago and became a neighborhood. The late 1800s saw a major real estate boom with more than 40% of homes and other buildings in the area being constructed during that time.
Lake View is now a cultural hub of Chicago with a unique atmosphere that attracts people from all walks of life.
Lake View Location & Transportation
The neighborhood of Lake View is located about 7 miles north of downtown Chicago. It is bordered by the nearby communities of Uptown, Lincoln Square, Roscoe Village, Wrightwood Neighbors, and Park West.
Diverse Parkway is the southern border of Lake Views and covers up to Irving Park Road with a small portion of the community going up to Montrose Avenue. It then extends from Ravenswood Avenue on the west all the way over to Lake Michigan on the east.
Lake View spans a geographical area of 3.13 square miles and is in Cook County. The community has three zip codes: 60613, 60614, and 60657.
When it comes to public transportation, people living in Lake View have access to the Red Line as well as the Brown Line subway stations through the Chicago Transit Authority (CTA). The CTA also has numerous bus routes that travel through the neighborhood, making it easy to get around the community. Rideshare services like Lyft and Uber are always available in the city as well.
People & Culture of Lake View
How many people live in Lake View? The Lake View population is 103,050 residents with a median age of 32 years old.
Lake View demographics are made up of about 80% Caucasian, 8% Hispanic or Latino, 6% Asian, and 4% Black or African American. The gender ratio has a close 50-50 split between male and female. As an affluent Chicago neighborhood, the median household income in Lake View is $106,920 per year.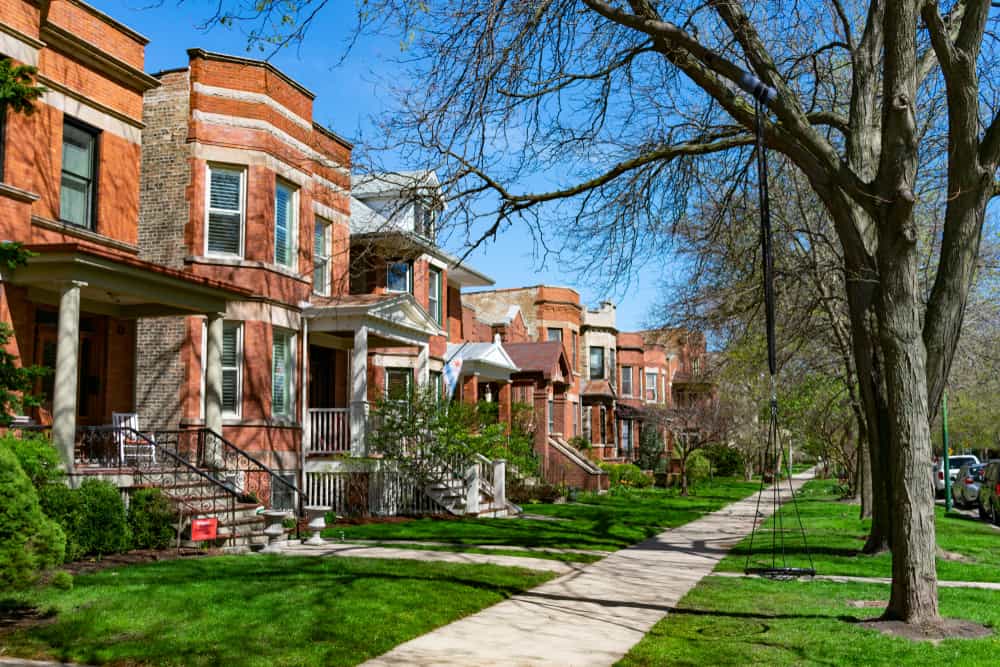 The crime rate in Lake View is 1% higher than the national average but it is also 39% lower than the Chicago average. Overall, Lake View is a safe place to live for people of all ages.
Who lives in Lake View? About 56.5% of the local population are younger adults between the ages of 22 to 39 years old. Just over 36% of households in Lake View are married couples, while around 58% are singles who haven't been married before.
If you're searching for jobs in Lake View, some of the best places to work are:
One aspect that stands out about the culture in Lake View is the community of Boystown, which was the first official "gay village" in the United States. As a cultural center for the LGBT community, Boystown hosts the Chicago Pride Parade and is a gay-friendly place to live for those who are lesbian, gay, bisexual, and transgender.
Lakeview is further divided into Lakeview West and East and then even to some more distinct neighborhoods, all having their own unique culture and charm.
Places to Eat, Things to Do, & Shopping in Lake View
Newcomers moving to Lake View will be happy to hear the Chicago neighborhood is filled with top-rated restaurants, popular attractions, and some of the best shopping in town.
Great Restaurants
Among the best places to eat in Lake View is The Chicago Diner, a laid-back restaurant serving up vegetarian and vegan comfort food. Some of their top menu items include spinach artichoke dip, nachos, soup, salad, tostadas, quinoa chili, sandwiches, black bean burgers, and more.
View this post on Instagram
The local Wilde Bar & Restaurant is an Irish pub and grill and is another one of the most popular restaurants in Lake View. They have a mouthwatering menu that offers yummy dishes like shepherd's pie, fish & chips, chicken pot pie, BBQ ribs, meatloaf, sandwiches, burgers, and beyond.
Fun Local Activities
It's impossible to talk about exciting things to do in Lake View without bringing up the historic Wrigley Field, home of the Chicago Cubs MLB team. The iconic ivy-covered walls, manual scoreboard, and fun atmosphere are all part of the retro vibes you'll get when watching the Cubs play in the second old major league baseball stadium.
View this post on Instagram
At Metro Chicago, visitors can enjoy concerts from indie bands, alternative groups, comedians, and many other performers. It's one of the top attractions in Lake Views if you're a fan of the arts.
Other great places to visit in Lake View are Gallagher Way as well as Bad Axe Throwing.
Convenient Shopping Destinations
You'll never have to go far for local shopping in Lake View with convenient options like Walgreens, Target, and Whole Foods close by. The community also has top-rated shopping centers in the area like Broadway Antique Market, Pointe At Clark St, and the Lakeview Plaza.
List of Amenities in Lake View
Map of Lake View
Lake View Real Estate
The homeownership rate in Lake View is 40.6% with less than half of residents living there buying their homes or apartments.
There are plenty of Lake View Chicago homes for sale with only a mildly competitive housing market. The average price of a home in Lake View is $422,500, which comes out to a median sale price per square foot of $282.
The other 60% of people residing in Lake View rent their living spaces. The average price of rent is $1,453 per month, which will change depending on the location and the amenities it offers.
The best communities in Lake View Chicago include:
As a fairly expensive Chicago neighborhood, the cost of living in Lake View is about 32% higher than the US average and about 35% higher than the Illinois state average. Most of this stems from the more expensive Lake View real estate market.
About 15% of people living in Lake View are children under the age of 18 years old. As a great place to live for families, Lake View is part of the reputable Chicago Public School District. The top-rated local schools in the area are:
The nearest colleges and universities to Lake View are the University of Illinois-Chicago and DePaul University.
Enjoy the Benefits of Living in Lake View
Does relocating to Lake View in Chicago sound like the right choice for you? Our trusted Lake View movers are the top team around to help with your transition to this beautiful neighborhood. Get in touch with Federal Companies today by calling (800) 747-4100 or by completing the Request a Quote form on this page to get a free moving estimate!