Are you preparing to buy a house in Chicago? Whether you're a Chicagoan buying your first home or you're moving to Chicago from another state, you don't need to feel intimidated by the home buying process and there's so much to gain.
While it's often more affordable to rent vs buy in Chicago, this isn't true for everyone and buying your own home comes with benefits outside of your budget. When you own a home, you can build equity and modify your home to fit your needs. You never need to worry about rising rents or landlords that don't renew your lease, sell the property, or even fail to make repairs.
Even when renting is more affordable, remember that rents are always rising, and they're increasing faster than wages. When you buy a house in Chicago, you can lock in your housing costs (at least the mortgage and interest aspect). Interest rates will go up, and your earnings may increase over time, but your mortgage payment will remain the same.
Here's a step-by-step guide covering how to buy a house in Chicago, IL plus a look at mortgage options and down payment assistance.
How to Buy a House in Chicago
There's always some stress and worry involved with buying a home. Knowing what to expect and preparing for the mortgage application and house hunting ahead of time can help to make the experience easier and as exciting as it should be.
#1. Set a Budget: How Much Does it Cost to Buy a House in Chicago?
One of the first steps you need to take before buying a house in Chicago is making sure you know how much you can afford. The last thing you want to do is end up house poor!
The 28/36 rule is a good starting point to determine an affordable amount to spend on housing. This rule states that housing costs should not exceed 28% of your gross monthly income (before taxes) and your total debt (including other loan payments and credit cards) should not exceed 36% of your gross income.
To determine how much you can afford, you need to consider your down payment, home prices, and hidden homeownership costs.
Average Home Price in Chicago
How much money do you need to buy a house in Chicago? The median home price in Chicago is $340,000 in summer 2021. That's down from $375,000 in spring 2020.
By comparison, the average Chicago rent is $2,012, although it's under $1,000 in some neighborhoods and up to $2,700 in high-cost areas.
Of course, that doesn't tell the whole story. Just as rent varies significantly by neighborhood, so do home prices across Chicago's 200 neighborhoods. Here's a comparison of how much it costs to buy vs rent in Chicago neighborhoods:
Edgewater: $245,000 to buy vs $1,200 to rent
Hyde Park: $245,000 to buy vs $1,485 to rent
Mount Greenwood: $260,000 to buy vs $1,370 to rent
Douglas Park: $275,000 to buy vs $1,125 to rent
Uptown: $299,000 to buy vs $1,300 to rent
Norwood Park: $373,000 to buy vs $1,050 to rent
Edison Park: $436,000 to buy vs $1,400 to rent
Bridgeport: $462,000 to buy vs $1,475 to rent
Avondale: $506,000 to buy vs $1,125 to rent
Lincoln Park: $511,000 to buy vs $1,950 to rent
Forest Glen: $555,000 to buy vs $1,375 to rent
Lakeview: $563,000 to buy vs $1,650 to rent
Hidden Costs of Buying a Home in Chicago
A common mistake is budgeting only the monthly mortgage payment or PITI payment: principal, interest, property taxes, and insurance. There are many hidden costs of homeownership, especially in Chicago.
If you're buying your first home, do not judge affordability by the mortgage rate or list price alone. The average Chicago homeowner pays $10,400 in hidden expenses every year. Make sure you budget for the following average costs of buying real estate in Chicago and maintaining your home.
Property taxes: $3,820 per year (Chicago has some of the highest property taxes in the U.S., double the national average!)
Homeowner's insurance: $1,728 per year
Utilities: $150 to $450 per month depending on home type (learn more about Chicago utilities)
Closing costs: 2% to 5% of the purchase price
Escrow account: 3 to 6 months' estimated bill for insurance and property taxes (if you put down less than 20%)
Home maintenance and repairs: 1% of your home's value per year
Lawn maintenance services: $2,000 per year
HVAC maintenance & gutter cleaning: $700 per year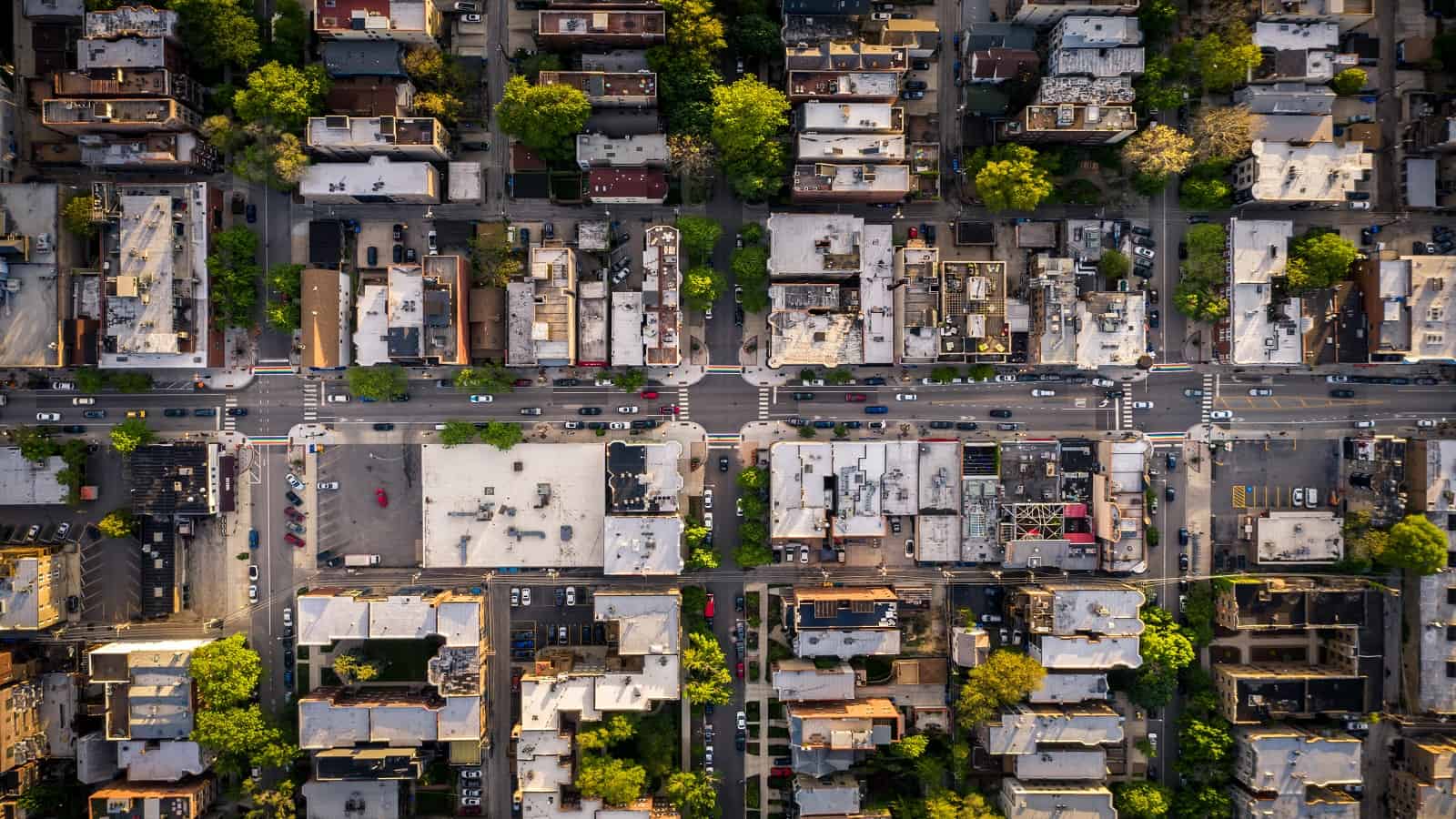 Your Down Payment
How much you can afford to put down significantly affects your monthly mortgage payment and long-term borrowing cost. Ideally, you want to put down at least 20% when you buy a home to avoid private mortgage insurance (PMI) or mortgage insurance premiums (MIP). If you put down less, you will usually need to pay this extra insurance premium every month and you will likely have a higher interest rate too.
In the next section, we'll explore some first time home buyer programs that offer down payment assistance to help you afford a home in Chicago.
All of this information can help you set a realistic budget. Let's say you earn the average Cook County income of $65,000. You're currently renting in Edgewater for $1,200 per month. That's 22% of your gross income.
If you buy an Edgewater home at the average price of $245,000 (assuming great credit), you would pay:
Principal and interest: $858 (with 20% down) or $1,020 (with 5% down)
Property taxes: $318
Homeowners insurance: $144
Private mortgage insurance: $97 (with less than 20% down)
That gives you a monthly mortgage payment of $1,320 if you put down 20%, or 24% of your gross monthly income. If you can only put down 5%, your monthly payment is $1,579 or 29% of your gross income. That doesn't account for the higher interest rate you would likely pay with less than 20% down.
Remember: neither payment includes hidden homeownership costs like maintenance, repairs, and lawn care. The utilities you pay at your apartment now will be higher if you move into a single-family home or larger space.
#2. Get Preapproved for a Mortgage
Once you know how much you can afford, you're ready to get preapproved for a mortgage. It's important to do this before house hunting in Chicago because it shows sellers you're serious and qualified. It also lets you know how much you should be able to borrow.
You can get preapproved with the lender of your choice. You do not need to use the same lender for your final loan. Before the preapproval process, make sure you know what kind of home loan you want and whether you qualify for first time home buyer grants.
Here's what is needed to buy a house in Chicago and get preapproved for a loan.
Basic Mortgage Qualifications
To get pre-approved, you must provide documentation that proves sufficient assets, income, employment, and credit.
Ability to repay with a total debt-to-income ratio of under 36% (or sometimes up to 43%) and housing making up no more than 28% of your gross income.
Proof of income such as two years' worth of W-2 statements and recent paystubs.
Proof of assets for the down payment and closing costs plus reserves.
Down payment depending on the loan program.
FICO score of 620 or higher. A credit score as low as 580 may be acceptable for an FHA loan. The lowest rates are only available with excellent credit of 760 or higher.
Proof of stable employment.
Popular Chicago Mortgage Programs
Before you buy a house in Chicago, consider how long you will stay in the home and any changes you expect to your income and living situation over the next five years. This will help you decide the right loan program for your needs.
There are many mortgage programs to choose from:
FHA loans are popular with first time buyers in Chicago and require a down payment of just 3.5% (costly upfront and annual mortgage insurance premiums with less than 20% down)
VA loans for qualifying veterans, military members and families with no down payment required, no mortgage insurance, and low funding fees
USDA loans (in eligible rural areas outside the City of Chicago)
Conventional loans require a down payment of 3-5% (PMI with less than 20% down) and have better interest rates and flexibility than government-backed loans
Jumbo mortgage for a loan exceeding $548,250
Fixed-rate mortgages, the most common option with a mortgage rate and payment that does not change
Adjustable-rate mortgages (ARM) which have lower payments and interest rates at the beginning of the loan term with rates subject to change.
The best loan program will depend on your credit score, how much you can put down, and how long you plan to stay in the home.
Chicago First Time Buyer Grants & Down Payment Assistance
View this post on Instagram
Are you buying your first home, or it's been three or more years since you owned a home? There are many first time home buyer grants in Chicago that can make homeownership within your reach.
#3. Choose a Chicago Real Estate Agent
Once you're pre-approved, you're ready to choose a buyer's agent to help you with house hunting and making an offer. While it is not required to work with a real estate agent, it's recommended. Your agent will help you find the perfect neighborhood, narrow down your wish list, prepare your offer, negotiate on your behalf, and protect your interests.
The best part? Chicago home sellers generally pay the commission for the buyer's agent. That means you don't even need to pay anything for valuable insight and representation during the home buying process.
#4. Chicago House Hunting – Where to Buy a Home in Chicago
Your agent will help you embark on the most exciting step of all: house hunting in Chicago! When you meet with your agent, it's helpful to have a list of what you're looking for separated into needs and wants. Do you have an idea of which Chicago neighborhoods you're interested in, or do you only have an idea of the amenities you want? Is staying close to work or a specific school a top priority?
Here are some guides to help you get started with your search.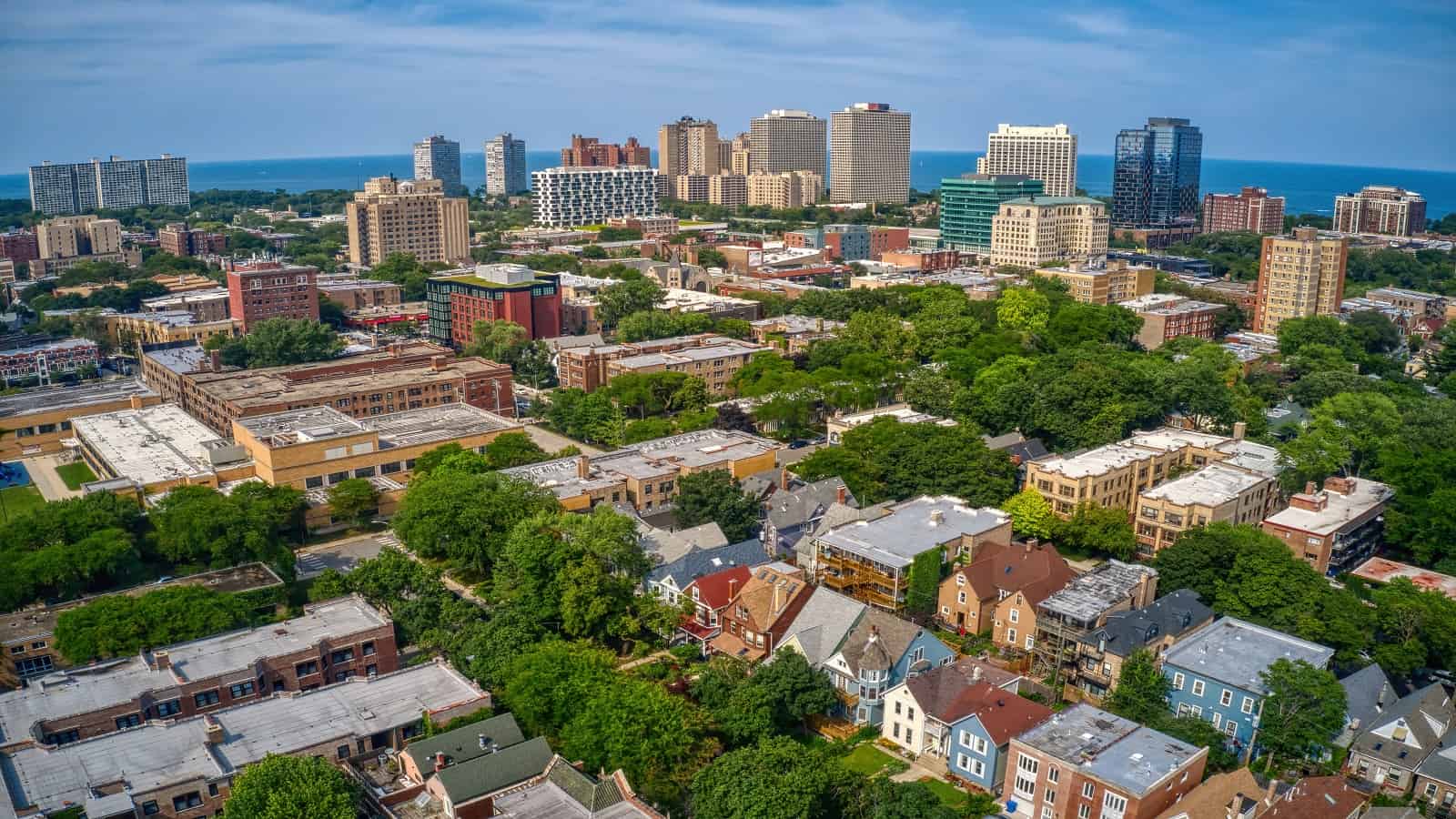 Here are some tips to make the house hunting experience less stressful, more fun, and – most of all – as realistic as possible.
Always view homes with your needs and wants list in hand. The needs list should include items that can't be changed easily or at all like the location, number of bedrooms, and yard space – not the type flooring.
Location is the most important thing of all. Even a great home in the wrong area can make you miserable with long commutes, traffic, and a great distance to schools and amenities.
Try to be open-minded and imagine the home's potential. Don't narrow your focus too much to a specific style of home, feature in the home, or small neighborhood.
Remember to think about the future, not just your current needs.
Be careful that you do not make an emotional offer because you fell in love with the home and overlooked serious issues.
Pay attention to more than just the home. Is the street busy? Can you hear a lot of street noise inside the home? Is construction planned nearby?
#5. Submit an Offer on a Home
When the market is hot, you'll need to be quick to make an offer before the right home slips through your fingers. Your real estate agent will help you review comparable sales and understand market conditions to make a fair offer.
Once your offer is submitted, the seller may accept it, reject it (this usually only happens if you're outbid), or make a counteroffer. They may ask for a higher sales price, fewer contingencies, or lower seller assistance. Once everyone is in agreement, you will officially be under contact for your Chicago home.
Be aware that Chicago has been in a seller's market for some time. That means you may be outbid several times on homes, even offering above asking price. Ask your agent the best strategy to get your offer accepted.
#6. Close on Your New Chicago Home
The next stage is one of the most tedious parts of buying a house in Chicago: processing your mortgage, going through underwriting, having the home inspected, and making sure all contingencies of the contract are met.
As a general rule, you can expect to close on your home about 60 days after the offer is signed. Once all the loan documents are finalized and contingencies met, it's time to meet to sign the documents that transfer ownership. You'll receive the keys to your very own home!
Now that you know how to buy a house in Chicago and what to expect, you can get started finding a neighborhood to call home. When moving day approaches, Federal Companies is here to help you settle into your new home without the stress and hard work with a century of experience handling moves of all sizes.