Trying to choose between New York City and Chicago? These amazing cities have a lot in common. They're both major metropolises with top-notch culture, food, attractions, and entertainment. They're both major transportation hubs with good public transit, walkability, and iconic pizza. Of course, there's a lot that sets each apart too. One offers more affordable living and excitement on Lake Michigan while the other is a sprawling metropolis that feels like many cities and countries combined. Are you trying to decide between moving to Chicago or New York? Here's a COMPLETE guide to the pluses and drawbacks of living in the Windy City vs the Big Apple.
Pros & Cons of Living in Chicago vs New York City
Ready to see the top benefits and drawbacks of Chicago vs. New York? Here are our top pros & cons of each city.
Living in Chicago Pros
Walking to Lake Michigan from downtown Chicago is a big perk!
Yeah, New York has beaches like Brooklyn's Coney Island, but their 14 miles of beaches don't hold a candle to Lake Michigan. When you look at Chicago in comparison with New York, you'll find Chicago's Lake Michigan is a perk you can't ignore. Unlike New York City's chronically packed beaches that are difficult to reach, Lake Michigan is within walking distance of downtown Chicago.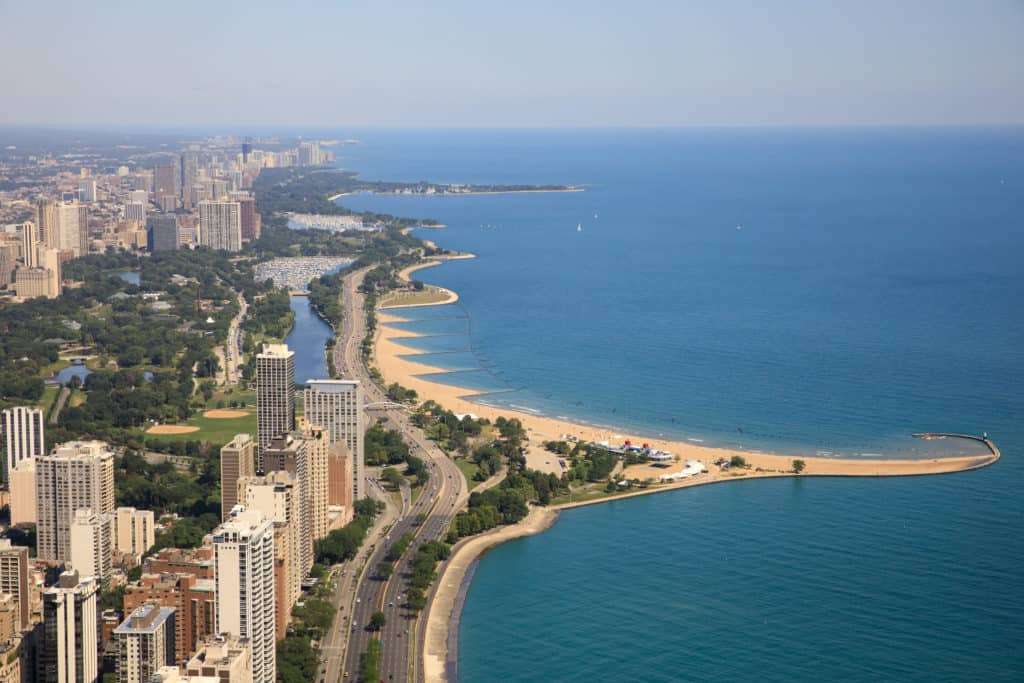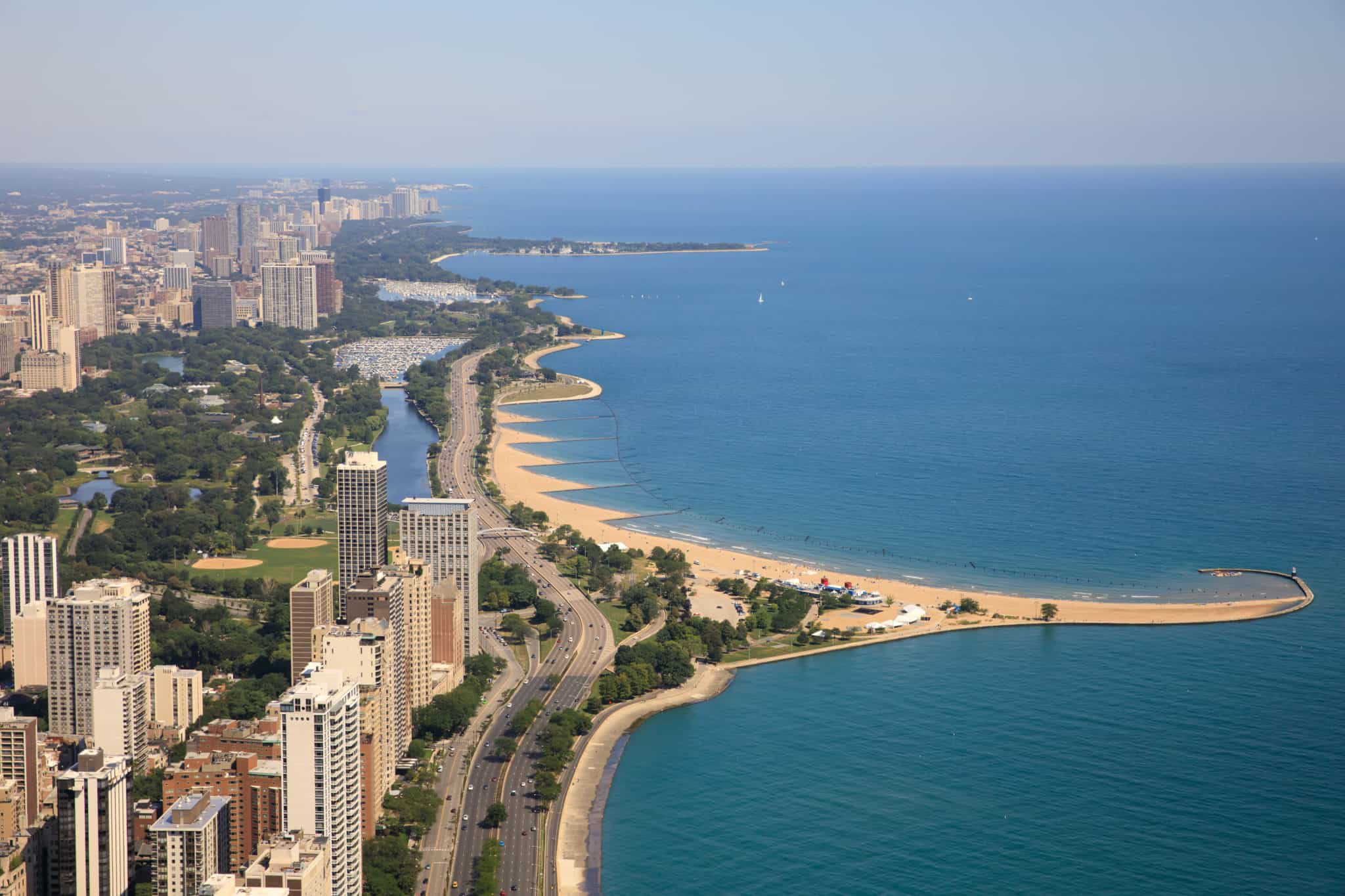 Lake Michigan beaches along downtown Chicago boast beautiful scenery with swimming, paddle boarding, jet skiing, boating, and more. Chicago has 26 miles of lakefront with an 18-mile Lakefront Trail, over two dozen public beaches, and tons of waterfront parks. Locals love North Avenue Beach near the Lincoln Park Zoo while Oak Street Beach is set along a backdrop of skyrises with volleyball courts.
Chicago has an amazing (and affordable!) food scene
New York and Chicago are both famous for their cuisine and, of course, their pizza. But deep dish Chicago-style pizza and Chicago-style hot dogs aren't all you'll enjoy! One of the highlights of living in Chicago is its diverse cuisine and affordability. Chicago has been voted the best food city in America by Bon Appétit with everything from new takes on American classics to celebrity chefs, cheap and delicious street fare, gastropubs, and international cuisine.
View this post on Instagram
New York definitely has a lot to offer for cuisine, too, as a melting pot of hundreds of cultures and nationalities. The trade-off is New York City's food scene is harder to access with sky-high prices, long waits, crowds, and big expectations.
Living in Chicago comes with a great work/life balance
The sheer size of New York, its competitive job market, and the constant sense that you're always rushing and always late can be dominating. When you compare Chicago vs New York City, you'll find a big plus of living in Chicago is it lets you enjoy a better work/life balance.
In Chicago, you'll have a shorter commute, less traffic, and less dependency on public transportation with a great system of roads and highways. You can enjoy life in the suburbs and still commute downtown with time after work to hit the lake, meet up with friends, or just relax.
Chicago has fantastic amenities & attractions!
Chicago may be smaller than New York City, but it's still home to endless cultural attractions, amazing parks, and other amenities. Chicago is home to top attractions like Willis Tower, Shedd Aquarium, and the Lincoln Park Zoo plus exciting waterfront activities like the Chicago Riverwalk, Navy Pier, Lincoln Park, and beaches. Chicago boasts some of the country's most renowned museums like Field Museum and the Chicago Children's Museum.
One of the top positives of living in Chicago is you'll never run out of fun things to do! Enjoy the same level of culture, attractions, and entertainment as New York City with a far lower cost of living and easier accessibility.
Living in Chicago Cons
The weather in Chicago can be brutal
Sure, you don't have to worry about hurricanes, tornadoes, or earthquakes in Chicago, but the weather is still a major downside of living in Chicago. Winters can be long and brutal with massive snowstorms that shut down the city and freezing cold temperatures. Summers can be extremely hot with oppressive heat. You'll sometimes feel like you don't even remember what mild and pleasant weather is with spring and fall barely worth mentioning.
Living in New York City Pros
New York has amazing diversity and culture
Do you appreciate diversity and meeting people from all types of backgrounds, nations, and cultures? You'll love this advantage of New York City compared to Chicago. New York truly feels like a melting pot with over 800 languages spoken in the city every day. You'll experience cuisines, cultures, and people from all walks of life. There are tons of ethnic enclaves from the well-known Little Italy and Chinatown to Little Poland in Brooklyn plus Little Guyana and Little Colombia in Queens.
New York never sleeps with something to do 24/7
Frank Sinatra called New York the City That Never Sleeps and it's definitely still true. The New York subway is one of the world's only 24-hour public transit systems. Almost anything is accessible at any hour of the day or night from bars and nightclubs to restaurants, shopping, movie theaters, and even pharmacies.
The hustle and bustle at all hours isn't all; there's always SOMETHING fun and interesting just around the corner. From neighborhood block parties, festivals, and cultural events to museums, parks, and attractions, you'll never be bored.
The drawback to living in New York, of course, is it can be too much. Sometimes you'll feel like there's simply too many people, too much happening, and an overwhelming number of options.
View this post on Instagram
Living in Brooklyn, for instance, you can be bogged down by the attractions right in your borough. You can spend the day at the New York Aquarium or the Brooklyn Museum. Maybe you want to be outdoors enjoying a free outdoor concert at Prospect Park or enjoying city views from the Brooklyn Bridge Park. The Great Dumbo Drop every year is a top autumn event while the Smorgasburg outdoor food event runs from April through November. Stop in at the Brooklyn Cat Café to spend time with friendly kitties or get some thrills at Luna Park or Coney Island.
Living in New York City Cons
The high cost of living in New York City can't be overstated
When you compare Chicago vs. New York, one of the biggest factors you'll probably end up weighing is the cost of living. We'll go into the cost of living of each city in greater detail below, but New York's high living costs are worth highlighting. New York is the most expensive city in the U.S. beating out even Honolulu, Boston, San Francisco, San Diego, and Los Angeles. You'll pay a huge premium to live here and get little actual living space. The average New York City studio apartment is just 550 square feet and one-bedrooms are 750 square feet on average!
Chicago definitely comes out ahead with its own nightlife, attractions, and great city living at a far lower cost.
Getting around New York can be time-consuming and difficult
Sure, New York City has one of the best public transportation systems in the United States. That doesn't mean getting around is fast, easy, or cheap. The sheer size of New York means that if someone lives in a different borough, you'll just never see them. You'll spend most of your time in one area because getting from Brooklyn to Queens, for example, is no easy feat. The plus side of living in New York, however, is it's easy to live car-free.
The Cost of Living in Chicago vs New York City
The Chicago vs NYC cost of living is probably a top concern. One of the strengths of living in Chicago? You'll enjoy exciting urban living without the high cost. The Chicago cost of living is about 40-50% lower than the cost of living in New York!
Virtually everything is cheaper in Chicago compared to New York:
Rent prices are 58% cheaper in Chicago vs New York ($3,374 average rent in New York vs $1,862 average rent in Chicago)
Groceries are 39% more expensive in New York versus Chicago
Utilities are 11% lower in Chicago versus New York ($130 average utilities in Chicago vs New York average utilities of $145)
Home prices are 76% lower in Chicago versus NYC ($345,000 average home price in Chicago vs $765,000 in New York)
Despite having a dramatically higher cost of living, the average salary in New York is just 9% higher than Chicago! The average salary in Chicago is $72,000 versus $79,000 in New York according to Payscale.
Additional Things to Consider Between Chicago vs New York City
Population
Do you want to live somewhere with something to see and do literally around every corner, throngs of people, and the buzz of a city that never sleeps? Or do you prefer more space and quiet without giving up the exciting city atmosphere? That's a big question to ask as you compare Chicago vs NYC.
Chicago and New York City are both major urban areas, of course, but few places actually compare to the sheer size and population density of New York. The urban areas of New York City feel about 5x larger than Chicago with tighter streets, huge skyrises, and a dense population of people and cars at all hours.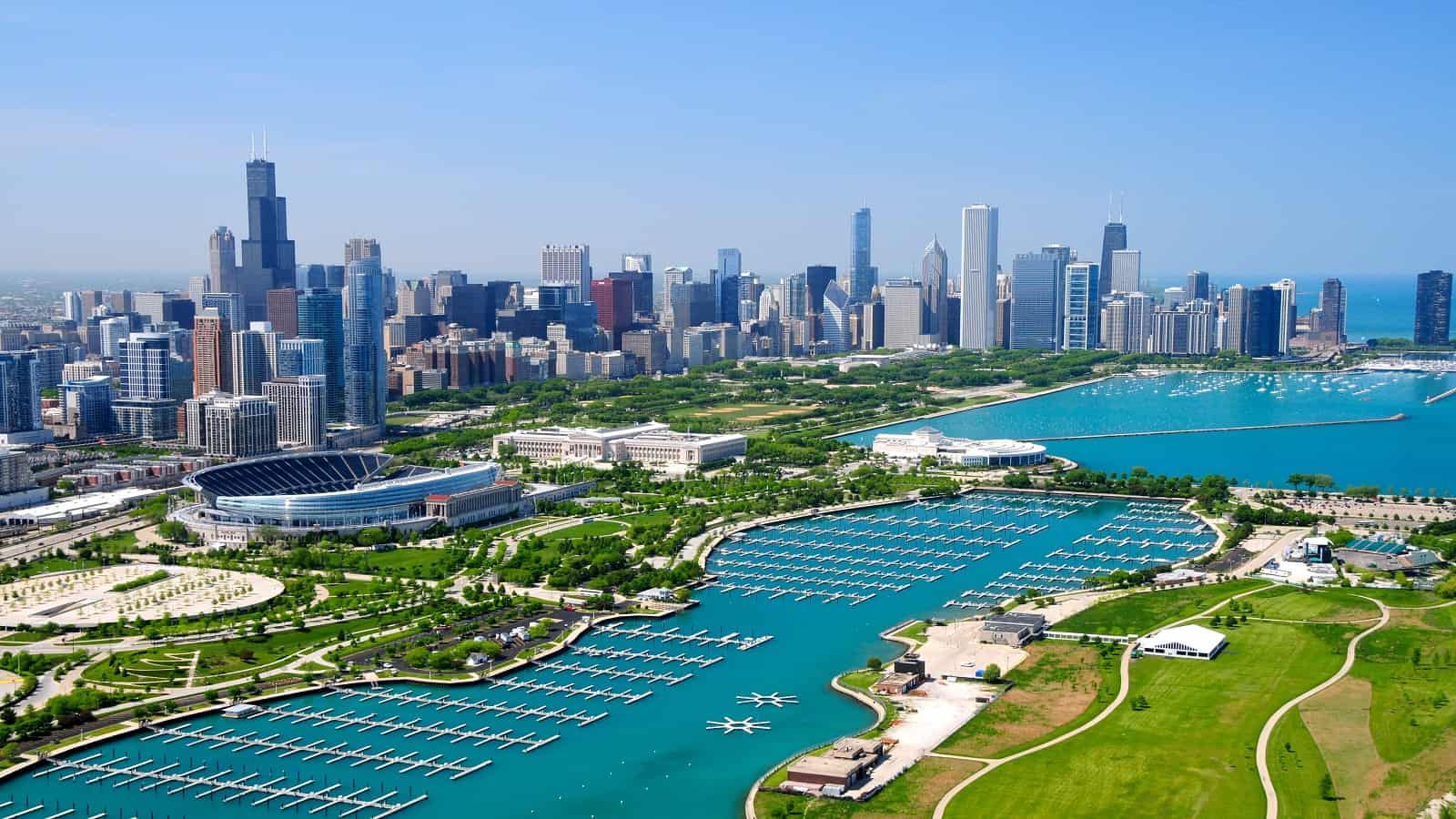 Chicago has a population of 2.7 million over 234 square miles and a metro Chicagoland population of 9.5 million. The population density is 11,847 people per square mile.
By comparison, New York City has a population of 8.2 million over 469 square miles and a metro population of 19.9 million. The population density is 27,755 people per square mile!
Crime Rate in Chicago vs New York City
Which city is safer, Chicago or New York City? You may be surprised to learn New York City is safer than Chicago by a fairly large margin. One of the big drawbacks of living in Chicago is the high crime rate. Chicago is frequently ranked as one of America's most dangerous cities and recently had more homicides than Los Angeles and NYC combined.
The Chicago violent crime rate is 943 violent crimes per 100k people versus 571 violent crimes/100k people in New York City. However, neither city is exactly ranked well in terms of safety.
Don't let the Chicago crime rate fool you, though. There are tons of safe places to live in Chicago! Here's a guide to the safest neighborhoods in Chicago to explore.
Chicago vs New York City Climate
As you consider moving to Chicago or New York, don't overlook the climate. If you settle on Chicago, be prepared for the sometimes harsh Chicago climate!
It's a common misconception that New York City is as cold as Chicago. Actually, one of the benefits of living in NYC is its winters are actually pretty mild and usually 10 degrees warmer than Chicago! Year-round, New York City has more mild weather than Chicago, especially in the summer and winter.
Sports in Chicago vs New York City
Big sports fan? When you compare and contrast Chicago versus New York, you'll definitely find a lot more to love about living in the Windy City! Chicago consistently ranks as one of the best sports cities in America with five major sports franchises and 18 championships.
You'll root for the Chicago Bears, the Blackhawks with their 6 Stanley Cups, the Chicago Bulls (9 NBA championships), and the Chicago Fire FC. Chicago is a top city for baseball with two MLB teams: the Chicago White Sox and the Cubs, each with 3 World Series under their belts!
View this post on Instagram
One of the perks of living in Chicago is enjoying sports year-round at the famous Wrigley Field, home to the Cubs for over a century, plus other top venues.
While sports play a bigger role in the Chicago culture, NYC still has plenty to offer. They have 10 major sports franchises including the New York Yankees, the Jets, the Knicks, and the Giants.
Chicago vs New York City: Where Are You Moving?
With each city offering so much, the decision between living in New York City versus Chicago isn't an easy one. Considering both cities offer such a bounty of food, culture, attractions, walkability, and entertainment, your decision may come down to just a few factors. Do you want a more laid-back lifestyle with more living space and a lower cost of life? Or do you prefer to pay more for less space and a much larger, more densely populated metropolis that never sleeps?
If you've settled on moving to Chicago, Federal Companies is here to help. Give our Chicago movers a call for a free moving estimate so we can help you settle in and enjoy everything The Windy City has to offer!