Considering making the Windy City home? Chicago offers a great quality of life with a strong economy, a famous food scene, and world-class attractions. Is Chicago expensive? That's probably a big concern as you consider moving to Chicago.
While it isn't the cheapest metro area to call home, Chicago is affordable compared to other major cities like Los Angeles, New York, Boston, Seattle and DC. Here's everything you want to know about the Chicago cost of living.
Chicago Cost of Living Index
How much does it cost to live in Chicago? A good place to start is looking at the city's cost of living index. This compares the cost of living in a metro area to the national average based on a comparison of prices for a representative sample of items.
The Chicago cost of living index is 120. That makes it 20% more expensive than the national average.
Groceries and healthcare are right at the national average and transportation is about 26% higher than average. This includes gas, car insurance, car purchase, and maintenance.
Chicago utilities are the only category lower than average, although that's changing. In 2019, residents faced the third installment of a 30% increase in sewer and water taxes. The cost for water increased from $2.01 per 1,000 gallons from $1.28 per 1,00 gallons. The full hike won't take effect until 2022.
Housing is the biggest expense you'll face, and it's the biggest factor driving up the cost of living in Chicago. The city's housing index is 154.
View this post on Instagram
Another way to assess the cost of living is to look at metrics tracked by the Bureau of Labor Statistics.
The Consumer Price Index (CPI) measures average changes in prices paid for typical consumer goods and services. The CPI for Chicago recently showed regional prices up 1% month-over-month and up 4.7% year-over-year. Energy prices rose 29% over a year.
The BLS's Consumer Expenditure Survey is also helpful. It shows average expenditures and income for residents of a metro area.
The most recent Consumer Expenditure Survey for Chicago found households in the metro area spent an average of $64,804 during the year. This is very close to the U.S. average of $62,395. Here's what the typical Chicago household budget looked like:
Housing: $23,677 (36.5%)
Transportation: $9,084 (14%)
Food: $8,890 (13.7%) This was broken down to 57% on groceries and 43% on food away from home
The average household spent 11.6% on insurance and pensions, 8% of income on healthcare, and 5% on entertainment.
Cost of Groceries, Food, Gas & Household Items in Chicago, IL
To better understand the Chicago cost of living, compare the average prices below to what you pay now.
Cost of items in Chicago, IL:
Steak (ribeye, one pound): $12.57
Milk (whole, ½ gallon): $2.09
Eggs (one dozen): $1.36
Potatoes (5-pound bag): $3.74
Bread (wheat, one loaf): $3.14
Beef (Heineken's six-pack): $8.16
Movie ticket: $14.86
Average cell phone bill: $198.97
Average electric bill in Chicago: $132.39
Average water bill in Chicago: $107 ($2.01 per 1,000 gallons)
30-day CTA pass: $105
GasBuddy's 2021 Fuel Price Outlook predicted gas prices will remain around $2 per gallon for most of the U.S. but cities like Chicago, Phoenix, and New York City will see gas prices averaging more than $3 per gallon.
In April 2021, the average gas price in Chicago was $3.061. The national average was $2.858.
Chicago Real Estate – Average Home Prices
The Chicago housing market isn't cheap. Home prices in Chicago recently hit an all-time high and prices are expected to continue rising.
In April 2021, the average Chicago home list price was $356,000, up 9.6% year-over-year. The median days on market was just 17 days.
The median home price in Chicago reached $375,000, a new high and up more than 17% from spring 2020. A similar trend was seen in all 53 metro areas of the U.S. as markets recover from the COVID-19 pandemic. In 45 metro areas, price gains were in the double digits including 25.8% in Pittsburgh and 28.6% in New York City.
By comparison, the national median home price reached $291,000.
Chicago Home Prices by Neighborhood
Chicago has over 200 distinct neighborhoods within 77 community areas, the latter of which were mapped out to group neighborhoods and regions in the 1920s. Chicago is more frequently divided into the North Side, West Side, South Side, and the Chicago Loop, or the central business district.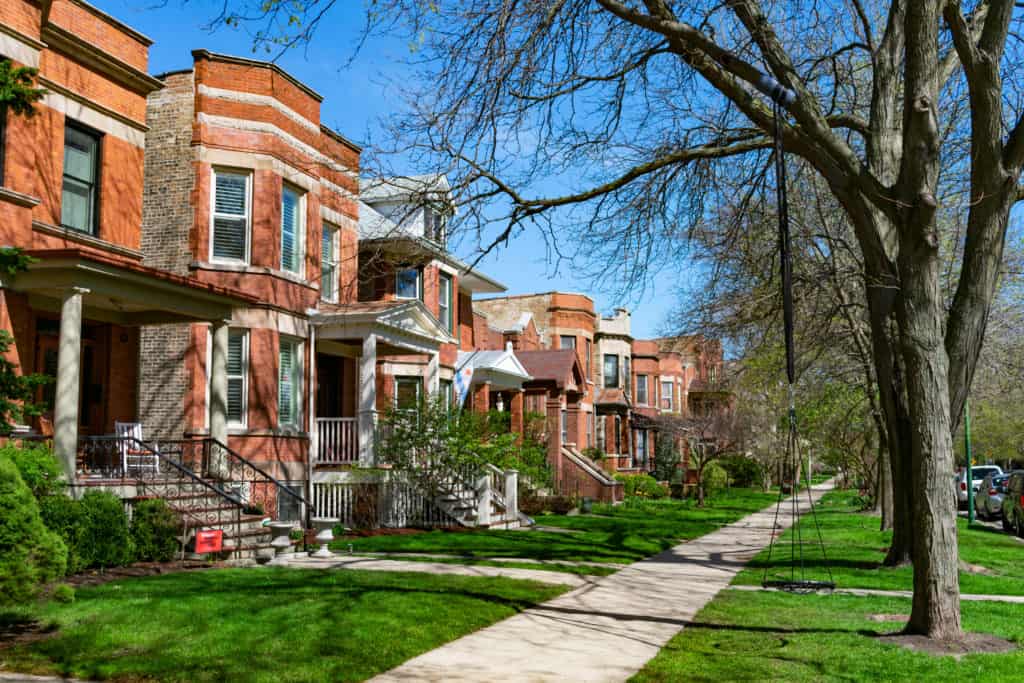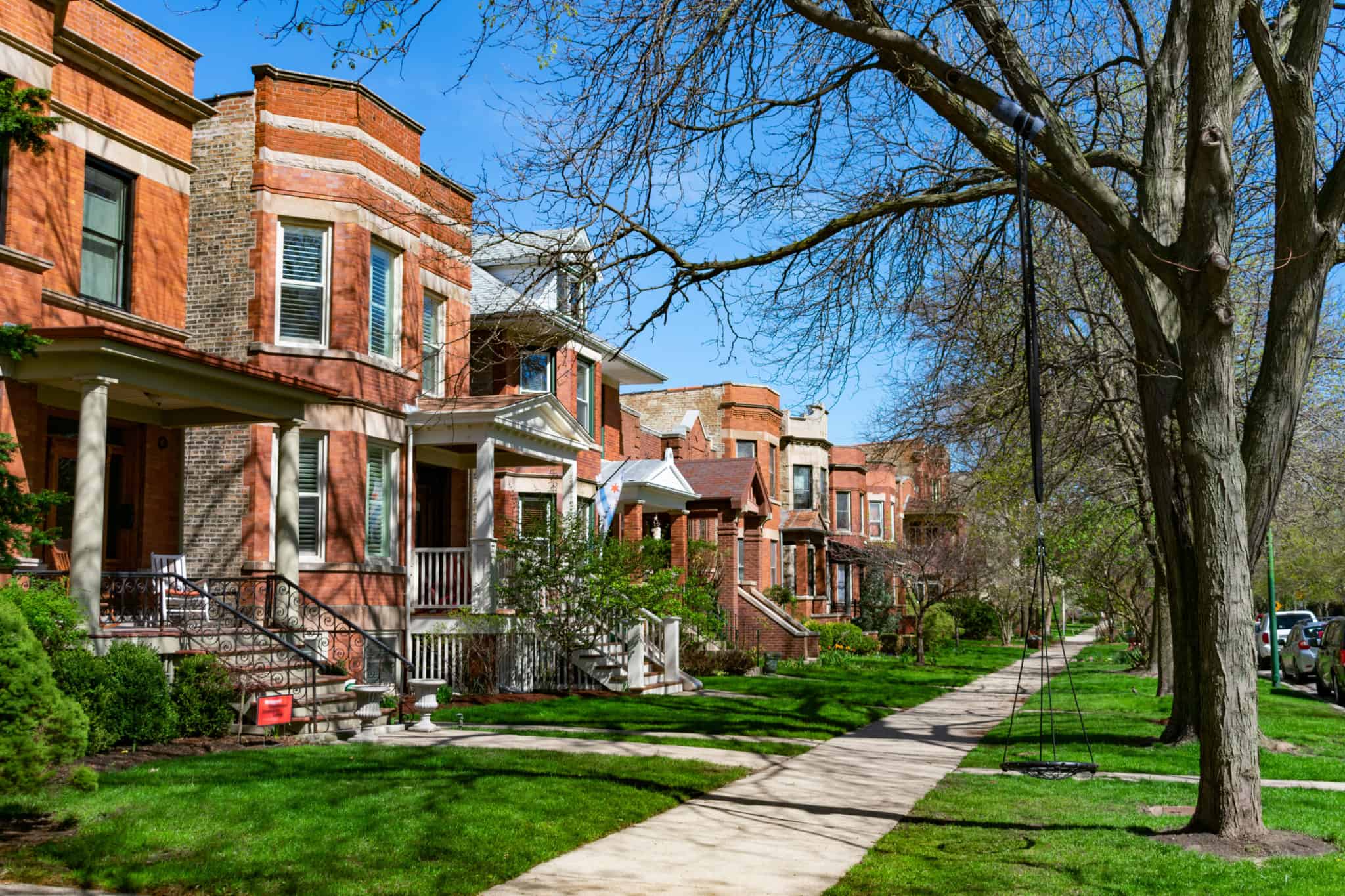 When analyzing the cost of living in Chicago, IL, remember that housing is the biggest factor and it all depends on where you live. Here are 2020 median home prices in Chicago for popular neighborhoods.
Mount Greenwood: $257,750 (Southwest Side)
Norwood Park: $359,900 (North Side)
Edison Park: $392,500 (North Side)
Douglas: $429,000 (South Side)
Forest Glen: $461,250 (West Side)
Bridgeport: $473,800 (Southside)
Rogers Park: $485,000 (North Side)
Avondale: $583,500 (West Side)
Uptown: $892,500 (North Side)
Hyde Park: $960,000 (South Side)
Edgewater: $737,500 (North Side)
Lakeview: $1.34 million (North Side)
Near North Side: $1.42 million
Lincoln Park: $1.6 million (North Side)
In the Loop, the median home price was $369,500. However, prices can reach $4 million with many luxury properties.
Chicago Rental Market – Average Rent in Chicago
How much is an apartment in Chicago, IL? The average Chicago rent is $1,908 according to RentCafe.
One of the most desirable apartments in Chicago is 465 North Park in Streeterville, one of the most expensive neighborhoods in Chicago for renters. Enjoy luxury amenities like a pet spa, private car share, a sky deck, a lounge with a fireplace, and a resort-style pool with cabanas. Rent starts at $2,250 for units starting at 523 square feet!
View this post on Instagram
Of course, rent varies dramatically by neighborhood. In desirable areas like Near East Side, Printer's Row, and Dearborn Park, you'll pay an average rent of $2,400 per month. In some Chicago neighborhoods, rent averages $600 to $800 per month.
Here's average apartment rent in Chicago by neighborhood.
Streeterville: $2,419
Near East Side: $2,316
Little Italy: $2,307
University Village: $2,307
River West: $2,294
Near West Side: $2,291
Near North Side: $2,273
East Village: $2,261
The Loop: $2,191
West Loop: $2,113
South Loop: $2,079
Lincoln Park: $1,825
Lakeview: $1,584
Hyde Park: $1,431
Bridgeport: $1,407
Forest Glen: $1,349
Mount Greenwood: $1,317
Uptown: $1,241
Edgewater: $1,206
Rogers Park: $1,194
Average Salary & Household Income in Chicago, IL
The Chicago cost of living doesn't mean much without comparing it to average income in the area. How much do you need to earn to live in Chicago? Here's what the typical Chicagoan earns.
The average salary in Chicago is $72,000 or $19.77 per hour according to Payscale. The median household income is $75,379, 9.3% higher than the U.S. median. In affluent areas like the Gold Coast, Lakeview, and Lincoln Park, median household income tops $111,000.
Here's what you can expect to earn in common occupations.
Registered Nurse: $32/hour
Licensed Practical Nurse: $26/hour
Customer Service Representative: $16/hour
Software Engineer: $86k
Project Manager: $77k
Financial Analyst: $63k
Income, Sales & Property Taxes in Chicago
Taxes play a big role in the Chicago cost of living, but they're easy to overlook! Make sure you factor in how taxes will affect you after moving to Chicago.
Illinois Income Tax
The Illinois income tax rate is a flat 4.95%. There is no local income tax in Chicago.
Chicago Sales Tax
The sales tax in Chicago is 10.25%. This Chicago sales tax rate includes the Illinois sales tax (6.25%), the Cook County sales tax (1.75%), and the Chicago sales tax (1.25%).
Chicago has the highest sales tax rate in the United States.
Chicago Property Taxes
The effective property tax rate in Chicago is 2.10%. Illinois has the second highest property taxes in the U.S.
The average homeowner in Chicago pays $7,875 in property taxes on a home valued at $375,000, the city's median home price.
That's nearly twice the national average.
The city increased property taxes in 2019, the final, fourth installment of the largest property tax increase in Chicago history.
Chicago vs New York Cost of Living
How does the cost of living in Chicago vs New York compare? Chicago is by far more affordable than New York City! The Chicago cost of living index is 120 with a housing index of 154 that contributes the most to the living cost.
The cost of living in New York depends on the borough:
Queens cost of living index: 148 (21% more expensive)
Brooklyn cost of living index: 180 (40% more expensive)
Manhattan cost of living index: 237 (66% more expensive)
View this post on Instagram

What about other major metro areas? Here's a quick look at other metro areas more expensive than the Windy City.
20% higher cost of living in Los Angeles vs Chicago
15% higher cost of living in Washington, DC compared to Chicago
22% higher living costs in Boston vs Chicago
49% higher cost of living in San Francisco
27% higher living costs in Seattle
Looking for cities with a lower cost of living? You'll pay 10-20% less to live in Philadelphia, Atlanta, Miami, Dallas-Fort Worth, and Phoenix.
Chicago may not be the cheapest metro area, but it's definitely more affordable than most. It's the 3rd largest city in the United States, but it isn't in the top 10 most expensive! If the cost of living in Chicago is a concern, you'll find plenty of affordable neighborhoods to put on your list.
Once you have narrowed down your many options and you're ready to enjoy everything the Windy City has to offer, the 5-star movers at Federal Companies are ready to help. Give us a call at 800-747-4100 for a free moving quote to get started.