Springfield is the state capital of Illinois and was the home of Abraham Lincoln, the 16th president of the U.S., from 1837 to 1861. It's also the largest city in Sangamon County, with a population of 114,394. The city was established in the late 1810s by European settlers. The Abraham Lincoln Presidential Library and Museum, the Lincoln Home National Historic Site, the Lincoln-Herndon Law Offices State Historic Site, and the Lincoln Tomb at Oak Ridge Cemetery are all located in Springfield. 
If you're planning on moving to Springfield, the city has a variety of different neighborhoods to choose from. Whether you're looking for a neighborhood that is family-friendly, upscale, safe, or affordable, you can find the perfect one that checks off all your boxes in Springfield. Defining what the best neighborhood is will vary for different people, depending on their wants, needs, and budget. You might want to be near the city center and all the action and nightlife, or you might prefer a quiet suburban neighborhood away from all the hustle and bustle of the city. Good schools nearby might be at the top of your list, or easy access to parks, recreational areas, and outdoor activities. Springfield is a great place to live with plenty of good neighborhoods, and you'll find the right one for you, regardless of what type of neighborhood you're searching for. 
Here are the top 8 Springfield neighborhoods:
Oak Ridge – One of the Most Affordable Neighborhoods in Springfield
Oak Ridge is rich in history. It's the burial place for President Lincoln, his wife, and three of his children. The monument is over 100 feet tall, and it draws many tourists there yearly. But aside from being a tourist attraction, Oak Ridge is known for being extremely affordable.
It's only a short, 6-minute commute, and 1.5 mile walk, yet this older neighborhood retains a rural feel. Most residents own their homes in Oak Ridge, and many have young children. As the older neighborhood turns over to a new and younger crowd, you'll have a mixture of all types of people. It's a fairly diverse neighborhood, and the homes are smaller, usually two to three bedrooms.
The cost of living in Oak Ridge is the same as the national average. The cost of goods and services is 10% lower, and the cost of housing is 36% lower, making Oak Ridge a very inexpensive place to live.
Enos Park – Most Diverse Neighborhood
View this post on Instagram
Enos Park is one of the most diverse neighborhoods in Springfield. Just north of Downtown, this is a great Springfield community for those who work in the downtown area. Here, you'll find that the homes look as if you stepped back in time. They are Victorian style, and many are extremely old, historic homes. In fact, the majority of them have been or are in the process of being remodeled.
Enos Park is a very safe place to live. Though you have a mixture of affluent and lower socioeconomic class individuals, it's a quiet spot for families and young professionals to reside.
Trevi Gardens – Best Springfield Neighborhood for Families
If you're looking for a master planned community in Springfield, you'll find it in Trevi Gardens. This neighborhood has over 250 homes and was first developed in 1978. South of downtown, Trevi Gardens is an affordable and safe place to live in Springfield while still being close to downtown.
Trevi Gardens has a beautiful hiking trail as well as a pond inside the community. This is one of the few neighborhoods that has an HOA community that governs it. With friendly neighbors who can rely on the HOA for help (they're often known for helping older residents shovel their driveways!), this is the best neighborhood for families with kids.
Koke Mill East – Master Planned Springfield Neighborhood
If you love the idea of having an HOA governing body, Koke Mill East is the Columbus neighborhood for you! Just five miles from Downtown Springfield, and conveniently located near shopping, Koke Mill East is the place to be if you have a family. You'll find Sam's Club just outside the neighborhood, along with restaurants like Corner Pub & Grill, Marco's Pizza, and McAlister's Deli.
Because this is such a desirable place to live, you won't find rentals in Koke Mill East very often. However, if you do, it's often a small house in the price range of $1,200 per month. Most of the people residing in this community own their homes. Though it's about a 15 minute commute Downtown, if you enjoy being a little further from the city center and in a more suburb-type area, Koke Mill East is a great Springfield neighborhood with an HOA.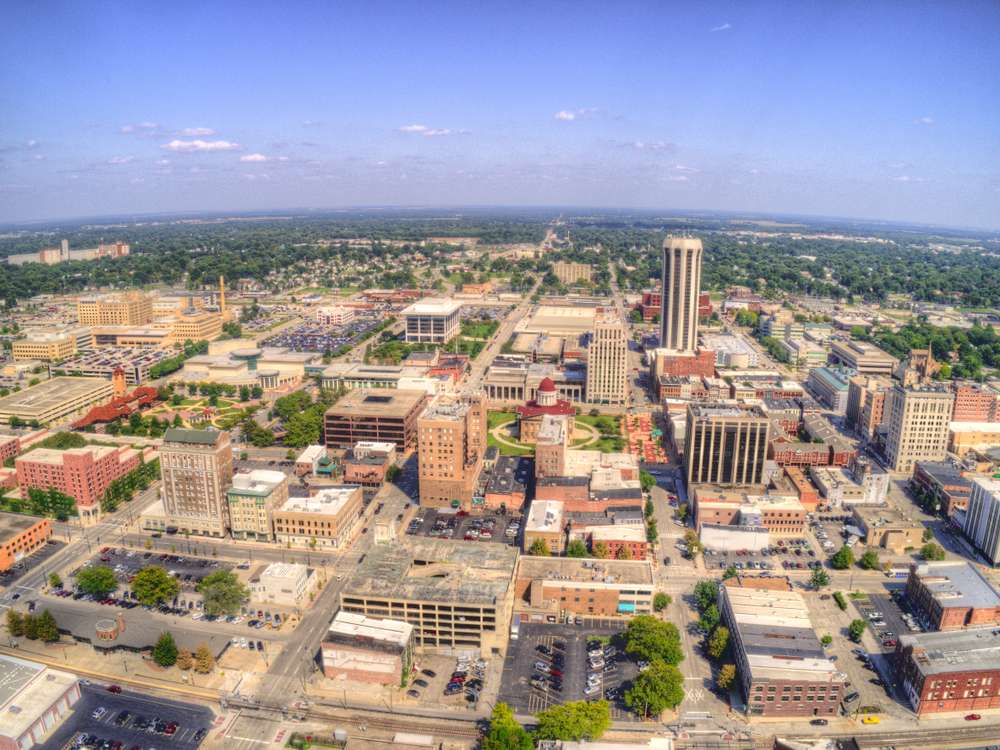 Downtown Springfield is one of the best neighborhoods for young professionals and those who work downtown. It's also a great and thriving gay community with lots of resources for those who belong to the LBTQ+ community. Whether you're looking to purchase a home or rent an apartment or townhome, there are plenty of options for you downtown.
Downtown is extremely safe. The neighborhood saw a 10% decrease in violent crimes in 2022 and a 15% decrease in property crimes. Springfield is already considered a safe city, so you don't have anything to worry about while living in downtown Springfield. Many people in Downtown rent, and homes don't go for sale very often.
Lake Pointe – Closest Neighborhood to Colleges for Students
View this post on Instagram
Lake Pointe is a small neighborhood with a nice mix of historic and new homes. The streets are clean and lined with trees, giving the town a cozy, park-like feel. Lake Pointe is located just by the University of Illinois, Springfield, and Lincoln Land Community College.
Lake Pointe is also very safe and affordable. Crime rates are 32% lower than the Illinois average, and the cost of living is 2% lower. This quiet neighborhood is perfect for professors and those who may commute to the colleges in the area.
Laketown – Ideal Springfield Neighborhood for Young Families
Laketown is a great place for young professionals because of the job opportunities, the safety of the neighborhood, and the excellent public transportation. The main attraction of this neighborhood is the fact that they have a top rated elementary school inside the neighborhood, Laketown Elementary School.
This neighborhood is also ideal for professionals who are married and may be starting a family or just finished sending their kids to college. The commute to downtown from Laketown is only about 12 minutes, a plus for professionals working downtown.
You'll feel safe in Laketown as the crime rates are 55% lower than the Illinois average. It's also an affordable neighborhood, which is especially good for young professionals just starting their careers. The cost of living in Laketown is 8% lower than the Illinois average, and if you're looking to buy a home in the neighborhood, they don't go for sale often, but when they do, you can expect to pay in the $200,000 range.
Washington Knolls – A Safe Neighborhood  for Families
Washington Knolls is situated just about 2 miles west of downtown Springfield. Washington Knolls borders Washington Park, a big Springfield attraction. If you like to golf, you're in luck. It also sits right on Illini Country Club, a prestigious golf course.
In this neighborhood, you won't find apartments. The majority of people own their homes, so it's not very often you'll find something for rent. However, when they do pop up, average rent in Washington Knolls is $850 for a private room in the home.
This neighborhood is filled with tree-lined streets and homes that have been built in the last two decades. Though it's so close to Downtown Springfield, it truly feels like you stepped into a suburb, making it ideal for families. Crime is also very low, 42% below the U.S. average.
Map of Springfield Neighborhoods
These are just a sampling of the best neighborhoods in Springfield for you to choose from. If you're ready to move to Springfield, you'll be sure to find the right community for you, whether you're looking for a big home in an affluent neighborhood, a great neighborhood for families, a place where you can enjoy the nightlife, bars, and restaurants, or a quiet suburban neighborhood that's within minutes of downtown and all the amenities Springfield has to offer. Springfield has the perfect neighborhood for you.
You'll also want the best movers in Springfield to take care of your move for you, so you can concentrate on all the other things you need to do for your move to Springfield. Federal Companies has been in business for 107 years and has the experience you can trust. Give us a call at 800-747-4100 and receive a free quote today or fill out our convenient online form!