A suburb is an outlying district of a city, which is considered to be residential in nature. If you need to be close to a large city, chances are you're looking for a suburb or neighborhood to best fit your needs. Choosing a Chicago suburb that fits your needs is important because everyone is different. Some people may need kid-friendly Chicago neighborhoods while others want a diverse area rich in history. Perhaps you'd like a place that is LGBTQ+ friendly or affluent. No matter what it is, this Chicago suburb guide will help you choose the perfect spot for you and your family.
Buffalo Grove | Best Chicago suburb for families with kids
One of the best Chicago suburbs to live in is Buffalo Grove. With nearly 30% of the population under 18, there are tons of kids in this area! It's the perfect Chicago suburb for families, and if you have young kids, you'll definitely fit in here. Most of the residents are homeowners, and there are many fun things to do here, like the Raupp Museum. 
This is a great middle-class area in Chicago. The homes are fairly affordable, there are plenty of families with kids, and the schools are rated 9/10 and 10/10 on Greatschools. For those who want a safe neighborhood in Chicago, you can't beat Buffalo Grove. The crime rate in Buffalo Grove is 71% lower than the Illinois average, so you can feel good about your family being safe here.
Naperville | An affluent family-friendly Chicago community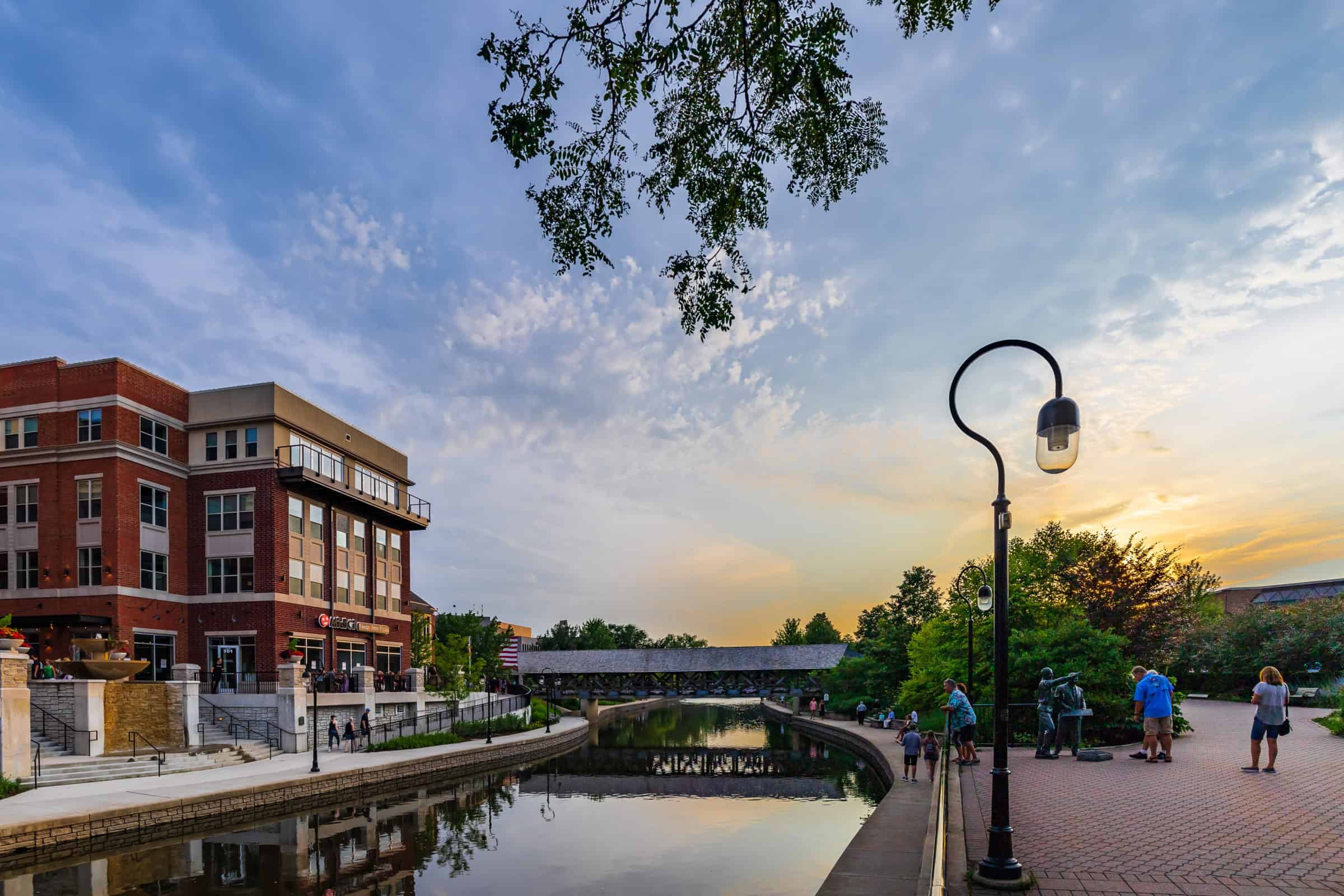 As the fourth largest city in Illinois, those who work in Chicago are no stranger to Naperville. The population in Naperville has a racial demographic of 76.5% White, 4.7% African American, 14.9% Asian and 5.3% Hispanic or Latino. Nearly half of all households have children under the age of 18 living with them, making this one of the best places to live in Chicago for families. This might be the safest neighborhood in Chicago, with crime rates that are 91% lower than the Illinois average.
Only 2.5% of the individuals in Naperville are below the poverty line, so this is a fairly affluent area. The schools in Naperville are rated 10/10 on Greatschools, making them one of the top school districts in Chicago. One interesting place to visit is the Naperville Public Library, which was ranked the number one library in the United States for 11 years in a row!
Aurora | An affordable, safe Chicago suburb
The racial demographics for Aurora are  56.5% White, 10.2% African American, 0.4% Native American, 7.7% Asian American, 0.1% Pacific Islander, 22.4% from other races, and 2.7% from two or more races. Hispanic or Latinos of any race made up over 45% of the population, and this is one of the most diverse cities in the Chicago area. The crime rate in Aurora is 40% lower than the Illinois average, and it's considered to be a safe Chicago community.
For those who want affordable living without sacrificing quality school systems and safety, Aurora is very popular. The median age in Aurora is just 32, so this is a very young Chicago suburb. You'll find most residents are those in their 20s and 30s, and 30% of the population is under the age of 18, so there are many kids as well. Some fun things to do there is to visit Phillips Park Zoo or Paramount Theatre.
Lake Forest | Affluent Chicago neighborhood with large homes
Lake Forest is located in north shore Chicago, and it's one of the most affluent suburbs in Chicago. If you're looking for expensive sprawling homes that often go upwards for a million dollars, this is the place to be! There are multiple country clubs and golf courses in the area. The top employer is Northwestern Lake Forest Hospital, so you'll see many hospital executives, doctors, and nurses living in this area.
The median age is 41, so it's an older Chicago suburb. There are still many kids, but they tend to be older or high school aged. There's only one public school in the area, and that's Lake Forest High School, which is rated a 9/10 on Greatschools. Otherwise, there are many private schools that go from preschool to high school. Some of the most popular include Rondout Elementary School and Woodlands Academy of the Sacred Heart.
Wheaton | Best schools in Chicago
Home to Wheaton College, a prestigious university, the town is filled with many professors and those working in education. It's located right by Naperville, but it's much more affordable here than in that town. This Chicago community is very safe, with crime rates 46% lower than the Illinois average. However, the property prices are also 23% higher as well.
The homes in this community in Chicago have very spacious lots and are much larger than the other surrounding areas. Schools in Wheaton are very prestigious, and they are all rated above average on Greatschools. The racial demographics in Wheaton are 89.85% White, 4.85% Asian, 2.82% African American, 0.11% Native American, 0.02% Pacific Islander, 1.03% from other races, and 1.31% from two or more races.
Glencoe | Wealthiest Chicago suburb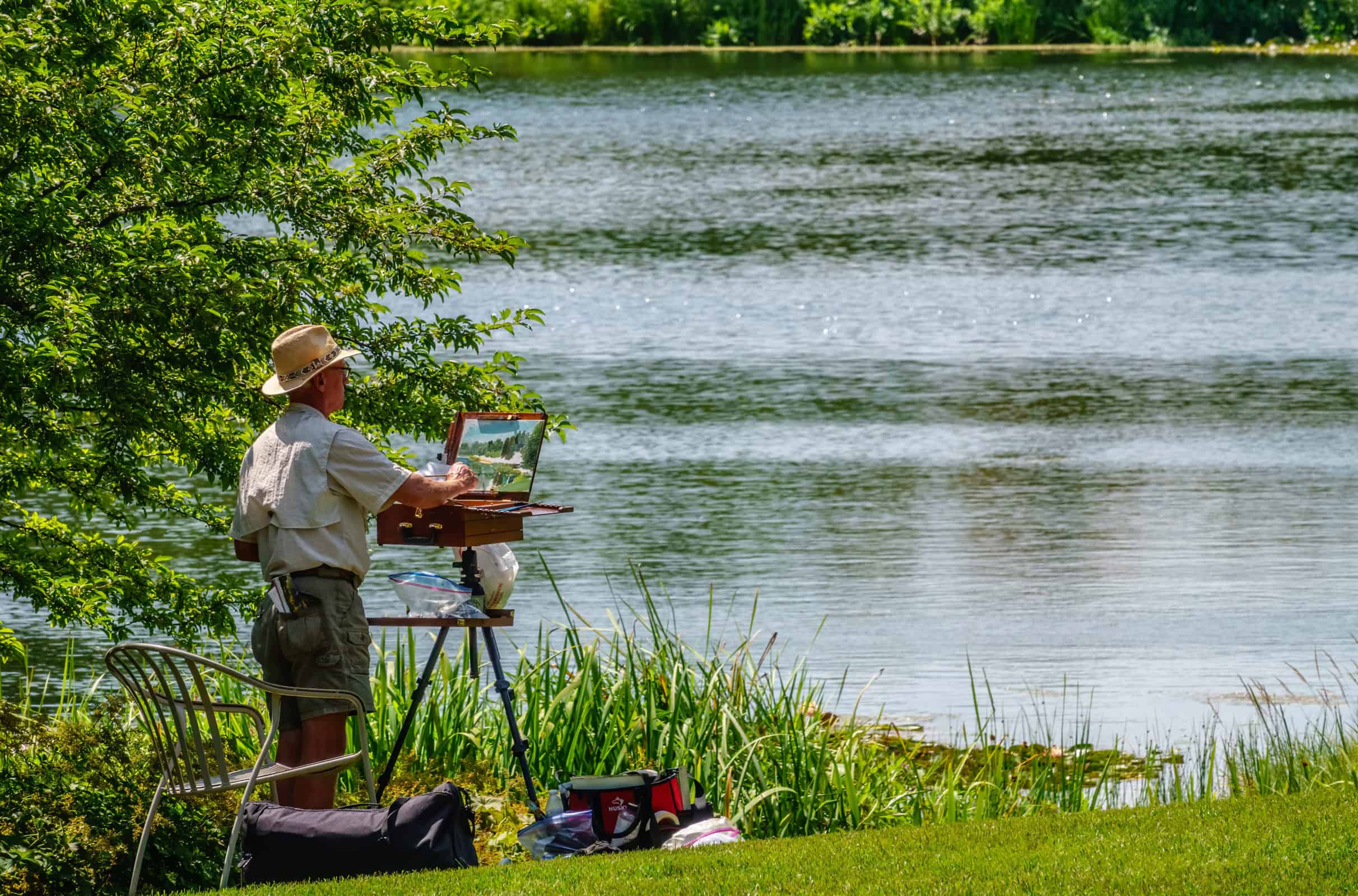 Glencoe is the richest town in Illinois, and amongst the top 20 wealthiest communities in the United States. It's known for the sprawling mansions that cover the neighborhoods, and if you're looking for the most expensive Chicago neighborhood, this is the place. Filled with professionals, business owners, and old money, you'll find many well-off individuals who are middle-aged and older. However, there are also many kids. With 31% of the population under the age of 18, you can count on kids running around, but there aren't any public schools in the city of Glencoe. Private schools or nearby cities are where children attend classes.
The racial demographics for Glencoe are 94% White, 1.2% African American, 2.7% Asian, 0.1% American Indian and Alaska Native, 0.5% some other race, and 1.5% from two or more races. The Glencoe Golf Club is popular amongst residents. The cost of living in Glencoe is 91% higher than the Illinois average, and crime rates are 69% lower than the national average.
Elmhurst | Best Chicago suburb for professionals
As a western Chicago community, Elmhurst is often known for its four-year college Elmhurst University. It's been a pillar of the community for nearly 150 years, and there are many students who reside here and go to school. Because of the university, this also brings many professors and professionals to this neighborhood. If you're looking for the best Chicago suburb for professionals, Elmhurst is a great choice. The top employer in Elmhurst is Edward-Elmhurst Healthcare where over 2,700 employees work. The racial demographics in Elmhurst are 93.40% White, 0.94% African American, 0.06% Native American, 3.67% Asian, 0.02% Pacific Islander, 0.97% from other races, and 0.95% from two or more races.
There are plenty of schools, both public and private, that serve Elmhurst. Other notable attractions include the Theatre Historical Society of America and Wilder Park Conservatory. Each spring, Elmhurst hosts Art in Wilder, which is a festival of local artists, vendors, and food trucks that come together for a fun shopping experience.
Evanston | An LGBT+ friendly Chicago neighborhood
Just 12 miles from downtown Chicago is the friendly town of Evanston. Known for being an LGBT+ friendly Chicago suburb, you'll find a very diverse population that is open, friendly, and kind. They offer many resources specifically for LGBT+ individuals that can be found here. The median age is 34, and you'll find many childless families and couples here. Though there are some kids, less than 20% of the households have kids. Racial demographics in Evanston break down to 65.6% White, 18.1% Black or African American, 0.2% American Indian or Alaska Native, 8.6% Asian, 0.02% Native Hawaiian or other Pacific Islander, 3.6% some other race, and 3.8% from two or more races. It's a diverse city. Real estate is 104% more expensive than the Illinois average, so expect to pay high prices for this ideal location!
Clarendon Hills | Chicago Suburb Close to Downtown
There are many pros of living in this Chicago suburb. One, it has a low crime rate that is 78% safer than the rest of Illinois. It's also known for its high median incomes and sprawling homes with close proximity to downtown. If you want to be less than twenty minutes to downtown Chicago, this is the neighborhood for you. With only 18 miles separating you from the city center, it's easy to commute. One fun thing you can do in Clarendon Hills is visit the Morton Arboretum. The two most popular schools in Clarendon Hills are Prospect Elementary School and Clarendon Hills Middle School. Both are rated exceptionally well on Greatschools, and you'll see plenty of families in the neighborhood!
Hoffman Estates | Low crime Chicago suburb
Considered to be in Schaumburg Township, Hoffman Estates is a desirable place to live for its low cost of living and high median incomes. Hoffman Estates crime rates are 61% lower than the Illinois average. The median age is 34, and there are many young families who are just beginning to settle down and have kids. 41% of people in Hoffman Estates have kids under the age of 18 living with them. Because of this, there are many schools to choose from. All of them are rated above average on Greatschools, and you can view the list of private and public schools in Hoffman Estates here.
Those living in Hoffman Estates work at employers like St. Alexius Medical Center, CDK Global, Transform Holdco LLC, Wells Fargo, and more. There are many professionals here, and plenty of people work here with a short commute. Hoffman Estates Club is a community center with fun things to do, like golf, fall sports, childcare, and more.
Map of the Best Chicago Suburbs
Are one of these communities in Chicago the right fit for you? If you're looking up the best Chicago suburbs because you're considering moving here, let us help! Federal Companies is a top-rated Chicago moving company ready to serve you. With over 100 years of experience, you can trust us to get you where you need to go! Call 800-747-4100 for a free quote today.