The local village of Algonquin, IL is a small community located about 43 miles northwest of downtown Chicago. Algonquin is bordered by Barrington Hills, Carpentersville, Cary, Lake in the Hills, and the city of Crystal Lake.
The area that is now called Algonquin was originally settled by a Virginia man named Samuel Gillilan. He and the other settlers had various opinions about what the community should be called with a few ideas including Denny's Ferry, Cornish Ferry, Cornishville, and Osceola. The group eventually chose Algonquin based on the local Native American burial mounds by the same name.
Incorporated in 1890, Algonquin has grown into a resort-style community with many great amenities nearby. Known for its beauty and upscale shopping destinations, the area of Algonquin is frequently known by the nickname "The Gem of the Fox River Valley".
Over the years, Algonquin has been home to a handful of notable people such as Olympic steeplechase silver medalist Evan Jager, musician Josh Caterer, and national champion ice skater Rockne Brubaker.
1. People of Algonquin, IL – Population & Demographics
How many people live in Algonquin? The village has seen decent growth with the biggest jump coming during the 1990s with more than 12,000 newcomers moving to Algonquin. The Algonquin population is 30,799 residents with a median age of 41 years old.
Algonquin demographics are gradually becoming more diverse as they're currently made up of 81% Caucasian, 8% Asian, 8% Hispanic or Latino, and 2% Black or African American.
With a fairly even split, the gender ratio in Algonquin is 51% female and 49% male. The median household income in Algonquin is $102,856.
2. Cost of Living in Algonquin, IL
How much does it cost to live in Algonquin, IL? The cost of living in Algonquin is 105% higher than the US average and 16% higher than the Illinois state average. As a fairly expensive place, new residents should plan on paying more for food, healthcare, utilities, transportation, and the Algonquin real estate market.
The homeownership rate in Algonquin is 89%, making it much more common for people to purchase a house than rent. Local Algonquin, IL homes for sale include everything from small cottages to farm homes that cost close to $1 million. The average price of a home in Algonquin is $320,000.
The Algonquin property tax rate is 2.870%, which adds up to around $9,184 in yearly property taxes for a $320,000 home.
Only about 11% of people residing in Algonquin rent their home or apartment. The average price of rent in Algonquin is about $1,360 per month and will depend on where you live, how big the location is, and what amenities are close by.
3. Algonquin Neighborhoods
Is Algonquin, IL a safe place to live? The most recent statistics show the crime rate in Algonquin is 58% lower than the national average. And with violent crime at 80% lower than average, people moving to Algonquin can feel peace of mind in their new community. Compared to other cities in the United States, Algonquin is 77% safer overall.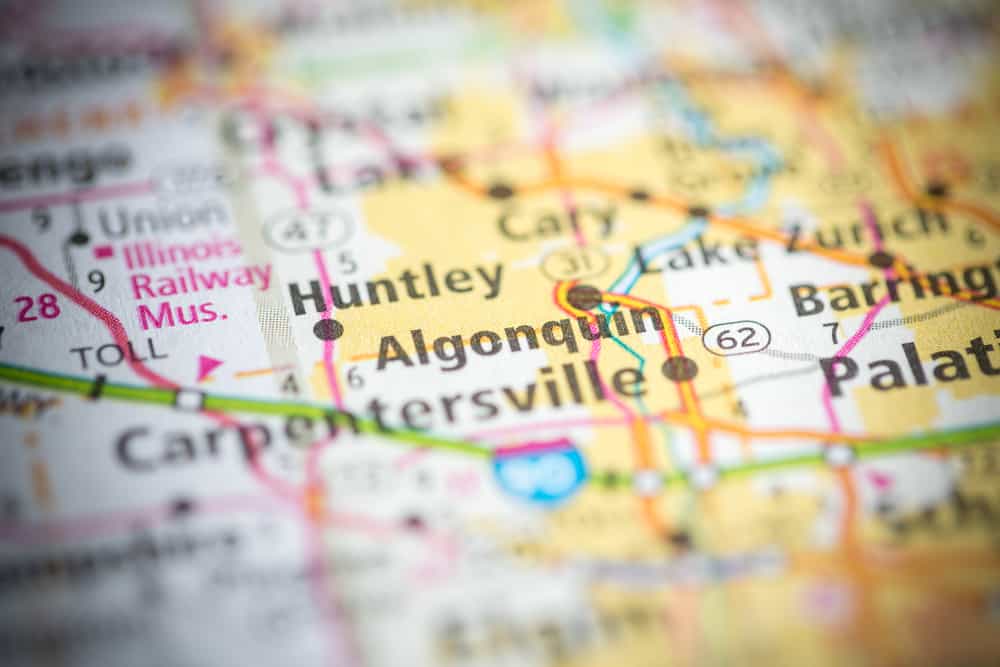 Where should I live in Algonquin? While it is a fairly small village, there are a couple of comfortable Algonquin neighborhoods worth a look before relocating there:
Tunbridge Park

Willoughby Farms Park
Algonquin covers about 12.3 square miles that are split between Kane County to the south and McHenry County to the north. Local zip codes in Algonquin include 60013, 60102, 60118, 60142, 60156. Algonquin phone numbers have 224 and 847 area codes.
Residents in the area love all the convenient shopping in Algonquin with nearby destinations like Walgreens, Target, Walmart, Algonquin Commons, Dollar Tree, ALDI, Trader Joe's, and the Algonquin Galleria.
4. Algonquin, IL Weather
There is a humid continental climate in Algonquin bringing warm, muggy summers and freezing cold winters. The weather in Algonquin tends to make it necessary to carry an umbrella and have winter clothes handy.
The average temperature in Algonquin stays warm during the summer with temps between the low 60s and mid-80s, combined with a decent amount of humidity. Winters drop well below freezing with average temperatures hitting the low teens at night and the upper 20s during the day. Algonquin weather also brings about 38 inches of annual rainfall and around 33 inches of snow.
5. Things to Do in Algonquin
Community members always enjoy plenty of fun outdoor activities, points of interest, and other exciting things to do in Algonquin.
View this post on Instagram
Among the top Algonquin attractions, Bowlero Randall Road is open all year round with its bowling alley and other fun activities. Visitors can play a game of pool, spend their time in the arcade, or even compete in a few rounds of laser tag. The local Algonquin landmark also offers a snack bar with food and drinks during the visit.
Bowlero Randall Road, 1611 S Randall Rd, Algonquin, IL 60102  (847) 658-2257
A can't miss thing to do in Algonquin is the 1.5 acre Riverfront Park, which can be found along the Fox River. It is a great place to visit in Algonquin where you can have a picnic, shoot some hoops on the basketball courts, or simply go for a walk or jog. With many top-rated outdoor activities in Algonquin, the park also features occasional concerts during the summer.
Riverfront Park, 201 N Harrison St, Algonquin, IL 60102  (847) 658-2700
Additional Major Algonquin Attractions
6. Algonquin Restaurants
Anyone relocating to Algonquin will never have to worry about going hungry thanks to many nice places to eat around the village.
View this post on Instagram
Listed with the top restaurants in Algonquin, Bonefish Grill offers a mouthwatering menu of steaks and seafood. Enjoy some surf and turf, soups, salads, and more as you dine within their contemporary setting.
Bonefish Grill, 1604 S Randall Rd, Algonquin, IL 60102  (847) 658-9268
Another one of Algonquin's top places to eat is Biaggi's Ristorante Italiano, where you'll find some of the best Italian food in town. Grab a plate of pasta, enjoy any of their chicken recipes, and make sure to follow it up with a glass of any specialty wine.
Biaggi's Ristorante Italiano, 1524 S Randall Rd, Algonquin, IL 60102  (847) 658-5040
7. Jobs in Algonquin
The city isn't very large but there are still a handful of dependable Algonquin jobs to be found both in and around the area. A few of the best places to work in Algonquin are:
CDW

United Airlines

Motorola Mobility

J.P. Morgan
If you are considering commuting from Algonquin to Chicago, the drive covers about 43 miles each way and takes about an hour when you factor in the tolls and traffic.
The average salary in Algonquin is $66,000 per year, close to the national average. The 
Algonquin state income tax rate is 5.0%. And the area has an Algonquin unemployment rate of 5.7%.
8. Algonquin Schools
There are more than 6,159 kids between the ages of 0 and 18 years old living in Algonquin, taking up over 20% of the population. Many parents feel that Algonquin is an excellent place for families to live because of the safe neighborhoods and strong community schools.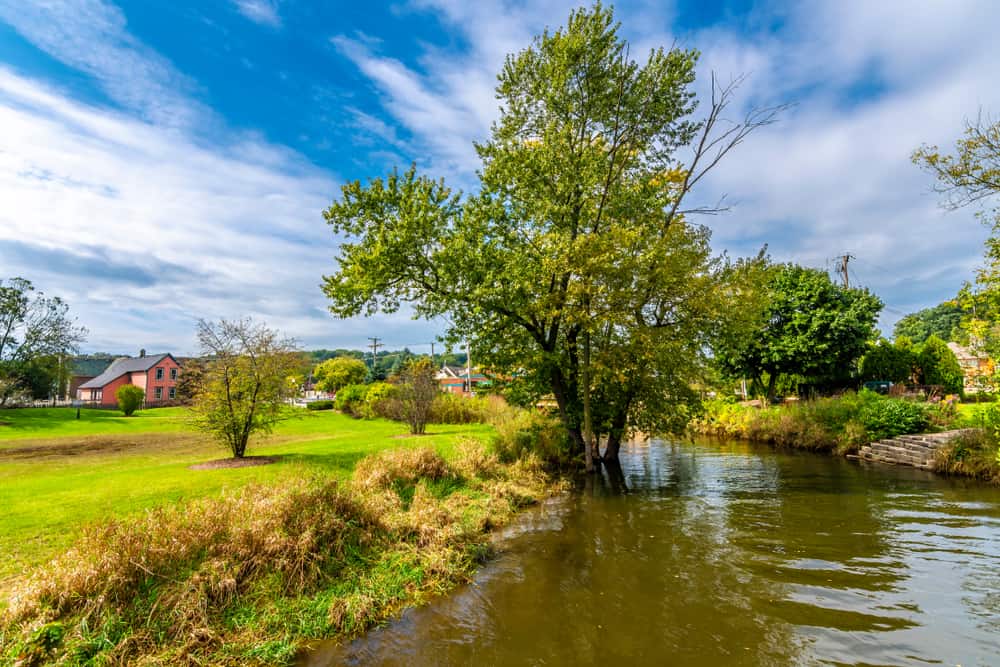 There are two local school districts including the Community Unit School District 300 and the 
Huntley Comm School District 158. Some of the top-rated Algonquin schools are:
Eastview Elementary School

Kenneth E Neubert Elementary School

Westfield Community School

Heineman Middle School

Harry D Jacobs High School

(ranked among the best high schools in Illinois)
Though there are limited colleges and universities near Algonquin, new graduates can attend the Judson University, which is only 8 miles away in Elgin.
Living in Algonquin Pros & Cons
Pro:

Safe communities and great schools make the area a perfect place to live for families.

Pro:

There is a wide variety of fun things to do and popular places to eat nearby.

Con:

The winter weather in Algonquin can be freezing, making it important to always have coats, boots, and scarves handy.
Moving to Algonquin, IL
There are more than enough great reasons to move to Algonquin! If you need local Algonquin movers to help with your relocation, count on the crew at Federal Companies! Give us a call at 800-747-4100 or complete the Request a Quote form for a free moving quote!