Considering relocating to the Chicago area? You'll fall in love with Bartlett, a suburb 35 miles out of downtown Chicago. Bartlett is known for the BAPS Shri Swanimarayan Mandir temple, dozens of lakes and ponds, and the Villa Olivia resort with golfing and skiing. Bartlett delivers a great quality of life with endless opportunities for recreation and employment. While living in Bartlett, you'll find it definitely lives up to its motto: History, harmony, pride." If you're planning on moving to Bartlett, IL, you have a lot to look forward to!
Bartlett, IL Population & Demographics
The village of Bartlett, Illinois is located in Kane, DuPage, and Cook counties in Illinois. Bartlett is located about 35 miles northwest of Chicago and 20 miles southwest of Arlington Heights and it has a total of 15.86 square miles of land.
This unique and historic village has a population of 41,500. Curious about your neighbors while living in Bartlett? The village is fairly affluent with a median household income of nearly $100,000. The median age in Bartlett is 39, a bit high for the U.S. The racial and ethnic composition of the village is 79% white, 2% African American or Black, 14% Asian, and 9% Hispanic. Bartlett's Asian population has grown rapidly over the last decade in large part due to the opening of the BAPS Shri Swaminarayan Mandir, a stunning Hindu temple and one of the village's most striking buildings.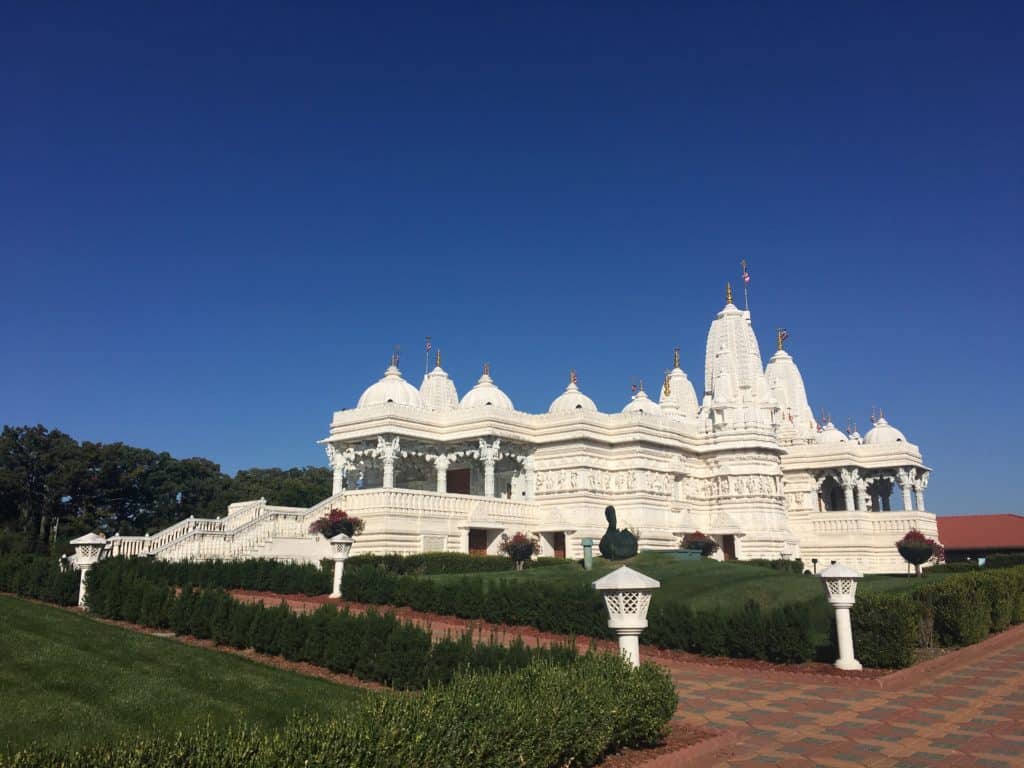 Concerned about the crime after moving to Bartlett? The good news is the village has a very low crime rate that's 82% below the national average and more than 80% below the Illinois average. It was even named the 9th safest city in the U.S. in 2016! Yes, Bartlett is a safe place to live.
Bartlett is located in the 60103 and 60133 zip codes and area codes 630 and 331.
Bartlett Weather: Prepare for Chilly Winters
It's easy to overlook but the Bartlett climate will play a big role in your overall quality of life after you settle in the village. How does Bartlett compare to where you live now? The village is fairly close to the national average with 38" of rain and 192 sunny days per year but it does get more rain than average: expect about 33" of snow per year.
Summers are a bit cooler than average for the U.S. with an average July high of 85 degrees. There are about 18 days per year with temperatures above 90 degrees. Winters get very cold in this area of Illinois. The average January low is 13 degrees with 143 days per year in which it gets below freezing at night. That makes it one of the coldest areas of the state.
Cost of Living in Bartlett, IL
One of the biggest concerns when relocating to Bartlett, IL is whether you can afford the cost of living. Is Bartlett, IL expensive? Can you afford to buy a home? As a general rule, the cost of living in Bartlett is far higher than average for Illinois. However, Illinois has a very low cost of living. What is the Bartlett cost of living? About 15% higher than the U.S. average.
Groceries, healthcare, and utilities are all very close to average for the United States. The two biggest factors that influence the cost of living in Bartlett are housing and transportation.
Looking at housing costs is one of the most effective ways to decide if you can afford living in Bartlett. The average home price in Bartlett is $285,000, a bit higher than the U.S. average, or $153/square foot. You can get an idea of what you can afford by checking Bartlett, IL homes for sale online.
Planning to rent after moving to Bartlett? The average rent in Bartlett is $1,119, close to the national average but up 29% from 2019 when average rent was a mere $800.
Jobs in Bartlett, IL
Bartlett may not be a large community, but it boasts a diverse and stable economy. This suburban community is easily accessible with commuter rail if you work in the city but it's also attracting a number of office buildings and commercial, light industrial, and distribution jobs.
Bartlett is home to several retail centers with major employers that include:
School District U-46
Senior Flexonics (metal hose assembly)
Greco & Sons, Inc (food distribution)
Bartlett Park District
Get Fresh Produce (food distribution)
Jewel-Osco (grocery and pharmacy)
Clare Oaks (senior living)
The average salary in Bartlett, IL is $61,000 with an average hourly rate of $17.41. Here's how much you can expect to earn in common careers:
Certified Nurse Assistant (CNA): $12/hour
Certified Medical Assistant: $18/hour
Account manager: $49,000
Physical therapist: $76,000
Warehouse manager: $68,000
Bartlett Schools & Higher Education
Moving to Bartlett, IL with kids or considering starting a family? You'll be served by the Elgin Area School District U46. The school district has 57 total schools, including 7 high schools. Students in Bartlett attend Bartlett High School or South Elgin High School, the highest-rated high schools in the district. Bartlett High School has a 9/10 GreatSchools rating and ranks well above the state average in college readiness and advanced courses.
If you're considering higher education opportunities, you'll find more than 125 colleges within 100 miles! The closest are Elgin Community College, Wheaton College, Elmhurt College, and College of DuPont.
Neighborhoods in Bartlett, IL – Where Will You Live?
How do you envision living in Bartlett, Illinois? Do you love the idea of lakefront living in a new home? Want an established, family-friendly neighborhood in Bartlett where the kids can ride bikes down the street? What about maintenance-free living close to the action? Bartlett has something for everyone!
One of the most desirable Bartlett neighborhoods is Woodland Hills. Centered around a pond, homes in this established planned community are mostly from the 1990s and range from $250k to $430k. You'll find homes with up to 3,500 square feet of living space. The subdivision also has amenities like tennis courts.
Love the idea of downtown living at its finest? Try the modern condos at 275 E Railroad Avenue. Built in 2006, you can enjoy 10-foot ceilings, natural light, gourmet kitchens, and private decks. Condos even include a space in a heated parking garage – a great perk on those cold winter nights. Condos usually sell for under $200k.
Looking for neighborhoods in Bartlett with lots of space? Try Briargate, a single-family subdivision with homes dating to the late 1980s. Briargate has spacious homes with large yards that back onto a pond and open green space.
Best Things to Do in Bartlett, IL
There's always something fun to do in Bartlett! From outdoor recreation like boating, swimming, and hiking to an aquatic center and great parks systems, you'll never be bored. You're even close to the excitement of the big city with an easy 35-mile drive from Bartlett, IL to Chicago, IL. The village also has tons of shopping opportunities at Bartlett Plaza Shopping Center, Stearns Crossing, Jewel-Osco, Walmart, and Target.
Ready to explore the best Bartlett attractions and activities? Here are some of the best things to do in Bartlett, IL with kids and the whole family.
View this post on Instagram

Operated by the Bartlett Park District, the aquatic center is THE place to be all summer long! Enjoy fun water features like a lazy river, tube and body slides, kid's water slide, and a large lap pool with zero-depth entry. There's even a splash playground, sand play section, and a zip line drop slide!
Bartlett Aquatic Center, 620 W Stearns Rd, Bartlett, IL 60103 (630) 540-4880
While the aquatic center is where you'll spend your time during the summer, winter is all about Villa Olivia. Also operated by the Bartlett Park District, Villa Olivia is a year-round resort with winter sports like snowboarding and skiing plus an 18-hole golf course.
Villa Olivia, 1401 W Lake St, Bartlett, IL 60103 (630) 540-4182
Additional attractions in Bartlett, IL:
Great Bartlett Restaurants
The village is home to tons of top-rated restaurants you're sure to visit many times while living in Bartlett. Here are a couple of the best restaurants in Bartlett, IL you won't get enough of!

This Indian-French fusion restaurant combines Indian roti with savory French crepes in a French café-themed setting. D'licious also serves coffee, wine, and beer – the perfect place for breakfast or lunch!
D'licious Crepes and Roti, 124 Bartlett Plaza, Bartlett, IL 60103 (630) 855-3246
Moretti's is Bartlett's top-rated restaurant and known for its thin-crust pizzas. You can dine indoors or on the patio at this casual family-friendly restaurant.
Moretti's Ristorante & Pizzeria Bartlett, 1175 W Lake St, Bartlett, IL 60103 (630) 837-4992
Living in Bartlett Tips
Enjoy tons of things to do, including outdoor recreation and dozens of ponds and lakes
Benefit from some of the top-rated schools in the region
Be prepared for cold winters
Ready to settle in beautiful Bartlett, Illinois? If living in Bartlett sounds perfect for you, don't forget to call the affordable Bartlett movers at Federal Companies for the help you need within your budget. Contact us today to request your free moving estimate!