Visiting Missouri or thinking about setting down in the state? Missouri may be mostly rural with a very low population density overall, it's home to two major metro areas and dozens of historic and exciting cities. Whether you're looking for rich history, affordable living, family-friendly attractions, or excitement, one of these Missouri cities is the perfect place for you to visit or relocate.
This guide covers the largest cities in Missouri by population according to 2020 US Census data. We won't cover villages and towns in Missouri or census-designated places which are unincorporated communities designated by the Census Bureau for statistical purposes.
Note that in Missouri, cities have one of three classifications depending on their population. The level at which a city incorporates is based on its population but doesn't change even if the population grows or declines. That's why there are hundreds of cities in Missouri, 300 of which have a population of less than 1,000 and one inactive city with a population of 0.
The capital of Missouri, Jefferson City, doesn't even make this list of big cities in Missouri with a population of just 43,000 that places it at #15!
Get ready to learn about the population of cities in Missouri plus demographics and top attractions!
Missouri Demographics
Before exploring the 10 largest cities in Missouri, a quick overview of the state population may be helpful.
Area: 68,745 square miles
Missouri population: 6,137,428
Population density: 89 people/sq mi
Median age:38.9
Median household income: $57,409
Median home price: $229,000
#1. Kansas City
Area: 314.9 sq ft
Population: 508,090
Population density: 1,573 people/sq ft
Median age: 35.3
Median household income: $55,259
Median home price: $261,000
Kansas City is #1 on the list of cities in Missouri by population and area. Usually abbreviated as KCMO or KC, the population of Kansas City metro is 2.4 million. Kansas City is known as the Heart of America because it's within 250 miles of the population and geographic centers of the country.
Kansas City has something for everyone with a famous jazz scene, BBQ, world-class attractions, and a rich history. Families appreciate attractions like the Worlds of Fun theme park and the 1,800-acre Swope Park, one of America's largest municipal parks with the Kansas City Zoo, Starlight Theatre, the Lakeside Nature Center, golf courses, woodlands, gardens, and a treetop adventure park. It's even been ranked as one of the best cities for millennials and young professionals thanks to its affordable housing, energetic downtown, fun nightlife, and job opportunities.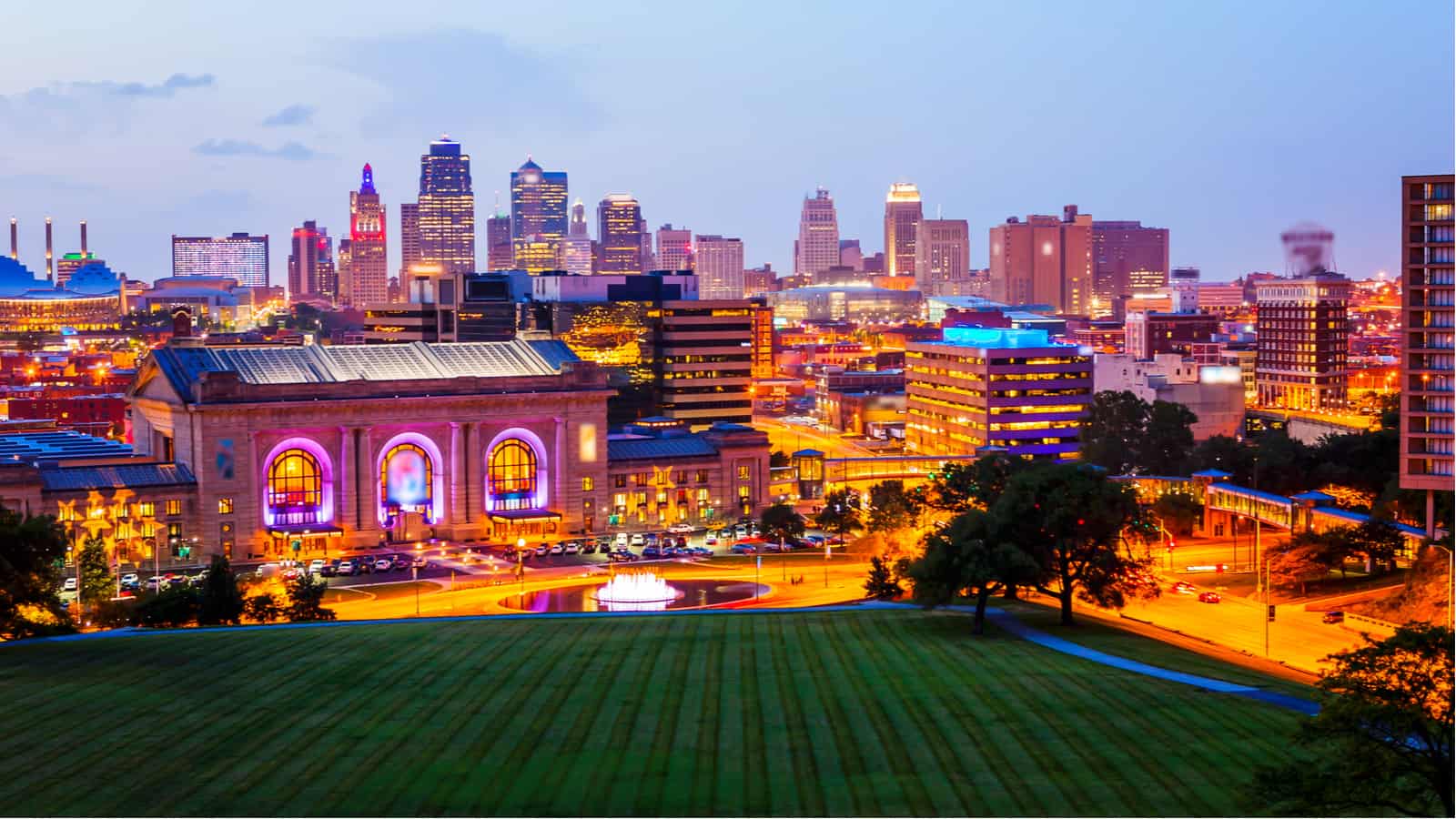 #2. St. Louis
Area: 61.7 sq mi
Population: 301,578
Population density: 4,868 people/sq mi
Median age: 36.4
Median household income: $47,176
Median home price: $159,900
Home to the famous Gateway Arch, St. Louis is second on the list of largest cities in Missouri. It's one of the biggest Missouri cities on the Mississippi River with a St. Louis metro population of 2.8 million. That's the largest metro area in Missouri and the second largest in Illinois.
The city offers a low cost of living without sacrificing quality of life and entertainment with top attractions like the Saint Louis Zoo and City Museum which is part discovery center, part playground, and part art installation.
Learn more with our complete guide to living in St. Louis, MO!

#3. Springfield
Area: 82.4 sq mi
Population: 169,176
Population density: 2,037 people/sq mi
Median age: 33.6
Median household income: $35,677
Median home price: $198,000
Not to be confused with Springfield, one of the largest cities in Illinois, Springfield, MO is one of the largest Missouri cities and one of the fastest growing. It's the county seat of Greene County and the anchor of the Springfield metro area with a population of 462,000. Known as the Queen City of the Ozarks, Springfield offers the charm of a small town with all the attractions of a big city. It's home to three major universities including Missouri State University with excellent amenities that attract about 3 million day-trippers and overnight visitors every year.
Springfield is one of the best cities in Missouri for nature lovers with lakes, caves, forests, botanical gardens, and more within the metro area. One of the biggest Springfield, MO landmarks is the Nathanael Greene/Close Memorial Park which boasts more than 20 botanical gardens, a lake, and a butterfly house. The Dickerson Park Zoo, Discovery Center of Springfield science museum, and Wonders of Wildlife National Museum & Aquarium are top destinations for families!
#4. Columbia
Area: 65.6 sq mi
Population: 126,254
Population density: 1,879 people/sq mi
Median age: 28.5
Median household income: $56,501
Median home price: $240,000
One of the fastest growing cities in Missouri, Columbia is located in Central Missouri as the county seat of Boone County and the principal city of the five-county Columbia metro area. Columbia is a classic Midwest college town known for its public art, progressive politics, and higher education with the University of Missouri, Columbia College, and Stephens College surrounding downtown. Its numerous higher education facilities means Columbia has a very young population compared to other main cities in Missouri: the median age is just 28 years old!
Columbia may be known for its education, but it also offers top-notch outdoor recreation and beautiful scenery. One of the crown jewels of the city is the 116-acre Stephens Lake Park with an arboretum, splash park, and winter sports. On the other side of the city is the Columbia Cosmopolitan Recreation Area, the largest park with fishing ponds, game fields, golf, and hiking trails. Just outside the city limits, residents enjoy easy access to the Mark Twain National Forest, Rock Bridge Memorial State Park, and other protected areas for fishing, hiking, and more.
It's no surprise Columbia, Missouri is one of the best cities to live in Missouri and recently named one of the Top 100 Best Places to Live in the U.S.
View this post on Instagram
#5. Independence
Area: 78 sq mi
Population: 123,011
Population density: 1,496 people/sq mi
Median age: 36.8
Median household income: $52,325
Median home price: $165,000
Among the largest cities in Missouri is Independence, the county seat of Jackson County and a satellite city of Kansas City just 10 miles away. Known as President Truman's hometown, Independence, MO is famous for its role in the Church of Jesus Christ of Latter-day Saints, or the Mormon Church. It's the headquarters for many Mormon denominations and it was home to Joseph Smith's Temple Lot of 1831, the first site dedicated for construction of an LDS temple.
Named for the Declaration of Independence, the city was once a major frontier town and the start of the Oregon Trail. It was also the site of two major Civil War battles.
Today, Independence is a great community for families with a low cost of living, great museums, outdoor recreation, and excellent amenities. Independence boasts the Adventure Oasis Water Park, the Cable Dahmer Arena which is home to the Kansas City Mavericks hockey team, and historic attractions like the Vaile Mansion and 1859 Jail Museum.
#6. Lee's Summit
Area: 63.8 sq mi
Population: 101,108
Population density: 1,556 people/sq mi
Median age: 38.3
Median household income: $106,912
Median home price: $569,900
Lee's Summit is one of the most desirable Missouri cities for young professionals, families, and retirees. Lee's Summit is one of the richest of cities and towns in Missouri with median household income approaching $107,000 and high home prices to match. Not surprisingly, the city is highly educated with 50% of residents holding at least a bachelor's degree.
Lee's Summit offers luxury lakefront homes and recreation and it's adjacent to the James A. Reed Memorial Wildlife Area with fishing and hunting. Families love Missouri Town 1855, a living history museum with historic buildings and live reenactments.
View this post on Instagram
#7. O'Fallon
Area: 29.8 sq mi
Population: 91,316
Population density: 2,977 people/sq mi
Median age: 38.3
Median household income: $92,827
Median home price: $350,000
A popular suburb of St. Louis neighboring St. Joseph, O'Fallon isn't just one of the state's largest cities, it's also one of the richest with a great quality of life. O'Fallon is the second richest city in Missouri with a median household income of nearly $93,000. It's also one of the best cities in Missouri and the entire country. Recently named one of the Best Places to Live in America, O'Fallon offers affordable living, excellent outdoor recreation, and highly rated schools.
Learn more about living in O'Fallon, MO with our complete guide!
#8. St. Joseph
Area: 44 sq mi
Population: 72,473
Population density: 1,705 people/sq mi
Median age: 39
Median household income: $43,614
Median home price: $120,000
Saint Joseph is the county seat of Buchanan County and an outer suburb of Kansas City. Home to over 72,000 people, St. Joseph is one of the biggest cities in Missouri and home to Missouri Western State University.
In the late 19th century, St. Joseph was described as a modern wonder by the Chicago Times with a population close to what it is today, 170 factories, and 11 railroads. It was also the starting point for the Pony Express.
Despite being one of the most populated cities in Missouri, St. Joseph's population hasn't grown much in over a century. That doesn't mean it doesn't have tons to offer. St. Joseph is one of the best Missouri cities if you love unique museums and history with the Pony Express National Museum and the Glore Psychiatric Museum of mental health.
#9. St. Charles
Area: 24.8 sq mi
Population: 70,493
Population density: 2,861 people/sq mi
Median age: 38.9
Median household income: $72,104
Median home price: $303,900
A suburb of St. Louis, St. Charles is one of the major cities in Missouri and shouldn't be confused with the larger Illinois city with the same name. Despite its fairly small size, living in St. Charles has so much to offer with an exciting downtown and riverfront area in the Historic District and family-friendly amenities. St. Charles attracts millennials and younger residents with its nightlife, affordable housing, and luxury apartments, while families appreciate the public pools, good schools, and parks. The city's top attraction is Wapelhorst Park, home to a fishing lake, sports fields, playground, and the Wapelhorst Aquatic Facility and water park.
View this post on Instagram
#10. Blue Springs
Area: 22.4 sq mi
Population: 58,603
Population density: 2,447 people/sq mi
Median age: 35.4
Median household income: $75,767
Median home price: $304,000
Blue Springs is one of the largest Missouri cities near Kansas City and just 19 miles east of downtown KCMO. Blue Springs only recently broke into the top ten Missouri cities by population after exceeding the population of St. Peters by less than one thousand.
The city began as a popular stop for settlers heading west thanks to its cool water flowing from a Little Blue River spring. A small, permanent settlement was created in 1845, but the city really began to grow with the arrival of the railroads in 1878.
View this post on Instagram
Today, Blue Springs is a fairly affluent city popular with families and commuters. It's home to one of the best high schools in Missouri with an award-winning park system. Residents enjoy endless opportunities for outdoor recreation from fishing at Memorial Lake and sand volleyball at Rotary Park to soccer and football at the Hidden Valley Sports Complex plus hiking and camping.
List of Cities in Missouri
*
Map of Missouri Cities
FAQ
How many people live in Missouri?
The population of Missouri is 6.1 million. About half a million people live in Kansas City alone.
What is the most populous city in Missouri?
The largest city in Missouri is Kansas City with a population of 508,000.
How many cities are in Missouri?
There are 635 cities in the state. There are about 300 small cities in Missouri with a population below 1,000. Only 78 Missouri cities have a population of at least 10,000.
What is the richest city in Missouri?
The most affluent large city in Missouri is Lee's Summit with a median household income of $107,000.
Which of Missouri's Biggest Cities Is Right for You?
Is life in the Show-Me State in your future? Each of these great Missouri cities has something to offer, whether you're looking for a fun college town, exciting downtown living, or one of the safest cities in Missouri to raise a family.
If you're ready to start planning an upcoming move, give us a call at Federal Companies so we can help with a worry-free moving day and affordable rates.